United Methodist leaders offer prayer near White House
Posted by Erik Alsgaard on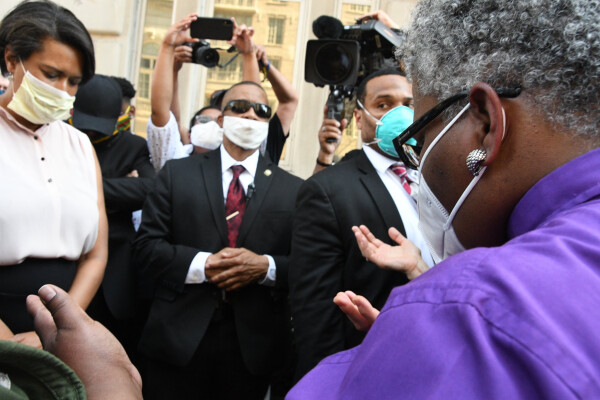 Bishop LaTrelle Easterling, right, prays with Washington Mayor Muriel Bowser.
Photos on this page by Melissa Lauber.

By Erik Alsgaard
On a blistering hot early June day, in the shadow of St. John's Episcopal Church across the street from the White House, they gathered to pray. In the shadows of hundreds of protestors gathered to make a statement on 16th Street, in direct sight of the White House but blocked by police and National Guard personnel in riot gear and a heavy-duty fence, they prayed.
In the shadow of a pandemic, they wore masks and they prayed.
In the shadow of racism, they prayed even more.
Bishop LaTrelle Easterling, along with other clergy and lay leaders in the Baltimore-Washington Conference, were invited to pray June 3 on 16th Street near the White House.
Faith leaders from throughout Washington, D.C., and surrounding communities were invited to the vigil by Bishop Mariann Budde, diocesan bishop of the Episcopal Diocese of Washington. Her area includes historic St. John's church, where President Donald Trump visited June 1 after having Lafayette Park, across the street from both the White House and the church, cleared by means of force.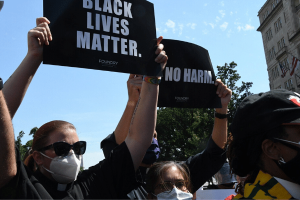 The vigil was supposed to have been held in front of the church, but because the law enforcement perimeter was extended beyond the church, leaders had to move to in front of the police line, a half-block down from the church. The prayer vigil didn't last long, but prayers were lifted.
The Rev. Robert W. Fisher, rector at St. John's, welcomed the people to the vigil.
"We are gathered to share one voice in prayer and solidarity," he said, using a megaphone to be heard over the wail of a police siren, "so that we can speak against racism with compassion, and to affirm what needs to be affirmed today, that black lives matter."
Fisher then introduced Bishop Budde. As Bishop Budde was about to start speaking, she paused and said, "excuse me a minute."
A chant arose from the protestors – "who are you protecting?" – who, at that point, were either sitting or kneeling on the pavement. Bishop Budde exited the vigil and placed herself between the protestors and the police line. It took several minutes to restore the peace.
When calm was restored, the prayer vigil was over. It was then that Bishop Easterling offered a prayer after a moment of silence.
"Gracious God: Break down the walls that separate us," she prayed. "United us in bonds of love. Melt us to talk through moments of misunderstanding and confusion. Help us to work through our struggles to accomplish your purposes on earth."
Earlier, Bishop Easterling spoke with reporters from several news outlets, including the Associated Press, Fox News, and CBS.
"I think that all leaders that consider themselves to be religious or moral leaders have an obligation to rise and to speak to this moment," Bishop Easterling said to the AP, "because institutional racism and supremacy cannot be dismantled by African American leaders alone. Those who enjoy the privilege of those systems must rise."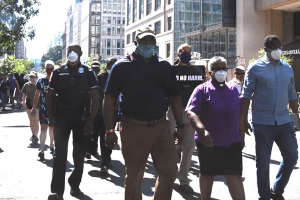 After the prayer vigil ended, leaders tried to re-group about a block away. As the bishop and other leaders walked towards 15th and Eye Street, Washington D.C. Mayor Muriel Bowser was coming the opposite direction. In a Holy Spirit moment, Bishops Easterling and Budde, along with other faith leaders, had a chance to hear from the mayor and to offer prayer.
Moments later, Bishop Easterling stood on a sidewalk and thanked United Methodists for coming out to support the vigil.
"Your sacrifice matters," Bishop Easterling said. "It's good for us to bow our heads and pray; we should always be in prayer. And it's even 'gooder' when we take those prayers and put feet to them and stand in spaces like this. But also stand in spaces where injustice is actually taking place. So, I pray you voted yesterday. And I pray that we'll continue to show up for the poor and the marginalized."
The bishop noted that all those standing with her on the sidewalk and in the street were recipients of "more than their fair share of privilege. There are those who don't even have the privilege of standing here, so let the prayers, the energy, let everything that is being amassed here – let us carry this out into the margins where the Gospel of Jesus Christ was always meant to be preached, always meant to be lived, always meant to be embodied, and always meant to make a difference."
View more images from the vigil, all taken by Melissa Lauber, on our Facebook page.