by Melissa Lauber and Erik Alsgaard
Bishop LaTrelle Easterling introduced two new district superintendents to the 178 churches of the Baltimore Region at services of installation in October.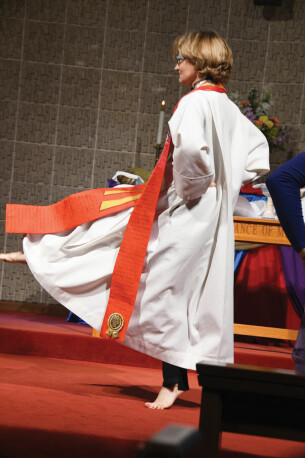 The Rev. Ann Laprade was consecrated as superintendent of the Baltimore Suburban District at a worship service Oct. 15 at Linden Heights UMC in Baltimore. The Rev. Wanda Duckett was welcomed to the work of the superintendency Oct. 29 at Epworth Chapel UMC, also in Baltimore.
Both services reflected the personalities and spiritual journeys of the new superintendents and drew upon United Methodist tradition as they were presented with gifts representing signs of the district superintendency, including a Bible, Communion elements, a hymnal, a Book of Discipline, a stole, towel and basin, a globe, and a prayer shawl.
At Laprade's service, dancers from the district began moving to the song, "I Can Only Imagine." On the final verse, Laprade stepped out of the pew and into the altar space, dancing with the company in her robe and stole.
A liturgical dancer, she preached that the Scriptures remind us that "life is all about movement. We cannot stand still, we are made to move and to act."
Laprade encouraged those present to move, as one, inunity, as described in Eugene Peterson's translation of Ephesians 4. "God is already working through you in mighty ways," she said. "I'm excited about what God may do through us as we work together."
It is her prayer, she said, that the pastors and laity of the Baltimore Suburban District will continue to "move in rhythms of grace and transformation," from surviving to thriving, from membership to discipleship, and from self-focus to community-focus.
We are called to "show up fully as the person God called us to be — no more, no less," Laprade said. "As we dance, we become partners with one another and with God."
The Rev. Wanda Bynum Duckett was installed as the superintendent of the Baltimore Metropolitan District before a standing-room-only crowd at Epworth UMC in Baltimore Oct. 29. The diversity of the district was on full display during the 150-minute worship service: The Epistle lesson was read in Spanish; the Christ United Methodist Church of the Deaf Choir performed; the Gospel was read half in Korean, half in English. Praise bands featured young and old performers and even Duckett's granddaughter, Lalya, participated by helping Dorothy Randall present the new DS with a hymnal and Book of Worship.
Duckett's sermon, based on Ezekiel 37, encouraged the clergy and laity to use their voices to speak "to the dry bones" in the valley.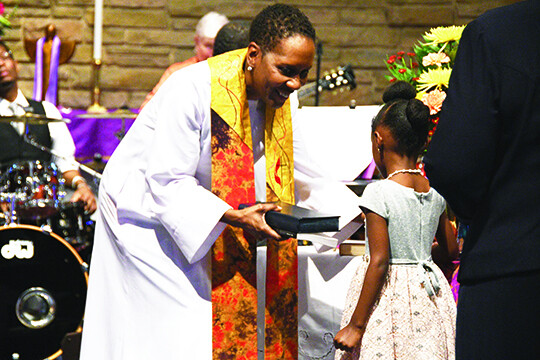 Duckett said that there are three lessons to be learned from Ezekiel's experience in the valley of the dry bones. The first, she said, is that God has called us in our own contexts "for such a time as this" to speak to the valley.
Many of Baltimore's churches are challenged at how they can remain spiritually vital, prophetically relevant and financially stable." But despite these obstacles, she said, we have to remember: the valley is a fertile place. "God is with us in the valley. There are bones all around us who need to hear our voices," she said.
And since God is with us, God has a question, Duckett said. "Can these bones live?" Encouraging United Methodists to use their voices to tell others what they believe, Duckett said that if we don't believe the answer to the question is "yes," then "we might as well close up shop."
Ministry in the valley isn't easy. "There's no such thing as boneless or spineless ministry," Duckett said. "God does the work; God does the heavy lifting. All we have to do is use our voices; God will provide the resurrection."
Duckett said she doesn't believe that God calls us to only prophesy to the bones, but like Ezekiel, God calls us to prophesy to the breath.
"How many know that we are not complete without the paraclete?" she asked. Praying that the Breath of God — the Holy Spirit — would come from the four corners of the earth to Baltimore, Duckett said, "breathe upon those who are hurting. Come and breathe on those who are addicted to heroin and crack cocaine. Come and breathe on those who are incarcerated. Come and breathe, from downtown to Dundalk. Breathe."
Laprade has served five congregations with the BWC, including St. Andrew's UMC in Hagerstown, Faith UMC in Rockville, West Baltimore UMC in Catonsville, Linden Heights UMC in Parkville and Potomac UMC in Potomac. She has service as chair of the conference Council on Finance and Administration, Council of Ministries, and the Council on Resource Development.
Duckett, a native of Baltimore, served at Monroe Street UMC and Mount Zion UMC, both in Baltimore. She was ordained an Elder by the African Methodist Episcopal Church in 2010, and in 2012 became an Elder in The United Methodist Church. She earned a Doctor of Ministry degree from Wesley Theological Seminary with a dissertation titled, "Sacred Slam: Spoken Word Poetry as Sacred Art for Sacred Spaces."