Traveling the Circuit: Gems in the Heart of the Old West
Posted by Charles Harrell on
By Rev. Charles Harrell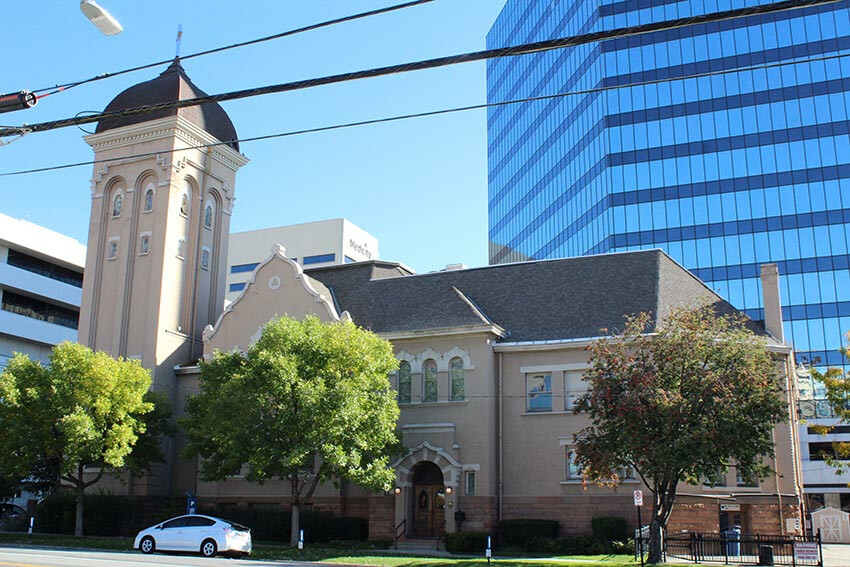 Where can the United Methodist traveler find a building that's an historic treasure with a rich history, home to a missionally vital church – and within easy reach of a strategic strong point for connectional outreach? The answer may surprise you: Salt Lake City. True, the State of Utah is more readily associated with Mormonism than with Methodism. But while the Beehive State's capital city is the world center of the main branch of the Latter-day Saints (LDS), Salt Lake's First UMC has a storied past and a compelling role in the city's spiritual and cultural life today.
The year was 1869. The famous golden spike was still warm from being struck in May of that year to complete the first transcontinental railroad that May at Promontory Summit, some 60-odd miles distant, when Rev. Lewis Hartsough disembarked in December at Salt Lake City, then the new capital of Utah Territory. Preaching his first sermon in the hopefully-named "Independence Hall" – in reality, a simple adobe structure set aside by Governor Brigham Young for "gentile" (i.e., non-Mormon) groups to hold worship – Rev. Hartsough set about organizing a Methodist meeting. Before long, the first regular pastor was appointed to oversee both a congregation and an educational ministry that would multiply itself in towns around the territory. In 1870, the first truly Methodist meeting site was secured: a loft over a livery barn. It wasn't elegant – and the $50 weekly rent was sky-high for the time – "an exorbitant amount, but our only chance," in the opinion of the first pastor, Rev. Gustavus Peirce.
But just as in the first days of Methodism, from tiny starts, God made great things grow. By 1875, a neo-Gothic church building had been constructed for the flourishing First Methodist Episcopal Church and its education work. Before long, the teaching ministry had overflowed to include a Deaconess Home, which is still owned by the Women's Division and operates today as the Crossroad Urban Center (at 300 S 400 East). Even so, by the turn of the 20th century, First M.E. Church was outgrowing its building once more.
So in 1905 a new site was purchased two blocks from the existing building, and one of the West's most prominent architects was retained to design a new home for First Church. Frederic Albert Hale's genius was to break from traditional models with their long, single-aisled spaces, and to sketch out an eclectic design featuring an extra-wide auditorium that would allow for a speedy exit into class meetings. The room also featured a large, stage-like chancel and an enveloping balcony that brought the preacher and the congregation closer together to foster rapport between them, even in a space that would seat hundreds. Consecrated in May, 1906, the building has retained its architectural integrity through several remodelings down to the present. Listed in 2011 both as a Utah Historic Site and on the National Register of Historic Places, the "new church" at 203 S 200 East recently underwent an extensive and painstakingly detailed renovation to return the sanctuary to how it appears in its earliest interior photos, about 1915. Today's visitor finds a warm, lovingly-restored space, and a friendly and welcoming congregation.
The crown jewel of the building, however, is not its sanctuary, or its bold tower, or the richly-toned woodwork in fir from the nearby Ochre Mountains, or even the 1500-piece painted-glass mosaic from Belgium along one wall. It is, instead, the organ, whose technical aspects a music geek will love but whose story is compelling even for those who prefer more contemporary instruments.
Built by George H. Ryder and originally situated in the previous First Church building, it was moved to the present site in December, 1906, and is the third-oldest organ in that part of the country. Built to be beautiful to see as well as to hear, the instrument originally boasted 33 ranks of pipes and was manually pumped! Later expanded to 43 ranks and electrified in 1924, it is not only acoustically but visually compelling, as the pipes themselves are stenciled with a rich symbology. Motifs include the pineapple (symbol of hospitality, one of First Church's core values), the crown of thorns and a red drop representing the Savior's blood, and guardian angels – all set in a pattern depicting the Tree of Life. Over the years, the pipes were three times overpainted to a plain brass color, then chopped off at the tops to a uniform length, and at last hidden behind a screen in the 1960s. Thankfully, the backs of the pipes were never painted, so they retained the original design colors; these, plus period photographs, allowed for the meticulous restoration of the stencil work and the full lengths of the pipes, a project that took several years.
I had the privilege of spending a couple of hours with Mike Green, First Church's historian and an unfailing fount of knowledge about the church, who told of the many "gifts upon gifts" from God that made the restoration happen. He described the impossible price tag for restoring the stenciling, thought to be insurmountable until they "happened" to find the one expert in the region who could not only do the stenciling, but could also restore the pipes to their original lengths. Better yet, his shop "happened" to be in a suburb of Salt Lake, and he was willing to donate much of his time and expertise as a labor of love. Green also described "chance" meetings that unearthed hard-to-find technical details needed for the project, and how the church found just the right spare parts, at precisely the right time, in their original packaging and pristine condition, in someone's storage where they had been sitting for a half-century or more. All of these stories point to what can happen when faith, craftsmanship – and a good dose of patient determination – come together to restore a treasure used to glorify God and to bless God's people. The result is amazing.
Indeed, the organ project has been a model of community and interfaith support, as well, with generous gifts from the LDS Church (many of First's organists having also played for the Mormon Tabernacle), the local Roman Catholic diocese, the Episcopal cathedral in Salt Lake, as well as banks and businesses. In turn, First Church is actively forging ties of welcome and engagement with Salt Lake's growing musical and artistic community as part of its outreach and hospitality.
Perhaps the most prominent couple to belong to First Church were James Cash (J.C.) Penney and his wife, Berta Alva Hess Penney. Fresh from establishing a successful chain called the "Golden Rule" stores in Wyoming, Penney moved with his family to Salt Lake to make it the base of his new J.C. Penney Company. The family attended First Church, though at first only Berta formally joined. In 1910, she died suddenly from complications after surgery. J.C., devastated, found help through his grief from by Dr. Francis Short, the pastor of First Church at the time. As an expression of gratitude, Penney paid off the remaining debt on the church's new building in 1912. Penney's company would move to New York shortly thereafter, but a plaque in memory of Berta Penney graces the church's tower.
There is, however, much more to First Church Salt Lake than its building or storied history. First UMC is a leading participant in Community Promise, a consortium of nine churches that rotate providing year-round shelter and job-preparation support to the city's homeless families. Two emergency pantries are supported by the congregation, which has won the local "Golden Celery" award for its food drive efforts. First's facility hosts a Korean congregation; and its mission program supports a training center for young widows in Pakistan, as well as medical mission work in Guatemala.
While you're in Salt Lake, there's a lot to do and see within easy walking or driving distance. A few blocks from First Church is Temple Square, with its famous Salt Lake (Mormon) Temple, visitors' centers, and a museum of LDS history. The Family History Library is a treasure trove for those interested in genealogical research, and is staffed by helpful volunteers. On Thursday evenings, catch a rehearsal of the famous Mormon Tabernacle Choir. All of this is free. Or take in the Clark Planetarium, the Utah State Capitol, or the Discovery Gateway, an interactive museum for children. If you get hungry, Caffè Molise (55 100 South) offers wonderful Northern Italian cuisine at very good prices. (Try the chocolate hazelnut mousse cake. The recipe is from the owner's family. You won't be sorry.) If pub fare is more to your liking, Squatters (147 W Broadway) has new twists on standard favorites. For great homestyle cooking in large portions that are easy on the wallet, visit the Lion House Pantry cafeteria, adjacent to the Beehive House (63 E S Temple). The hot rolls are famous, and melt in your mouth with a smear of honey butter. And Victor's (1406 700 W, near UMCOR) offers authentic homemade tacos in what may be the world's only restaurant-and-tire store.
Within a half-day's drive of the city is Cove Fort, with its extensive settler exhibits. Utah boasts, among other wonders, ancient petroglyphs, breathtaking scenic drives, and several of America's most beautiful national parks, including Bryce Canyon, Zion, and Arches. There are accommodations for almost every taste and budget, both in Salt Lake and around the state, though if planning to camp in the parks, make a reservation (summer) or get there very early (off-season), as the campgrounds fill quickly.
One last suggestion: if you can do it while in Salt Lake City, do stop by the UMCOR western regional depot (1479 S 700 West). It's one of two UMCOR depots centers in the United States and a little beehive of outreach, where volunteers come from all over, each week, to prepare cartons for shipment to places of need, across the country and around the world. (Severna Park UMC has left its mark on the giant wall of Sharpie signatures, along with churches from all over the West.) Visitors are very welcome; just ask for Brian Diggs or Mica Tukuamu. As you visit, if you're not already on mission in that place, pause a moment to reflect on all who serve there, and all who are served around the world through their service, and join in offering the "Pallet Prayer," posted for all to see, and which is spoken aloud over every single pallet of items once it has been assembled by volunteers:
Most Gracious and Loving God,
we come together to do your work:
One item at a time, One kit at a time, One box at a time, One pallet at a time,
to serve One person at a time, who is One from the multitude of your children in need
across the world. Amen.
Rev. Charles L. Harrell, Ph.D., is a retired elder in the Baltimore-Washington Conference. When not working at his day job as Director of Pastoral Care for a fabulous area retirement community or teaching in the field of history and doctrine at one of our United Methodist seminaries, he can often be found poking around sites of historical or cultural interest. His not-so-hidden agenda is to incite or fan a similar flame of appreciation for our heritage in faith and its gifts and promise for blessing now and tomorrow.