Traveling the Circuit: A Very Special "Mother" in Philadelphia
Posted by Charles Harrell on
By Rev. Charles Harrell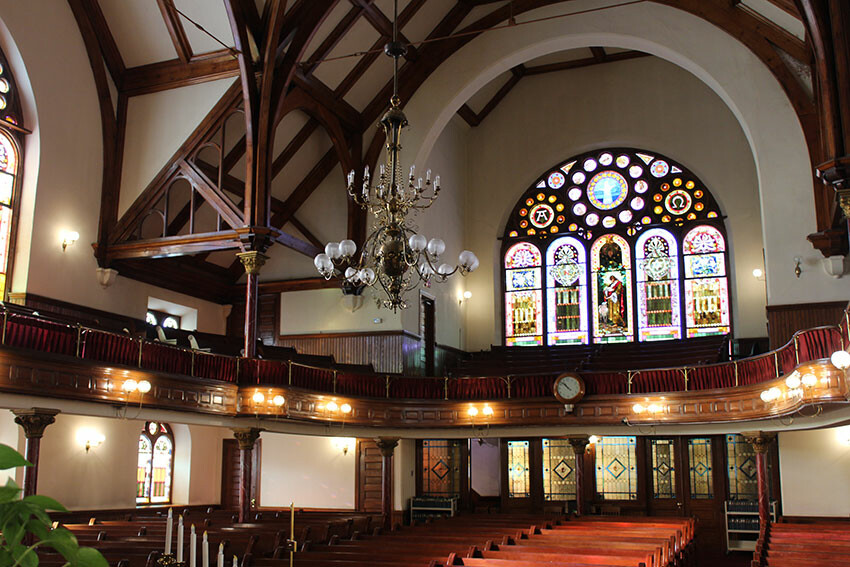 The savvy traveler knows that there is a whole world of places to explore which are important for our Methodist heritage, but do not have the word "United" anywhere in their name. Among the most significant – and beautiful – of these can be found in the heart of old Philadelphia.
Erected on land purchased in 1791 by Rev. Richard Allen for a house of worship, Mother Bethel African Methodist Episcopal Church stands on the oldest property continuously owned by African Americans in the United States. The very first meeting house was a converted blacksmith shop that had been purchased, hauled to the site, and renovated into a church house. (An engraving of the Walnut Street Gaol [Jail] by William Birch & Son, dated 1799, shows a building being moved in the foreground; some believe this to capture the relocation of the original church.) Richard Allen, like John Wesley, was short of stature; it is said that he stood on an anvil to preach to his congregation; the anvil continues today to be a sacred symbol among AME Methodists. Allen's repurposed shop was first dedicated as a Methodist Episcopal meeting house in 1794 at a service presided over by Bishop Francis Asbury. Funding for the meeting house project included donations from prominent local citizens, including then-President George Washington. (At the time, Philadelphia was the capital city of the United States.) As for the name: "Bethel" was chosen by Richard Allen; "Mother" was added later to reflect the church's unique place in the formation of the AME Church.
Philadelphia was America's second-largest city; as it grew, so did the church. And as the Bethel congregation grew, larger structures were required. These were built on the same site, beginning with the second church in 1805. The third, 1841 building, known as the "Red Brick Church", was much larger, and constructed with sections for men on one side and women on the other. (In the balcony galleries, the sexes were seated in the opposite pattern, to cut down on the temptation to be distracted by gazing during worship.) Today's Mother Bethel is the fourth structure, built in 1889 in the Romanesque style. The front consists of a majestic stone facade and tower, complete with griffins on its corners high above street level, as on a medieval cathedral. A spacious sanctuary seats more than 750 worshipers beneath striking, symbol-rich stained glass windows themed for Bethlehem, Jersualem, and Jesus the Good Shepherd. The windows cost $1195 in 1889, the economic equivalent of about $1.5 million today. The sanctuary furnishings are original, including the pipe organ and lighting fixtures that were originally made for gaslight. Downstairs, a wide undercroft holds the fellowship hall and the Richard Allen museum, preserving memorabilia from AME history and the lives of Richard Allen and his second wife, Sarah. A small crypt room in the museum houses a tomb, where the mortal remains of the Allens are lovingly enshrined: a light is kept perpetually burning in their honor. Already listed on the National Register of Historic Places, the visible link to heritage was enhanced with the addition of a new statue of Richard Allen standing by an anvil, unveiled in the summer of 2016, when the church hosted the AME General Conference.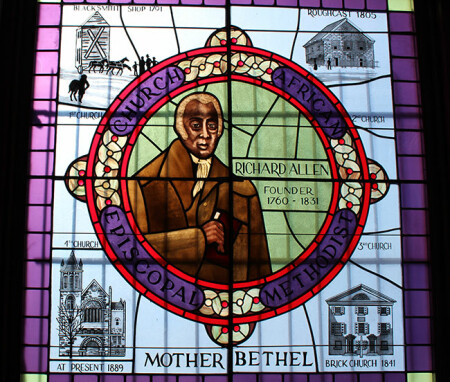 Yet Mother Bethel's significance goes far beyond denominational history and architectural grandeur, impressive as these are. During the years before the Civil War, Mother Bethel was an important station along the Underground Railroad, where black Americans fleeing slavery found food, clothing, and help to continue their journey northward to a new life as free persons. (For the first few decades of United States history, a person fleeing slavery needed only enter a free state, such as Pennsylvania. With the passage of the Fugitive Slave Act in 1850, a much longer trek to Canada was required to reach freedom.) When you visit, ask your guide to point out the two locations that may have connected to secret tunnels leading out of the Old Brick Church.
Besides all this, the "how" and "why" behind the formation of Mother Bethel and the AME Church should be of interest to all United Methodists. The story begins across town at St. George's Church, American Methodism's oldest house of worship in continuous, tracing its roots back to 1769. By the 1780's three black preachers had been approved to speak at the church. Two of these, Richard Allen and Absalom Jones, had also founded a Free African Society (FAS) as a mutual-aid association. Allen and Jones were so effective – Allen, in particular – that the number of black members was growing rapidly. White members reacted negatively to this growth, and instituted what became known as the "segregated pew", relegating black worshipers to the balcony (constructed, ironically, by laborers of color). Finally in 1787, matters came to a head when Absalom Jones was insulted and accosted by a trustee, who during prayer ordered the preacher to remove himself to the balcony. As a result, the black members walked out in protest from St. George's, and soon some 90% of these brothers and sisters began to meet separately with the support of the FAS. Jones, disgusted with the Methodists, left to become America's first black Episcopal priest. Allen, however, remained committed to Methodism, which he believed better served people of color. The result would be a new church, and the seed of an entirely new connection, organized in 1816 as the African Methodist Episcopal Church.
Today, the AME Church ministers in 39 countries, and is a member of the World Methodist Conference together with other Wesleyan bodies such as The United Methodist Church. Despite the troubled start, the people of Mother Bethel and St. George's have enjoyed good relations for many decades. At last in 2009, a combined service was held at Old St. George's where the Pastor of Mother Bethel, Rev. Mark Tyler, preached – "coming home" for the first time since 1787.
Mother Bethel, meanwhile, continues a thriving congregation, heavily invested in the welfare of Philadelphians through social ministry and activism. In 2016, the church was very involved in voter registration and a drive to get out the vote. (Democratic presidential candidate Hilary Clinton also spoke there.) Partnering with other organizations, Mother Bethel has been active in opposing "stop & frisk", fighting discriminatory incarceration and promoting education in the community. Such outreach work is in addition to the church's collection of clothes and toys for the children of incarcerated parents, providing science kits for local students, offering parenting worships, and a hands-on ministry of building bikes together with kids. Beyond the city, Mother Bethel also assists ministry across the water in Bermuda, which also lies in the same AMEC district.
My guide was Ms. Peggy McGraw, one of two docents who lead tours of the church and the Richard Allen Museum. Gracious and deeply knowledgeable, they exude enthusiasm about the church and its heritage, as well as the needs and ministry of the present congregation. Generous with her time and knowledge, she warned that during busy times, it is not always possible to answer questions in-depth. And she insists: "The tour's not complete until you've been to worship on Sunday." (If you plan to visit in summer, be advised: the historic sanctuary is not air-conditioned.)
Mother Bethel A.M.E. Church is located at 419 South 6th Street, Philadelphia, Pennsylvania (19147). Tours, which are free of charge, should be arranged in advance: use the website or call (215) 925-0616. Limited parking is available adjacent to the building in the church lot. (Caution: another adjacent lot immediately north at Addison Street does not belong to the church; parking there will get you towed.)
If you're there for the day, good eating abounds in Philly. For something quick, the hungry circuit traveler can turn left from the front door of Mother Bethel and go a short block to South Street, where all manner of small eateries abound. A little farther afield, Reading Terminal Market on North 12th Street is a local favorite for its variety of fare. In addition to hotels, Center City and environs offers several bed-and-breakfast options for $100-$200 per night, as well as a hostel where a bed can be had for about $30. Campers will do best to look in the western suburbs or, for more primitive sites but with a canoeing option, at Wharton State Forest near Hammonton, New Jersey. Mother Bethel is a ten-minute walk from Independence National Historical Park and the Liberty Bell, and not far from the Benjamin Franklin Museum, the National Museum of American Jewish History, or (by car) from Penn's Landing.
Mother Bethel is both storied and beautiful, and an important stop for any United Methodist seeking a deeper understanding of our own history, or of America's diverse religious heritage. Block some time for a tour on a visit to America's first capital, or make a special trip to Philly just to see it. Meanwhile, I'm looking forward to a second visit, on a Sunday morning, to "complete" my own tour.
Rev. Charles L. Harrell, Ph.D., is a retired elder in the Baltimore-Washington Conference. When not working at his day job as Director of Pastoral Care for a fabulous area retirement community or teaching in the field of history and doctrine at one of our United Methodist seminaries, he can often be found poking around sites of historical or cultural interest. His not-so-hidden agenda is to incite or fan a similar flame of appreciation for our heritage in faith and its gifts and promise for blessing now and tomorrow.