Student grows in the 'Wesleyan Way' at Howard University
Posted by on
By Neal Christie
When the Rev. Alexis F. Brown began her journey as the campus minister in 2016 with the Wesley Foundation at Howard University, she really didn't imagine that The United Methodist Church could offer her the opportunity to serve at a prestigious institution like Howard.
Howard University is known as "The Mecca" for rich innovation and investment in students who will lead the world.
"When I first arrived, I prayed to God about why I was sent to this place that seemed to lack for nothing," she said. "The answer was simple: offer what and who you are, offer our Wesleyan Way. As United Methodists, we are taught that it is through grace that we respond to our call, salvation, justification, piety, and justice in our relationships and public engagement.
"I wondered how we know for sure how we should live out our faith if we don't have the tools to build a relationship with God. Our founder John Wesley 'methodized' an intentional system to help us stay connected," said Brown.
Brown recalls a conversation with a student who shared that she was never taught to read the Bible. "I thought two things, wow, people go to church and don't learn about the Bible? And there is a misconception that young adults don't want the Word. The Wesley Foundation studies the biblical text through the lens of grace, and the concepts of the Wesley Quadrilateral which is founded upon Scripture, tradition, reason, and experience."
Spiritual formation is one main component of the structure of the Wesley Foundation at Howard University. It leads with grace, as all students are welcomed to participate in any events. The Wesley Foundation at Howard also offers a Bible study that encourages a welcoming atmosphere.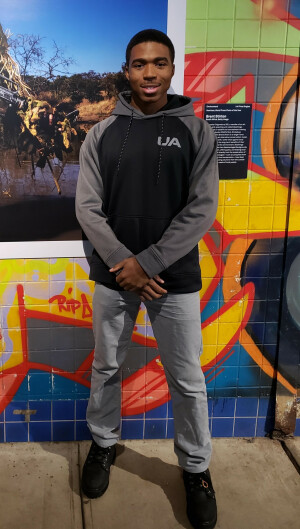 Brandon Abraham is a senior Civil Engineering major from Columbia, Maryland. He attended St. John's Baptist Church near his home. He plays bass and is a loving older brother. He was invited to Bible study by a friend and has been connected to the Wesley Foundation for three years.
"I've always felt welcomed," said Brown. "I believe that God always makes room, so we invite anyone, no one is turned away, we reject scarcity, and embrace God's abundance."
For Abraham, this process of sharing with other students in a community way is a practice that has helped him personally.
"It helps me know the Bible better and learn how to study it, not just to read it," he said. "I noticed growth in my spiritual life because of this. The Wesley Foundation at Howard has been important to me during my college career, especially during difficult times. The frequent check-ins and prayer make a difference. The hardest thing about college has been practicing to say no to things I wanted or needed to do because of coursework."
Abraham has also found his way into The United Methodist Church: he has served as a camp counselor at West River Camp.
"I was connected to camping through the program director who visited one of our meetings at Howard and as a result, I grew in my leadership skills," he said
When asked what the future holds, Abraham replied, "In the future, I plan to work in Civil Engineering, stay involved in ministry, and I want to continue to grow in my relationship with God." He says he will continue to search out communities with people who affirm him.
When asked what brings him joy in his life right now Abraham said, "Being around people who encourage me to grow."
The Wesley Foundation at Howard University is one of the campus ministries supported by the Baltimore-Washington Conference. To learn more about how you and your congregation can support the students at the Wesley Foundation at Howard University check out https://wesleyfoundationhu.org/ and email Rev. Alexis Brown at .