Small historic church offers huge witness
Posted by on
By Melissa Lauber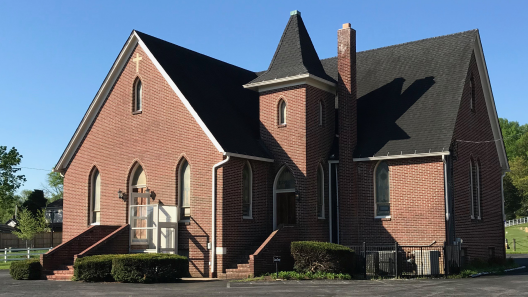 A few decades ago, the pastors and lay members of local churches used to process into the annual session of the Baltimore-Washington Conference in the order they were incorporated. Lovely Lane UMC was always first.
I imagine Dumbarton UMC was second. But third was Melville Chapel UMC in Elkridge, in Howard County.
This small congregation, born in 1772, celebrates its 250th anniversary this year. They won't be celebrating with festivals and fanfare. Rather, they'll be gathering as a faithful handful on Sunday mornings, trying to figure out how to keep the doors open, and worshipping Jesus with all their heart, mind and soul as best they can.
They're a small congregation. Their existence over 13,000 Sundays is a testament. A testament to what, I wasn't quite sure, until I recently sat in a pew at the funeral of Esther Merson, a lifelong member. The stained glass that cast its reflection on those gathered was inscribed with the date 1772. But it was what was reflected in the lives of those honoring Esther that told the story.
Esther Merson was the organist at Melville. She started playing one Sunday when she was a young woman and never stopped. She raised four children in the church, oversaw the spirits of countless grandchildren and great grandchildren, and even buried her beloved husband, Sam, from that church, where he poured out his lifeblood and found his soul's delight in service to God. She welcomed everyone there – especially me.
Esther and I didn't always agree on church politics, but she was Jesus to me. She and her daughter showed me unconditional love and brought God to life in a thousand large and small ways in my life and in the lives of others in the community. She lived an audacious and tireless faith – proclaiming goodness and mercy and hope and joy – with every encounter and every breath.
Pastor Rick Oursler leads Melville Chapel UMC, Dorsey Emmanuel and Wesley Chapel.
He grew up as a friend of Esther's daughters. He knows about the families that make Elkridge special – he's from one of them. He also knows how Esther does not stand alone. Throughout the Baltimore-Washington Conference, there many Esthers – women and men quietly giving their lives and all their love to God by tirelessly serving their church.
With that knowledge, Oursler is intent on lifting up the value and possibilities of this area's small churches. He knows the vital discipleship being lived out in their walls.
As the chair of the BWC's Small Membership Church Committee, he recently hosted a forum to allow people to share their thoughts on small membership churches. It's started an on-going conversation that is already bearing fruit.
Within the Baltimore-Washington Conference, more than one-third of the churches have fewer than 100 people in worship each week; about 15 percent have fewer than 50 who gather.
The comments offered at the Small Church Forum on March 18, often echoed one another as words like blessing, family, fragile, nimble, grace and connection were mentioned again and again. Some churches felt fearful about aging memberships and being able to adapt to changing times. But they also felt hopeful. "We are a light to our community," said Ophelia Brown Carter of New Waverly UMC. "Serving our community is one of the ways we show God's love," said Katie Smith of Union Chapel UMC. "This, we do with love."
The conversation on, and with, small membership churches is continuing. Bishop LaTrelle Easterling has repeatedly emphasized that size does not have to be an indicator of vitality. It's discipleship that matters, she says. How are people pouring out their faith in ways that that bring honor and glory to God?
As pastor of the historic church, Oursler knows what good one individual, or one small band of people can do. He has a journal entry written on Nov. 26, 1794, by Francis Asbury, the first bishop of Methodism.
"We had a comfortable love-feast, but we were prevented from attending our other meetings by excessive rains. The next day I came to Elk Ridge, where I found a little time for reflection and prayer," Asbury wrote. "I preached and administered the sacrament on the Ridge. After twenty-three years preaching here, we have a small society."
Oursler likes imagining Francis Asbury preaching on the property. It's interesting to imagine what that small society would make of today's church.
And so, this year, during the 250th anniversary celebration of Melville Chapel, I hope we'll all say a prayer – for longevity, for faithfulness, and for the spirits of the Esthers who boldly process into the future with hope for congregations of all sizes, and give a special nod to the churches who refuse to play "small."