Sexual ethics policy passes; many resolutions referred
Posted by Melissa Lauber on
By Melissa Lauber
Members of the Baltimore-Washington Conference went into the plenary sessions May 30 and 31 with more than 30 resolutions on which to deliberate and vote.
However, 10 of the resolutions addressing, in one way or another, the church's stance on LGBTQIA people were tabled, withdrawn or referred to conference agencies or offices for further consideration and action.
One resolution, about Affiliating with the Western Region, was substituted for a motion by the Rev. Bryant Oskvig to create a mission in the Baltimore-Washington Conference that provides ministries to and with LGBTQIA people.
His proposal was referred to the Discipleship Council for consideration.
This, and the other referred resolutions, were brought forth by Baltimore-Washington Area Reconciling Methodists. They were considered by their makers to be "aspirational" and received a vote of concurrence from the Connectional Table.
They were referred, in large part, because time for holy conferencing about them was cut very short.
A resolution on supporting deliberations on new expressions of Methodism was tabled.
The resolution disputing the constitutionality of paragraph 304.3 in the Discipline was withdrawn, as was a resolution on calling Methodists back to their roots and celebrating an Easter Conference at Lovely Lane UMC in Baltimore.
Conference members unanimously approved a policy on sexual ethics, "Keeping our Sacred Trust." The policy, which will be used in every local church across the conference, outlines procedures for reporting and responding to complaints of misconduct, offers guidelines for social media and dating between clergy and parishioners, and sets training requirements for ministry leaders.
An amendment to the policy mandates the establishment and deployment of a response team to address the needs of individuals and congregations involved in instances of sexual misconduct.
In other action, conference members voted on a number of resolutions that included calling for a station to be set up on the annual conference floor for nursing mothers and setting attendance requirements for General and Jurisdictional Conference delegates (which will be sent to the Judicial Council for a declaratory decision to ensure they are in keeping with church law).
Conference members also voted 781-98 to require gluten-free, egg-free, dairy-free and nut-free bread at all conference, regional and district gatherings.
They gave the green light to the Conference Trustees, in a 771-151 vote, to purchase a new episcopal residence for the bishop. The current parsonage has been remediated after being infected with mold.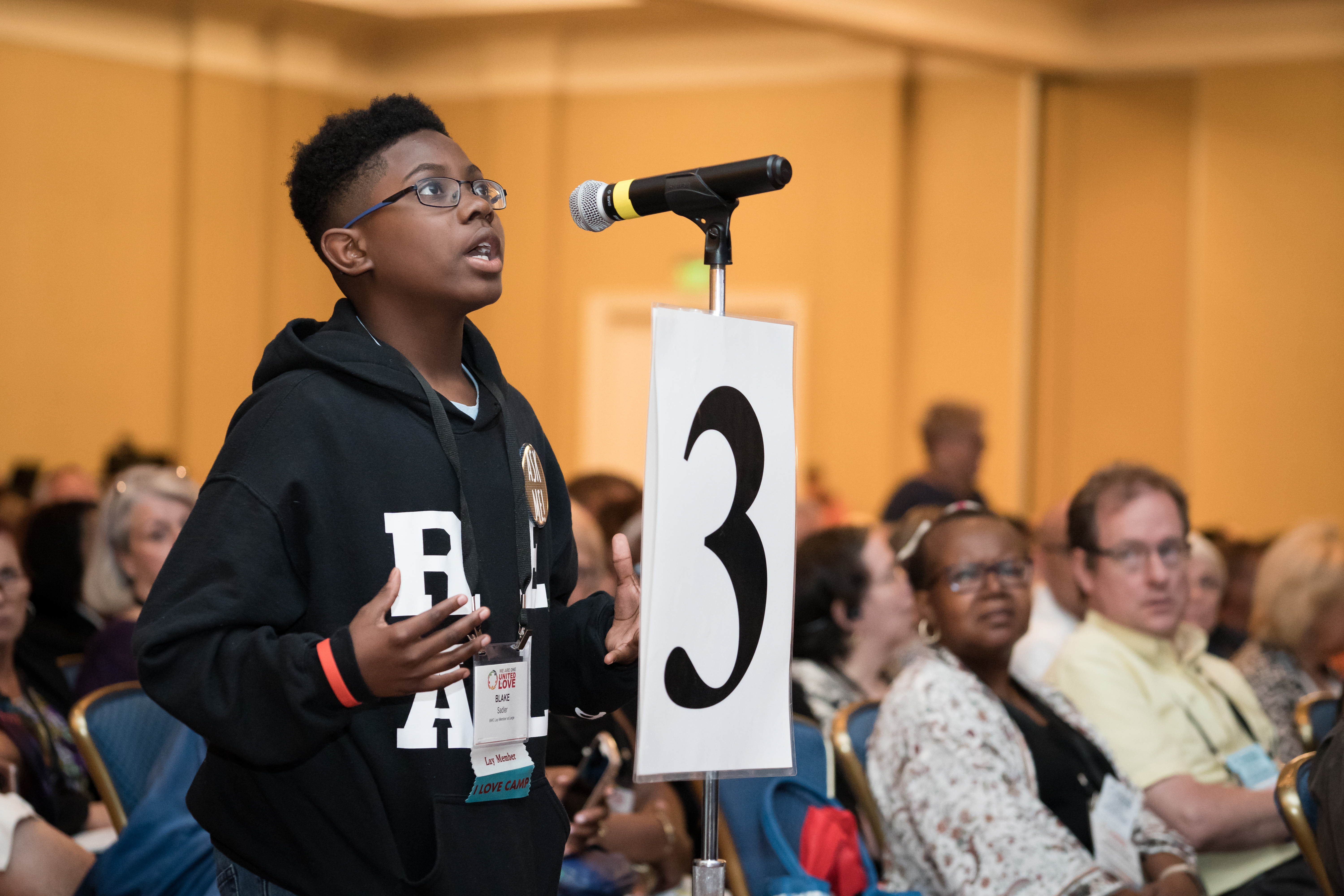 Conference leaders were also asked, following a 759 to 140 vote, to research a more geographically central location for annual conference, besides the cities of Baltimore and Washington, and to explore how to provide free accommodations for lay and clergy who can demonstrate need. They will report their findings at next year's session.
The Conference has a contract with Marriot to meet in Baltimore through 2022.
Members also voted to distribute $25,000 given to Centre Street UMC in Cumberland, which closed this year, to other ministries in Allegany County.
Centre Street was one of 11 churches that conference members approved the congregations' decisions to close this year.
The Rev. Stephen Tillett proposed that money from the sale of Grace UMC in Fairmount Heights and Mt. Zion UMC, be saved for possible use by the African-American community following General Conference 2020. A similar proposal was made for Homestead UMC, but members voted that those funds will go to other ministries in the city of Baltimore.