By Rev. Leo Yates, Jr.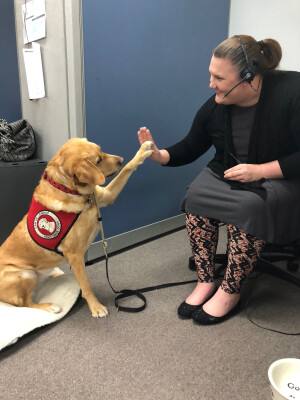 It's amazing how God uses service animals to provide empowerment, strength, and support for those with disAbilities, sometimes referred to differing abilities. Service animals came about in the mid-1920s, in which they are trained to support individuals; however, service animals assisting with police work and other professions have been around for centuries. While dogs are mostly used, there are other service animals that provide support to individuals as well.
Animals are trained to provide different services. Some, but are not limited to, are:
Seeing eye dogs, assisting individuals who are blind or visually impaired.
Hearing guide dogs, assisting Deaf and hard of hearing individuals by notifying them of sounds and noises.
Seizure dogs, assisting individuals with Epilepsy that a seizure is about to occur.
Psychiatric service dogs support individuals better manage symptoms of PTSD, depression, and/ or anxiety. (Comfort dogs do not qualify as a service animal under the Americans with Disabilities Act.)
Most handlers welcome questions, such as,
Is this a service dog for a disability? (asking disability questions according to the ADA is permitted)
What task/tasks is the dog trained to perform?
Handlers can bring service dogs anywhere they go, including restaurants, dining rooms, salad bars, meeting places, and the such. Handlers with service animals cannot be prohibited, be assigned, or forced to use designated areas. They are to have the same accessibility as others.
Because service dogs are often working when in public, it is best to ask the handler if you can pet his or her dog. Don't be offended if the answer is no. It just may be that the handler doesn't want the dog to get riled up. Just as important, do not talk to the service dog, talk to the handler, as talking to the dog may distract the dog from its work.
At our Annual Conference, there are a few individuals who utilizes the services provided by animals. Service animals are trained and the service animal handlers often receive training certification papers, though it is not required to have such papers under the ADA. Most often, service animals are identified in some way, but under the ADA, are not required to be identified.
Interestingly, while service animals are helpful to individuals with disAbilities, there are some people who have concerns due to dog phobias and allergies. At this year's Annual Conference, the dining room (for those eating on-site) will have a few tables that are designated as "Allergy-free." These designated tables will be for persons with allergies who need tables to be perfume-free and animal-free. Some people are allergic to animal dandruff, while for others, it may trigger asthma symptoms.
The arrangements committee for Annual Conference works toward making the conference accessible for people with disAbilities. Having a spirit of openness and welcoming enriches the meeting experience even more.
For more information about Maryland laws on service animals, check out this website.
For more information about allergies and asthma conditions, check out this website.