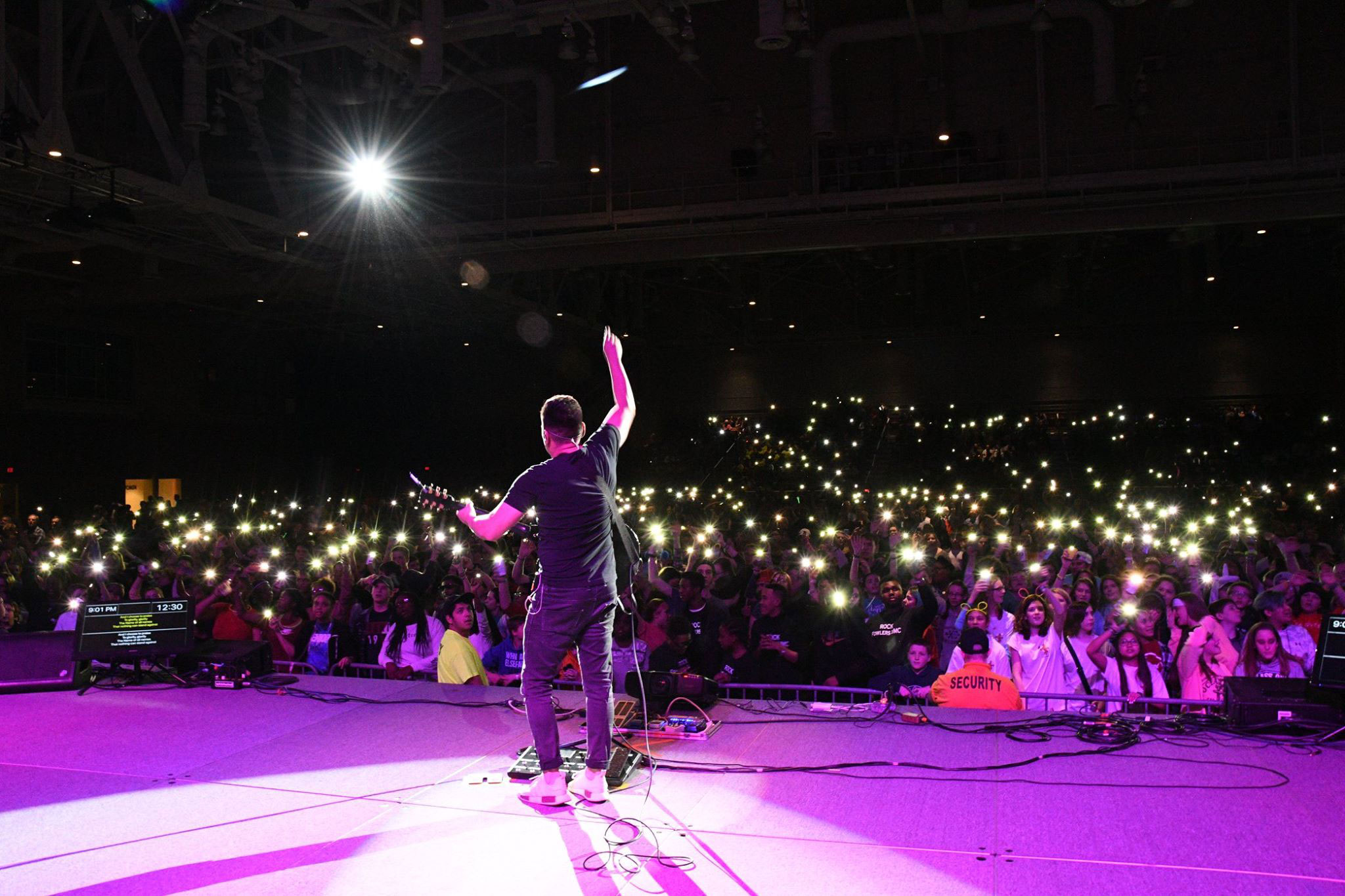 Nic Gonzalez, lead singer of the Christian band Salvador, is framed by a sea of light on-stage at ROCK.
Photo by Melissa Lauber.
In the Gospel of Matthew, Jesus said to Peter, "Upon this rock I will build my church." (16:18). For the last 25 years, thousands of youth and their leaders have gathered from the Baltimore-Washington Conference for a weekend retreat that's all about experiencing God's love and what being a "rock for Christ" means.
ROCK, held Feb. 8-10 in Ocean City, Md., saw more than 4,000 youth and adults gather for sessions of lively worship and praise, motivational speakers, fantastic art, and opportunities to grow deeper in a relationship — or make a first-time commitment — to Jesus.
"It's an incredibly exciting time," said event organizer, Becki Price, about ROCK. "It's our 25th ROCK and we're so thrilled with God's providence and God showing up with abundant love to just surround these kids and touch their hearts."
The band Salvador brought praise and worship music for ROCK, which again saw hundreds of youth rush the stage to dance and sing along.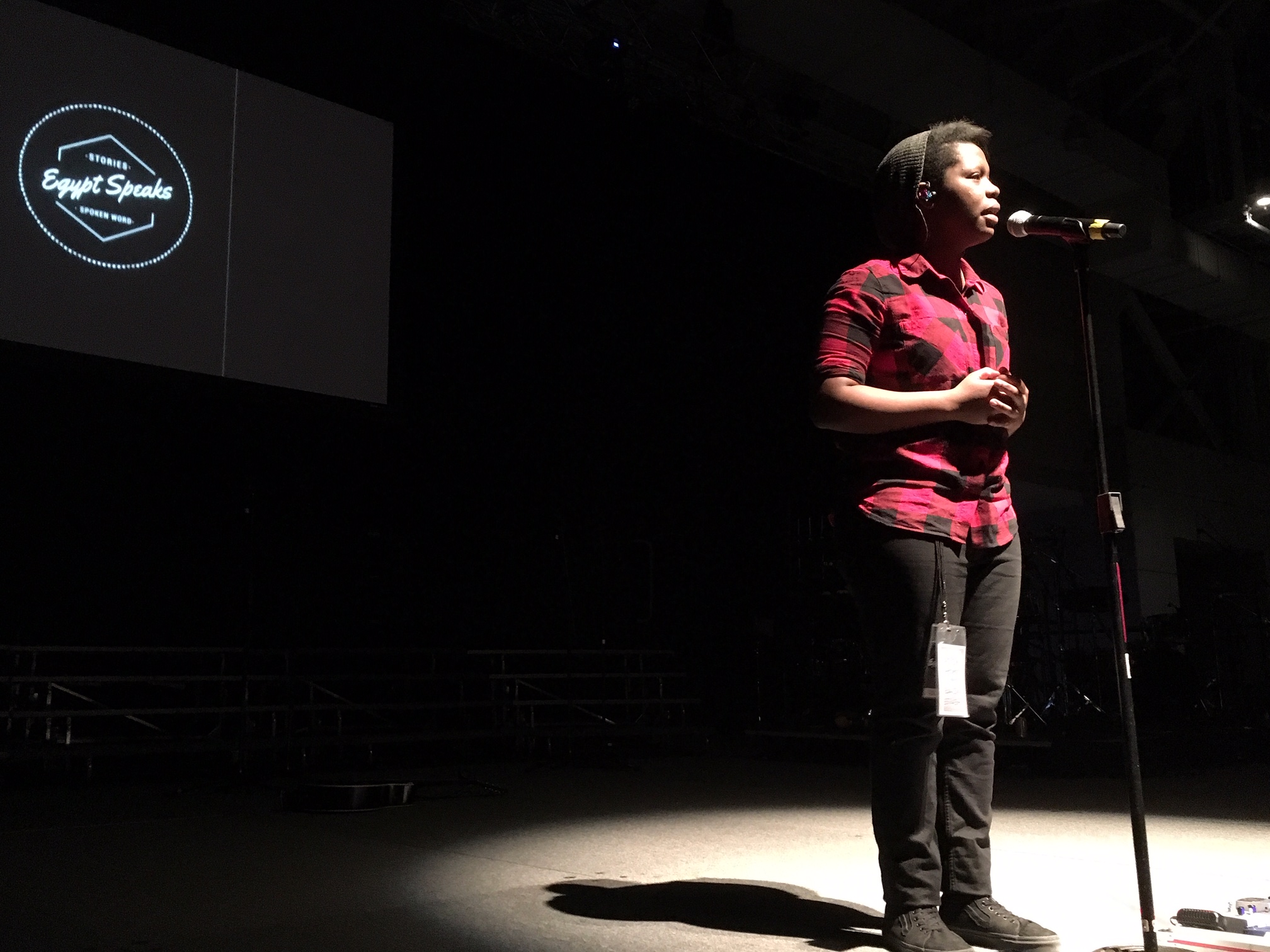 A spoken word poet, Egypt Speaks, shared her truth over eight chapters in four sessions. "You are worthy, and you are worth it," she said, offering insights from her own life.
She encouraged the youth on Saturday night, saying, "God says, 'I will never summarize you by your mistakes.'"
On Sunday morning, after talking about almost setting her grandmother's house on fire by trying to make French fries, she recalled being grounded as a result. She didn't have to ask why. "You're grounded," Speaks said, quoting her grandmother, "because you hid the holes in the carpet of the person who owns the house."
God knows our mistakes, Speaks said, and knows our confessions of sin. And God, she said, still loves us.
The main speaker, Ben Glenn, better known as "The Chalk Guy," brought a blend of humor and storytelling from his real-life experiences growing up as child with ADHD in the Midwest 40 years ago. At each of his four sessions, he drew a boldly colored image on a large black bedsheet to illustrate his points. Glenn said his main point with the kids was to simply say, "God is good."
"This is a dedicated weekend to focus on what God wants to do in us and through us," he said backstage. "I think that our life is so busy, and we're connected to so many things that, until we're deliberate and set an intention to really let God work in us and to be aware of his teachings and how we can grow through that, time gets away from us."
Glenn said that he, along with Salvador and Egypt Speaks, all came together at ROCK to soften up hearts to let God do what God does best.
"It's not about us," Glenn said. "We're blessed that we have some unique talents that capture the attention of these young people, but at the end of the day, it's all about him, and that's what we want them to leave with: getting acquainted with Jesus."
ROCK started as an event in the old Washington West district in 1994. After out-growing several venues, it moved to Ocean City in 2001 and took over the convention center.
"It never ceases to amaze me," Price said, "of how God shows up in powerful and mighty ways at ROCK. The energy of the kids, the excitement of the kids, is palpable. You go in the room and it just overwhelms you."
An estimated 65,000 youth and adults have attended ROCK since 1994, Price said, and it's known but to God how many additional lives have been touched by those people.
"It makes me feel humble, grateful, and so, so blessed," Price said. "It's overwhelming."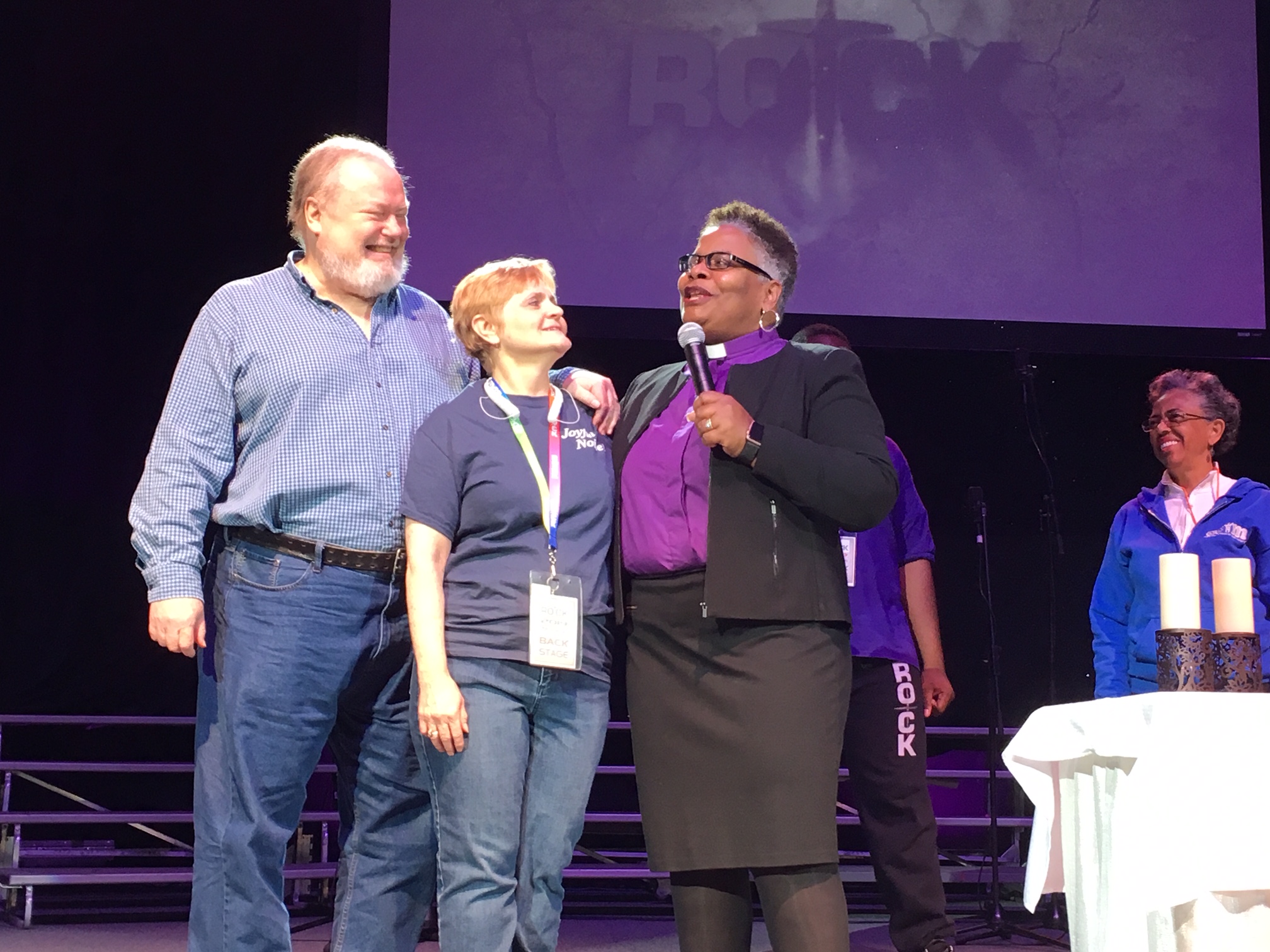 Tom Price, Becki's husband and also a long-time leader of ROCK, joined her on stage Sunday morning after Communion, as the ROCK Mass Choir performed two songs. The pair were honored by Bishop LaTrelle Easterling and other leaders of ROCK for their long-time service.
ROCK isn't just about bringing people to a first taste of God's love, Becki Price said, although that is at the heart of the weekend. ROCK, which uses about 250 volunteers of all ages over the weekend, has also shaped and molded countless leaders across all avenues of the church. The doors are always open, she said, for interested people to come help. (Send an e-mail to .)
ROCK also isn't just a weekend for the youth; it's a weekend by the youth, Price said. There's a leadership team for ROCK, and it's the youth on that team that select the Scripture and the theme for the event. They also select the speaker, vote on the band, and then we narrow the speakers down from a handful, Price said. That final list gets sent to Bishop Easterling for her to review and to say what she would prefer.
"I don't vote, because I'm not a youth," Price said. "The event's not for me, it's for the youth. They're the ones who design the T-shirts, choose the speakers, the bands, the themes, the Scripture, the colors, they're the emcees, as it should be. I want kids out in the audience seeing what's possible, like the Moral Courage Awards: it shows the kids what's out there that, yeah, 'I'm 12 and I can make a difference in the world.' And, even better, 'I can change the world in the name of Jesus.'"
The annual offering at ROCK went to support Retreat and Camping Ministries in the Baltimore-Washington Conference by providing money for "camperships" -- scholarships to help defray the cost of attending a week of camp. The offering this year was $11,697.76.