By Erik Alsgaard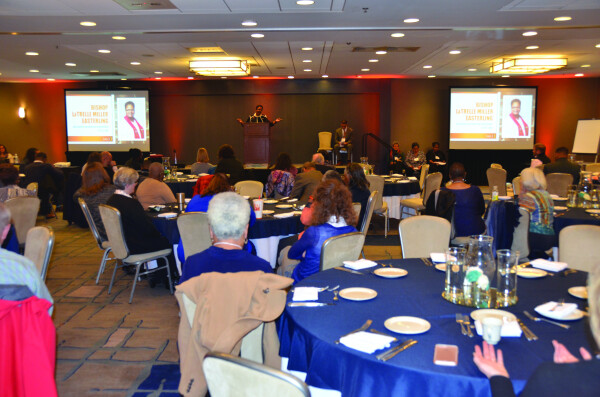 Bishop LaTrelle Easterling, center, preaches at the opening worship of the reCall Summit Oct. 26. Photo by Erik Alsgaard.
When fighting racism, sexism, xenophobia, misogyny and other "isms," United Methodists are at a distinct advantage. Because we are connected in Jesus Christ and work together as a connectional church, coming together across theological and political lines is part and parcel of what we do.
That was part of the hope and challenge offered by Jim Wallis, president and founder of Sojourners, and Marvin McMickle, president of Colgate Rochester Crozer Divinity School, at the reCall Summit Oct. 26 and 27.
More than 100 United Methodists from throughout the Northeastern Jurisdiction were implored to move towards advocacy and action on these issues at the Summit, co-sponsored by the Baltimore-Washington Conference and the Multi-Ethnic Center for Ministry of the Northeastern Jurisdiction. This was the second such annual gathering. Two years ago, delegates at the Northeastern Jurisdictional Conference pledged to work intentionally to "fight the scourge of racism" and unanimously approved a "Call to Action" resolution that called for the church to do more to fight discrimination, to confront racism and to affirm that all lives matter in God's eyes. The reCall Summit is one piece of the response.
Wallis said that there are times when advocates fighting against racism want to quit; there are times when they get discouraged.
"Whether to give up or not is a privilege," he said. "A lot of people don't have that; they're just trying to survive one day to the next."
In his three talks on Oct. 27, Wallis spoke about hope, change, racial geography, and much more.
"People of faith are the ones who can stop trains," Wallis said. "What are the trains you can stop? We have the people already who believe that we're going to get there. What I'm talking about is acting to stop the trains."
In her opening worship sermon, Bishop LaTrelle Easterling set the tone for the Summit by stating that the church had not only lost its way in confronting the sins of racism, but it is the church who is called to lead the world forward.
"There is no one race that is the standard," she said. "There is no one race that the rest of our selves need to try and assimilate ourselves to. There is no 'other' race. All of us were created in the 'Imago Dei,' the Image of God."
If we are to reclaim our "authentic voice for activism," Bishop Easterling said, "and become the beloved community… this is our journey: until we can look at each other and not see Latino/Latinex, Native American, Korean, Black, African, Israeli, Palestinian… until we can look at each other and see nothing but Christ, we have fallen below the baptismal vows we took. Until we believe that all people have inherent worth and dignity, we will be mere wayfarers on the road."
Time and again, participants at reCall were challenged by the speakers on issues dividing our country. McMickle, a Southern Baptist with deep roots in the local church and in advocacy, spoke during three sessions on how Jesus called his followers to be "witnesses."
"Do you see what's happening in our country?" he asked. "You know the saying: 'If you see something, say something.'" It's at this point, he said, that courage comes in. And it's also at this point that the church falls short, especially the preachers.
"Why?" McMickle asked. "We have to ask: how much are we willing to suffer for the things we say about the things we see?"
WATCH: One-minute video from Marvin McMickle on being a witness for Christ.
That suffering results from παρρεσια, the Greek word "parresia," which means speaking truth to power or, as McMickle said, "bold speech without regard for the safety of the speaker."
Taking it further, McMickle asked the preachers in the room about their sermons. "If every sermon is well received," he asked, "what are you saying?"
McMickle spent one of his sessions expounding on where Christ's followers are called to be witnesses.
"Jesus intentionally sent his disciples to places and people he knew they did not want to go," McMickle said. "So, fix in your mind, if you will, from outside the front window of your church, who are the people and where are the places you would never ask your church members to go?"
And if we really believe that God created the heavens and the earth, as recorded in Genesis, McMickle said, then there are no places on earth where we shouldn't also be God's witnesses.
"God lays sovereignty to everything God made," he said. "God has no favorite nation, no favorite race, no favorite nothing. You are not just patriots, you are witnesses to the global God who has the whole world in his hands."
Wallis brought a similar message as McMickle. Noting that President Lincoln, years ago, appealed to "our better angels," he said that recent events have shown just how close to the surface our demons are.
"Jack is out of the box," Wallis said. "There's a direct strategy of fear, led by Washington, trying to evoke fears, resentments and hatreds of the 'other.' The elephant in the room is, that by 2040-something, we'll no longer be a white majority nation. We'll be a majority of minorities. A lot of white folks have no idea how to deal with that."
Wallis agreed with McMickle that it is long past time for preachers and pulpits to change the world, adding that pulpits don't change the world unless they spark movements of ordinary citizens.