Quincy Brown shares '3-D Journey' of discipleship
Posted by Erik Alsgaard on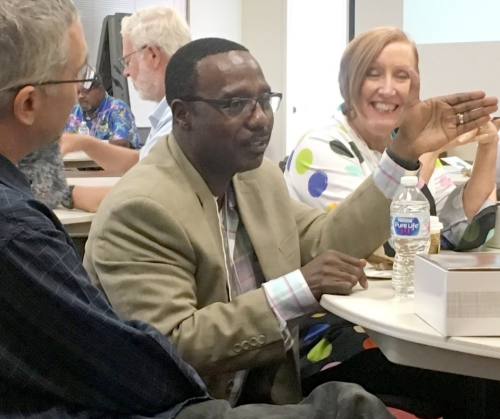 If the mission of the church is to make disciples of Jesus Christ for the transformation of the world – and it is – then how, exactly, do you do that?
The Rev. Quincy Brown, superintendent of the Atlanta-Decatur-Oxford District of the North Georgia Conference, has one possible answer. Actually, he has a path.
Brown, who says that he is passionate about finding new ways of connecting people to Jesus, offered a workshop Sept. 6 at the BWC Mission Center on the "3-D Journey" of disciple making: Discern, Dream, and Develop. A new book is in the works, he said, featuring this information.
"The church is no longer the cultural center of the universe," Brown said. "You'll find congregations saying that families attend events like 'Trunk or Treat,' bar-b-ques, and Back-to-School activities, but they don't come to church."
What congregations often don't acknowledge, Brown said, is that their church has "no clue how to connect with people" in their community.
Step one of the 3-D Journey, he said, involves discerning the success stories of the past. Every church has them, he said, dating back to times when the sanctuary and the Sunday School classrooms were full.
By looking back at those stories, churches can find their way forward, Brown said.
Nostalgia is the residue of past success. However, what worked in the past may not be working now.
"Stories of the past have glimpses of God's preferred future," Brown said. Learning those stories are critical for pastors and lay leaders of a church that wants to change into a disciple-making congregation.
However, Brown said, "You can't convince a grown person to do what they don't want to do. Change is hard!"
He invited participants to start where people are and to ask them about their stories of the church when it was booming. "You'll encounter nostalgia," he said, "because nostalgia is the residue of past success. However, what worked in the past may not be working now."
Using the data from those stories, Brown said the next step on the path is dreaming where God is leading. That involves asking questions that start with "what if…", he said.
"Dreaming is not copying what the big church down the street has or does," Brown said. "It's all about context, both inside and outside the church."
The last step is developing systems that move people from "connecting points of engagement" – such as singing in the choir or going on mission trips – to "living in a new way," Brown said.
The goal of all this hard work, Brown said, is having people become disciples who embody the five vows United Methodists take when they become members.
"The goal is a disciple who give attention to God's presence by participating in worship," he said, "serves inside and outside the church; grows through prayer; invests their time, talent and financial gifts; and demonstrates a faithful witness to others of what it means to follow Jesus."
A disciple, he added, is simple someone attached to another person's lifestyle.
The day-long workshop, sponsored by the BWC's offices of Congregational Development, hosted 50 lay and clergy participants for a practical and insightful workshop on Creating Discipleship Systems. Rev. Rodney Smothers, the Director of Leadership and Congregational Development, said that what made this training event so significant was the practical experience of the trainer.
"His focus on discipleship as a relational and community building approach to making disciple transcend the systems only approach," Smothers said. "Dr. Brown's Pathway focused a great deal on acknowledging the importance of understanding congregational stories and how they can become a pathway for inviting others to become involved in those stories. He divided the workshop participants around practical, natural groupings of church life and the participants were immediately able to create new pathways based on common community relationships."
Smothers added that Brown's soon to be published book will be highlighted on the BWC Resource Page as soon as it released.