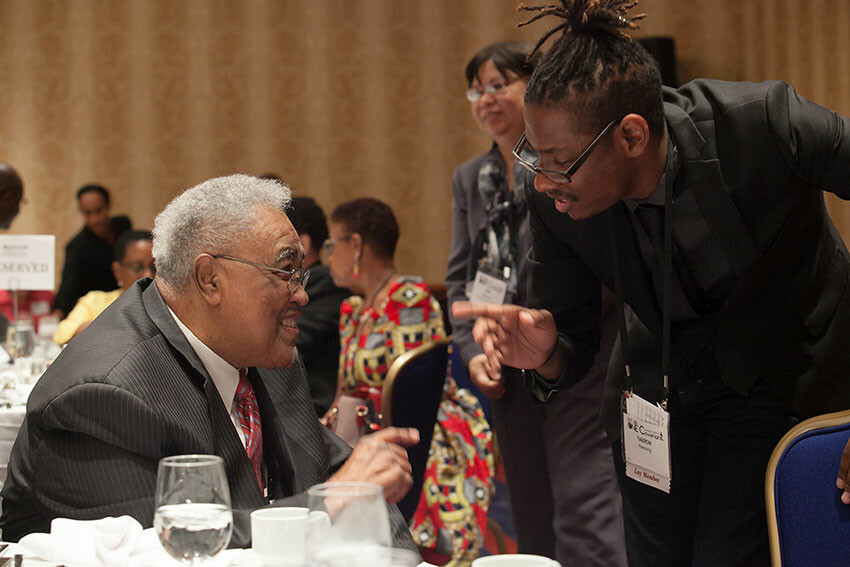 Bishop Forrest
Stith,
left, speaks with Taeron Flemming, right.
By Bishop Forrest Stith,
from his address to the Retirement Reception and Luncheon on May 31, 2017
What then is Apollos? What is Paul? Servants through whom you came to believe, as the Lord assigned to each. I planted, Apollos watered, but God gave the growth. So neither the one who plants nor the one who waters are anything, but only God who gives the growth. The one who plants and the one who waters have a common purpose, and each will receive wages according to the labor of each. For we are God's servants, working together; you are God's field, God's building.
According to the grace of God given to me, like a skilled master builder I laid a foundation, and someone else is building on it. Each builder must choose with care how to build on it. For no one can lay any foundation other than the one that has been laid; that foundation is Jesus Christ.
– 1 Corinthians 3:5-11
Good morning. Grace and peace are yours, because God is creator of all of life, and Jesus Christ the redeemer of every life.
Josephine and I are grateful to Bishop Easterling and the Rev. Marion Easterling for their positive presence in our area, for her gracious personal support to us, and for this kind invitation to share a few words to this my home conference.
Bishop Easterling has already demonstrated outstanding gifts within the Council of Bishops and the church at large. I am also grateful to God for my recent birthday, reflective of 59 years of ordained service, 26 years of which were served here.
To appreciate my age, when I drove my first car, to signal left or right required me to hold out my arm outside the window to signal a turn, even in rain or snow.
There was also a time, 51 years ago, that I was watching my 13-inch black and white TV—albeit with a snowy screen in spite of the coat hanger I used as an antenna. The occasion was the inauguration of John F. Kennedy, the 31st president of the United States and our youngest president.
These words were spoken by Kennedy, in a tone that still radiates today: "Let the word go forth from this time and place, to friend and foe alike, that the torch has been passed to a new generation of Americans—born in this century, tempered by war, disciplined by a hard and bitter peace."
The idea of passing a torch can be traced back to the Olympic flame, a symbol of the Olympics, commemorating the theft of fire from the Greek god Zeus by Prometheus. Its origins lie in ancient Greece, where a fire was kept burning throughout the celebration of the ancient Olympics.
The Bible is also filled with examples of passing the torch.
In 2 Kings the prophet Elijah promises his successor, Elisha, to give him a double portion of his spirit, if he sees Elijah carried away. And then it happens! A chariot of fire comes and picks up Elijah, across the Jordan. Elisha sees it and rejoices. If he had lived in our time he would have sung, "Swing low, sweet chariot, coming for to carry me home..."
Or in 1 Corinthians, Paul admonishes the church In Corinth, a community always prone to divisiveness, and pleads with the young church not to set one preacher over another. Instead says Paul, "I planted, Apollos watered," but both are finite, limited creatures. Rather, "God gives the growth." He goes on to say that there is no other foundation than Jesus Christ.
In a sense, in a few days, you will be passing your torches to a new class of ordinands moving into ministry. They could well be those who are asked to carry the torch of Jesus Christ for 30 years or more to a new generation, even as it was once passed to you, for you represent the 233rd passing of the torch in Methodism, beginning in the Christmas Conference at Lovely Lane church, which began the formal structure via the old Baltimore Conference.
Unlike some denominations, passing the torch is who we are—our basic DNA, or heir to an itinerancy system. Created by John and Charles Wesley, this mobility system could have been based on the sending of the seventy in Luke 10, where the 70 were advised to keep moving to more and more welcoming prospective constituents.
Itinerancy and the appointment process guaranteed every charge a certified pastor, and every pastor a guaranteed appointment. Recent times have ushered in a reduction of itinerancy. Wesley preferred his preachers move frequently, even every year, lest the preacher become too comfortable and lose the zeal to "spread scriptural holiness throughout the land." Further, Wesley believed that each preacher offered different gifts and graces for the development of all the churches.
Today, however, we see value in long-term appointments, the gradual elimination of parsonages, and often Pastors and congregations embracing more local autonomy.
Personally speaking, Josephine and I have lived in 14 different homes before retiring in our present home for 16 years; most without any equity. Wesley saw the itinerancy principally as a Missional opportunity to:
Do all the good you can
By all the means you can
In all the ways you can
In all the places you can
At all the times you can
To all the people you can
As long as ever you can.
But that was then, and this is now. And if we are honest in this year of 2017, we may have some mixed emotions about passing our torch. Not just second-guessing our work or re-reading an old sermon—"Did I really say that?"—or having difficulty leaving what we worked so hard to develop, as if nobody could do as well as me. But as protocol and good sense demands, we do not go back to spy or meddle, even when we hear those pathetic words, "Reverend, Mama just died. This new pastor didn't know her like you did. Please come back and do the funeral?"
But alas, Paul speaks to us. It never was our parish. We simply watered it. Our task is to do the best we can then trust God to give the growth.
But in an even deeper sense, we may wonder about the nature and endurance of the flame of the torch itself which has burned for 233 years.
It seemed so obvious when we were idealists, bushy-tailed and wide-eyed, filled with excitement. But now, we look around and we wonder at the future. The world has changed more in the last 40 years than it had in the last 1,000 years before that—principally due to technology, communications and rapid transportation. New breakthroughs in medicine and other inventions have given us so much in terms of progress. But what price glory?
There is a cartoon that features two elderly women sitting together in a restaurant. Across from them are two teenagers. The caption shows the women eagerly and excitedly involved in conversation, without a breath. Meanwhile the teenagers are silent, not a word, but each absorbed in their separate smart phones. Their fingers move magically and expertly, never looking or talking to each other. Finally, one teenager looks up and says, "Wow, look at those old ladies over there. Don't you feel sorry for them? They don't have any one to talk to except themselves."
That's a microcosm of the new age. The volume and speed of data blows one's mind. But we can't help but wonder about the quality and depth of so much instantaneous data, and the meaning of relationships, in exchange for 300 Facebook friends — who may or may not be friends at all.
Whereas we once thought the Kennedys and Martin Luther Kings were ushering in a new world of peace, reconciliation, justice, compassion and love. The recent election feels now like the old children's game. Yes, you may take two steps forward, only to hear, "but you forgot to say 'May I'."
Amidst a tumultuous divisiveness in our society, even our great church may be facing a second great schism. I must say I worry not about schism. Schism is too complicated and expensive. Rather my fear is a general conference which, after all the work, will simply kick the can down the road, which would be chaotic and destructive.
To appease large numbers of folk, the temptation is to do anything, preach anything to fill our empty pews, rather than be faithful and loving. When Jesus sent out the 70 in the tenthchapter of Luke, he did not stress numbers but quality, even advising them to move on if the household was not welcoming: "Even the dust of your town that clings to our feet, we wipe off in protest against you." Only the gospel of love and reconciliation will do.
I suggest that the issue of human sexuality is simply a manifestation of a larger issue in our church that reflects our society, evolving since the end of slavery. Slavery was both a reality and a symbol—a reality of cruelty and inhumanity, but a symbol that legitimatized the value of exclusiveness rather than inclusiveness, that some of God's creation is superior to other gifts of creation and thus can be marginalized and persecuted. Under that rubric, the task of the church and society is to protect the majority from the minorities; those who don't look like, talk like, think like, act like, and make love like me.
Of course, the terms for such posturing is racism, sexism, nationalism, homophobia, and other differences.
Robert Jones, in his new book titled "The End of White Christian America," is helpful in understanding the present Protestant church in America. Although his title is a hyperbole, this Southern Baptist Preacher and sociologist utilizes years of research, polls and other data to conclude that the white Protestant church, both north and south, is dramatically losing members and influence in our land. And will continue to do so in the future.
To ease our guilt a bit, the reason is not something it is doing or not doing, but rather that society is shaking beneath our feet. Or in the words of Isaiah 43:19, "God is doing a new thing, can you not perceive it?" The new thing includes population shifts, from urban to suburban, to rural, and back to new urban; major demographic changes, in that whites are moving towards minority status and being replaced by people of color and immigrants from countries with allegiance to other denominations and religions, like Muslims, Hindus, and a variety of spiritual movements and sects.
In the last 50 years we, asnation, are more global and diverse, and the future will find an increase of both.
Our younger generations are more open to Secularism or spirituality outside institutional churches. They accept science and human differences, and reject creationism and exclusiveness. They are open to a brave new cosmos and often see the traditional church as an exclusive club utilizing the Bible as a weapon to enforce their values, rather than a way to love and fellowship with all of God's creation.
Jones further states that some dying Churches may seem to be growing, because they huddle with like-minded people together in a fortress and hold on tight, affirming each other's biases and prejudices—all of which can win short term goals, but in the long term is guaranteed destruction. Or like Albert Einstein once said, "Insanity is doing the same thing over and over again, and expecting different results."
Roberts sees the hope of the church in more ecumenical cooperation, diversity and inclusion. He reminds us of Dr. Martin Luther King's words, that "Sunday morning is the most segregated time of the week." Jones asks, what would happen if the Christian church reflected the multicolor, multicultural reality of the current and future population of our land?
Further, how can our society, amidst its divisiveness and exclusive neighborhoods, accept diversity and unity when we worship separately? And I would add, that is why the hope for the future of the church is not to set Paul against Apollos, or both against Priscilla, but to seek the foundation of Jesus Christ who said, "Love thy neighbor." And they asked him, who is our neighbor, and he said, whoever you see. That is our only hope.
Or in the words of John Rippon, a great hymn writer of over 200 years ago, whose hymn was sung at the funerals of Presidents Theodore Roosevelt and Woodrow Wilson:
How firm a foundation, ye saints of the Lord,
Is laid for your faith in His excellent Word!
What more can He say than to you He hath said,
You, who unto Jesus for refuge have fled?
Fear not, I am with thee, O be not dismayed,
For I am thy God and will still give thee aid;
I'll strengthen and help thee, and cause thee to stand
Upheld by My righteous, omnipotent hand.
When through the deep waters I call thee to go,
The rivers of woe shall not thee overflow;
For I will be with thee, thy troubles to bless,
And sanctify to thee thy deepest distress.
When through fiery trials thy pathways shall lie,
My grace, all sufficient, shall be thy supply;
The flame shall not hurt thee; I only design
Thy dross to consume, and thy gold to refine.
The soul that on Jesus has leaned for repose,
I will not, I will not desert to its foes;
That soul, though all hell should endeavor to shake,
I'll never, no never, no never forsake.
So, I thank you for all that you have done and will do. And be not anxious for those that follow you. The future is not in our hands—that is the real good news—but rather the work we have done, we turn it over to God, through Jesus Christ, who will make the growth. Thanks be to God. Amen.