Next Level series explores leadership with Tod Bolsinger
Posted by on

By Melissa Lauber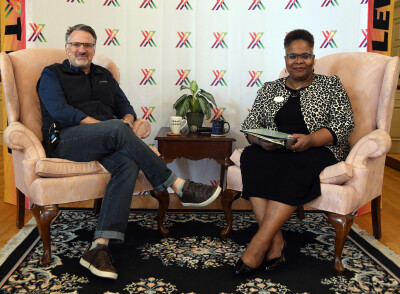 Confident that outstanding leadership is an essential part of helping churches thrive, Bishop LaTrelle Easterling invited best-selling author Tod Bolsinger into a deep conversation as part of the new Next Level Speaker Series on Oct. 20 at St. Mark's UMC in Easton, Maryland.
Bolsinger's latest book Tempered Resilience: How Leaders Are Formed in the Crucible of Change is "the absolute best book on leadership written to date," Easterling said. Her conversation, and the Q&A that followed, drew upon Bolsinger's experiences in helping faith leaders thrive as change leaders.
The mission of the church, Bolsinger said, "is to be the answer to the prayer 'Thy Kingdom come, Thy will be done … '"
Leadership, he said, "is energizing a community of people toward their own transformation in order to accomplish a shared mission."
Drawing on lessons from his book Canoeing the Mountains: Christian Leadership in Unchartered Territory, Bolsinger explored how "this might be the first time in history that the church has not grown during a pandemic."
"We need a different way of leading that will require us to be transformed," he said. "It will require us to become a corps of people who can proceed on and enter into unchartered territory with humility."
An essential part of proceeding on is to realize that "nobody cares whether your institution survives," Bolsinger warned. They only care if your institution cares about them."
"The default behavior of most organizational leaders is to solve problems for our organizations, rather than changing our organizations for meeting the needs of the world," he said.
To make that transition into being motivated by the "pain-points" of the community, leaders need to acknowledge that they're not experts and become learners. "Humility," said Bolsinger, "Humility is about teachability, not weakness." It also means stepping into the fire. Leaders, he stressed, "are formed in the leading."
Bolsinger outlined how leaders can forge the adaptive capacity that allows them to be transformed and to create transformation. Among the formational practices are:
Create expectations and the capacity for learning.
Face loss with empathy and courage.
Name and navigate competing values. Leaders must make choices, and someone will feel a loss.)
Clarify and adopt the congregation's core gifts. Go forward as the best version of yourself, not as something you're not. Once you have determined what will never change, you must then be prepared to change everything else.
Experiment with a new future. Fail fast and learn fast.
Remain resilient in the face of resistance and sabotage.
In explaining how leadership can prompt transformation, Bolsinger lifted up the story of Rev. Andre Trocme and his wife, Magda. Trocme, the pastor of a small church in the village of Chambon in France, in 1941, began hiding Jews, who were being detained and killed by Nazis.
During the war, he created a network in the village of people who risked their own lives to save 3,500 Jewish refugees.
"To love, to forgive, to show kindness to our enemies, that is our duty. … But this moral resistance is not possible without a clean break from the selfishness that, for a long time, has ruled our lives," Trocme said.
In researching his books, Bolsinger was able to talk with the Trocmes' daughter, Nelly, who offered a gentle rebuke, telling him, "You're really romantic about this; these are people who just lived out their beliefs."
But where did they get such extraordinary goodness, Bolsinger wondered. "What transpired at Chambon did not emerge from a single experience, but rather, from a culture containing within it a long memory of persecution; a culture in which gathering around Scripture was a daily practice, a culture of both extraordinary hospitality and stubborn resistance."
Creating such cultures that can bring about transformation requires spiritual formation, Bolsinger said.
There are certain practices we need to take into our lives. "Your practices create your culture, said Bolsinger, who invited those leaders present to create "an environment of practice." To do this, he advised:
Cultivate humility for a community of learning,
Cultivate courage and empathy to face loss,
Cultivate a diversity of perspectives to see clearly,
Cultivate missional clarity – what you hold onto and what you don't,
Cultivate resilience in the face of resistance.
When such practices become part of a church's identity, the congregation grows in vitality, said Bishop Easterling, who encouraged the leaders, "We have to believe who we say God is."
The next Next Level Speaker series will be held March 8, 2023, from 9:30 a.m. to 3:30 p.m. at Severna Park UMC, when Bishop Easterling talks with Jacqui Lewis, author of "Fierce Love: A Bold Path to Ferocious Courage and Rule-Breaking Kindness that Can Heal the World." Register for this event.