New Lenten study offers hope, reconnection through covenant
Posted by Erik Alsgaard on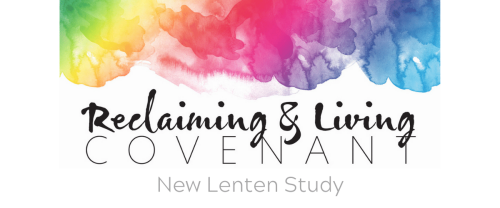 By Erik Alsgaard
A new adult Lenten study, "Reclaiming and Living Covenant," published by the Baltimore-Washington Conference, is a deep dive into biblical covenant and hope, and reconnecting relationships. That's according to its two authors, who say the study is designed to help people on their spiritual journey towards Easter.
Divided into six sessions, "Reclaiming and Living Covenant" uses Scripture, The United Methodist Church's Social Principles, and antiracist exploration to help people uncover their own brokenness and that of their community. In addition to the adult study, a youth version and a children's version are coming soon.
The study is designed to be used during Lent but can be used at any time during the year. Lent is a 40-day period of repentance and preparation for Easter – not counting Sundays, which are considered "mini-Easters" – that has ancient roots. It begins in the UMC on Ash Wednesday, which this year is Feb. 17. The 40 days represent the time Jesus spent in the wilderness, enduring the temptation of Satan and preparing to begin his ministry (Matthew 4:1-2).
The two authors are Jen Kidwell, a lay member of Silver Spring UMC, who serves there as the Director of Youth and Adult Discipleship, and the Rev. Neal Christie, an Elder from the Greater New Jersey Conference and former Assistant General Secretary at the General Board of Church and Society in Washington, D.C.
Kidwell hopes that a take-away from the study will be energy to make a difference.
"So often, you look around the world and you can be paralyzed," she said. "The weight and the volume of suffering … causes such bereavement and trauma. I would love for people to come away from this feeling hopeful and feeling like there are some concrete steps they can take."
And that hope, she said, isn't merely a generalized "everything-will-be-better-someday" kind of hope, she said.
"It's a very grounded hope," Kidwell said, "a hope that they can actively participate in. We give a lot of concrete actions and suggestions for how to respond. I'm hopeful that that will be a big takeaway."
"The Scripture is always living," said Christie. "And if the Scripture is always living and breathing, then there's something new the Scripture speaks to me today and during the season of Lent."
Christie added that as the Scripture continues to speak, it also calls us to act. And those actions mean establishing new – or re-connecting old – relationships.
"My hope is that folks will feel empowered (after finishing this study)," Christie said, "with some solutions, that they'll hear the Scripture in a new way, and that they'll find some new friendships."
Watch a Zoom interview with Christie and Kidwell.