Making prayer beads for General Conference
Posted by Erik Alsgaard on
By Erik Alsgaard
On March19, members of the Patapsco-Lodge Forest Cooperative Parish, a United Methodist Community, spent part of their Saturday making prayer beads for General Conference delegates.
Fourteen people participated in the effort, according to the Rev. Katie Grover, pastor, led by Tom Albin, Dean of the Upper Room Chapel in Nashville, Tenn.
"It is important to bathe this conference with prayer," Grover said. "After all, John Wesley taught, 'God does nothing but by prayer, and everything with it.'"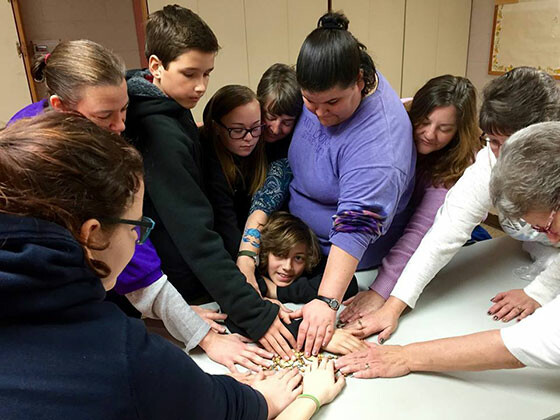 Prayers are said over the beads.
The Upper Room, in tandem with the General Conference prayer team, designed Protestant prayer beads to be assembled and given to each delegate. The prayer beads are assembled individually by persons around the globe. As they are assembled, the delegates are prayed for. There is also a time of prayer following their completion.
General Conference will meet in Portland, Ore., May 10-20. There will be 864 delegates from around the world gathering together to determine polity for the UMC for the next four years. The Baltimore-Washington Conference is sending 12 delegates – six clergy and six laity – along with several alternates. Delegates will receive the prayer beads during the opening worship service on May 10.
The medallion was handcrafted using three pieces of wood, representing the Trinity, Grover said. The United Methodist logo (used with permission) and a ram/sheep were laser cut into the emblem.
"The colored beads represent earth (brown), air (green), fire (red), and water (blue)," Grover said. "Each strand is one color. The cruciform bead, in the shape of a cross, is made from the olive tree and from the Holy Land. The spherical beads are made of jasper, a native stone from Oregon."
Prayer bead kits are available from PrayerWorks Studio, owned by Kristen Vincent. She is a United Methodist author of A Bead and a Prayer, published by Upper Room Books. More information on the beads and how they are used can be found at http://60daysofprayer.org/prayer-beads/.
"Everyone commented on how meaningful this experience was," Grover said, "and how thankful they were to be a part of the connectional system, praying for our denomination and our District Superintendent, Rev. Cynthia Moore-Koikoi, who will also be a delegate."
Grover added that the church is looking at ordering a more kits to continue in this endeavor. She said the church will also be participating in using the "60 days of Prayer" guide to pray before, during, and after General Conference. More information on the guide is available at 60daysofprayer.org.