Local Scout seeks to 'better the world' and receives Gold Award
Posted by on
By Melissa Lauber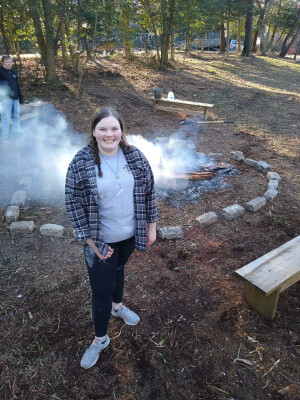 When asked to select a photo of her daughter to share with the Conference, Diane Solley hesitates. Should she send the photo of Emily with a friend preparing 51 bag meals for the homeless, her working to revamp a building or just a snapshot of Emily's infectious smile?
She sends all three, knowing that her daughter is a complex, well-rounded young woman whose portrait is created with acts of faith, service, and joy.
On Aug. 14, Emily, a member of Solley UMC in Glen Burnie, will receive the Girl Scouts of America Gold Award, the highest award a Girl Scout can earn and one of the most highly regarded awards in the world for girls.
To earn her Gold Award, a girl first identifies the root cause of a community issue she's passionate about. She then designs and implements a Take Action project that addresses a significant need in the community and addresses that need so that it leaves long-term benefits in the community. The girl must show leadership by guiding a team of volunteers who support her project, which must be sustainable and measurable with a national and/or global link.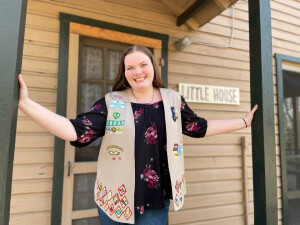 It's a project that draws upon leadership, perseverance, hours of hard work, and the knowledge that each person has the potential and power to transform their community.
Emily, 17, started her project with one thought in mind: "to make the world a better place."
She chose to revamp the 'Little House' at Camp Whippoorwill in Lake Shore so that campers could enjoy a more complete camping experience.
The Little House, built in the 1940s, is a simple two-room cabin with a powder room and screened-in porch with no outdoor fire ring area. However, the house had fallen into disrepair over the years.
Emily had watched her Troop size go from more than 20 girls to just four because there are many activities that compete for girls' time as they enter High School, she said. She believed that if she could update the Little House and build a campfire area, it would be a great place for these smaller Troops to camp, fellowship, reconnect and de-stress.
She overcame many obstacles to get this project completed, her mother reported. Her project was approved just as the COVID-19 pandemic hit Maryland and all Girl Scout activities were completely halted. Due to COVID restrictions, she was unable to fundraise, as most Gold Award members would do, so she had to rely completely on donations and the generosity of volunteers.
Members of her church, helped her along the way, including the pastor, Pastor Kate Snyder who volunteered on Emily's project and is also a Girl Scout First Class, the previous title of Gold Award. "Solley church is full of some of the nicest, caring people you will ever meet; my church is my family," Emily said. "They will do anything to help others, and they're there supporting me through my whole award process providing whatever they could to help me achieve it."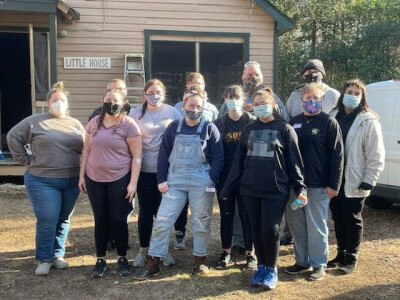 Once COVID-19 restrictions were lifted in early 2021, she persevered and requested donations from local companies for the products needed to complete the project. Still working under "social distancing" requirements she organized volunteers to work different days and inside/outside to complete the project in just three days.
It doesn't surprise Emily, or her mother that she was successful. "My faith gives me a more optimistic way of looking at the world," Emily said.
Her faith also encourages her in other ways. "Jesus loves everyone, and I try to follow in his footsteps. Something like seeing the wildflowers on the side of the road brings me so much joy because I know it's a gift from God," she confided.
Part of the Gold Award involves demonstrating excellent leadership.
"Leadership is a skill everyone should and can learn – it won't always be easy trying to be a leader – but sometimes people just need someone to guide them along to help them achieve their best," Emily said. "A good leader listens to their people and will help make them the best they can be by leading them in the right direction."
To other young women seeking to make a difference in the world, Emily has a simple message: "FROG: Fully Rely on God," she said. "There will always be obstacles in your way that will question your motives, but just remember what the end result will be and all the change you can make and keep pushing through."