Leaders are called to be robust in love, alive in Christ
Posted by Rodney Smothers on

We are called to be Ephesian 4 leaders
By Rev. Rodney Thomas Smothers
Director of Leadership and Congregational Development


When I read this text from Eugene Peterson's contemporary version, The Message, what strikes me are the three "m's" that frame Ephesians 4: 1-7, 11-16. They are maturity, ministry, and mandate. The first 13 verses of the passage invite us to examine ourselves and gain perspective on what God expects of us personally. That purpose calls us to travel in the same direction, united in a common focus on one Master, one faith, one God and Father of all, who rules through all, and is present in all. This oneness shapes the challenge for us to abandon our self-centered goals and serve together for the cause of Christ.
While oneness is a strong focus of our work together in community, it is in the 11th verse of this passage where God begins to spell out our individual gifts to accomplish effective ministry. God's instructions for us to become "skilled servant workers" are spelled out in describing what gifts we are given to accomplish God's ministry. The ministry gifts of apostle, prophet, evangelist, and pastor-teacher are highlighted as different skill sets to accomplish God's larger goal of getting the church to move rhythmically and easily, functioning as fully mature adults, fully alive like Christ.
The beginning point for us as learners and leaders is to be clear about our calling and gifts to fulfill that calling. Ephesians 4 leaders focus on their specific ministry gifts for their personal leadership development and for their leadership of others in the Body of Christ:
An apostle is sent on a mission to inform and encourage others in the faith.
The mandate to grow up and to know the whole truth and tell it in love is the heart of an Ephesians 4 leader.
A prophet, on the other hand, is thought to be one who is an inspired teacher and proclaimer of the will of God.
Evangelists are usually thought to be people who convert people to the Christian faith.
Pastor-teachers have the dual role of caring for the flock and teaching the flock.
No Ephesian 4 leader possess these ministry gifts in the same proportion. What the Apostle Paul is conveying to us in this writing is that a healthy ministry should have these gifts present among the ministry team. Some believe these gifts only to be present in the clergy. I believe that these gifts are resident in clergy and laity alike in the body of an anointed and healthy assembly of Christian believers.
With maturity and ministry defined, Ephesians 4: 14-16 then moves us to God's mandate: "No prolonged infancies, please." Our mandate is to assist believers to grow up and become healthy in God, robust in love. "No prolonged infancies, please!" The greatest obstacles to growth in congregations are challenges that are rooted in the lack of spiritual maturity of its leaders and members. While we often focus on lack of vision, lack of stewardship or lack of service, it is failure to articulate clear expectations around spiritual maturity that prevent most ministries from growing to the next level.
The mandate to grow up and to know the whole truth and tell it in love is the heart of an Ephesians 4 leader. This mandate is not just for laity, it is also essential for spiritual leaders as a significant tool for our personal growth and discipleship.
When I say that growing up is the heart of Ephesians 4 leaders, I mean that from the heart everything flows. If we don't have our hearts right, then everything else is just messed up.
Among the best-known scriptures regarding the condition of a leader's heart is Proverbs 3:5, "Trust in the Lord with all your heart; don't rely on your own intelligence." Ephesians 4 leaders seek a consistent diet of spiritual wisdom, personal discipline, prayer-centered insight, and Holy Spirit-directed discipleship.
Ephesians 4 tells us that if we grow up, lead others to grow up, and abide in that growth, then we will all grow up healthy in God, robust in love.
At heart, leadership is teamwork

By Rev. Johnsie Cogman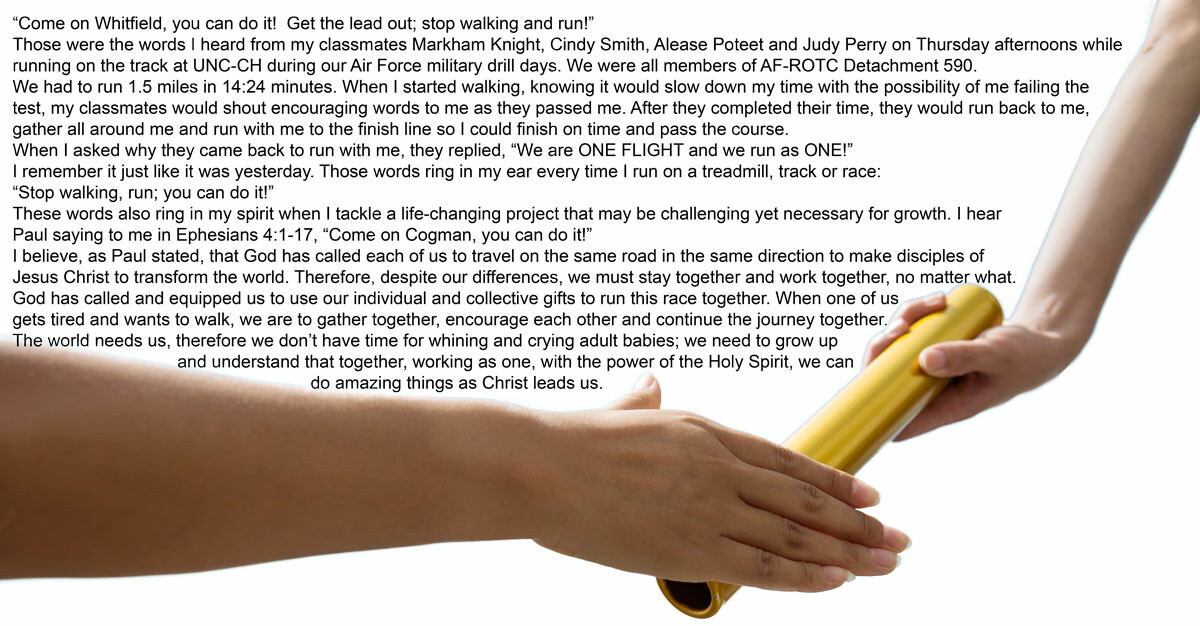 Kaleidoscope Bible Study
Ephesians 4:1-7, 11-16 will be guiding the Baltimore-Washington Conference in the coming year. We invite you to more fully explore this passage using the Kaleidoscope Bible Study Process (www.kscopeinstitute.org/kaleidoscope-bible-study) in small group settings. The process can also be revised for your personal devotions.
Inform participants that the Bible passage will be read three times. After each reading, participants will be invited to share their reflections.

Invite participants to capture a word, a phrase or an image when listening to the passage the first time.

Invite someone to read the passage.

Allow a moment of silence for participants to capture a word, a phrase or an image that stood out for them and then invite them to share their words.

Ask participants to consider the second question for this passage, which should be one created by the facilitator ahead of time to fit the context of the group and the passage.

Invite someone to read the passage a second time.

Hold a moment of silence to reflect on the question, and then invite each person to share his or her reflection.

Invite participants to consider the following question while listening to the passage again: "What does God invite you to do, be or change through this passage?"

Ask someone to read the passage a third time.

After a moment of reflection, invite each person to share his or her reflection.

End the session with a prayer circle. Invite participants to join hands in a circle. Invite each person to mentally complete the sentences: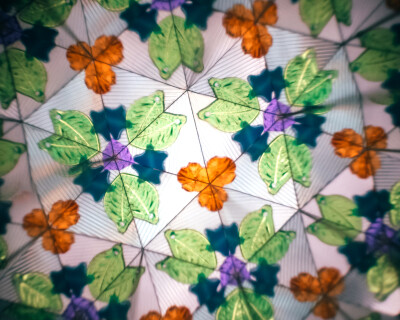 I thank God today . . .
I ask God today . . .
The leader will begin by sharing his or her prayers. After he or she has shared, the leader then squeezes the hand of the person to the right. That will be the signal for the next person to share his or her prayers. If the person does not want to share, he or she can simply pass the pulse to the next person. When the pulse comes back to the leader, he or she can begin the Lord's Prayer and invite everyone to join in.
This Bible Study format was created by the Kaleidoscope Institute, which provides resources to equip church leaders to create sustainable churches and communities. Learn more at www.kscopeinstitute.org.
A Sequence of Thoughts on Ephesians' Leadership Path
By the Rev. Jennifer Fenner