By Melissa Lauber
"Isaiah 43." The Rev. Yvonne Penn will whisper this to you in the parking lot. She'll shout it from rooftops. She's using it to craft a life and to pastor a church that has its own definite ideas about Isaiah 43.
In a nutshell, the Scripture passage goes: God created you and calls you by name. God is with you in life's fires and revels in you because you are precious. With God, you have no reason to fear. You are a witness to the God of glory – this God who is doing a new thing -- and your life becomes a song of praise.
That's Isaiah 43.
Recently, Isaiah 43 built a new industrial kitchen at the First UMC in Hyattsville. The passage travels with the members of the church out into the community each week to feed 100 hungry people, it brings vaccinations to hundreds of people, and creates a worshipping space that's so diverse, "it's like heaven," Penn said.
To understand First UMC, you have to know that "we are the poorest and the richest church in the Conference," Penn said. "We don't have money. Some weeks, we have to figure out how to pay our staff." But the riches come with the faith of the members, who have learned that church best unfolds, not in the sanctuary, but in the community.
"Our ministry isn't in here, it's out there," said Penn.
Jim Langworthy, a trustee at the church, can testify to that. He joined the church in 1964. He was working as a physicist. Through the church, he became involved in Safe Haven, a sheltering ministry for homeless men.
"Truth is, I've been a loner most of my life," Langworthy said. "I'm a nerd. My lingo isn't the same as street lingo." The church enabled him to become a bit more outgoing. Today, he travels with a group from First UMC out into the streets to feed the hungry each week.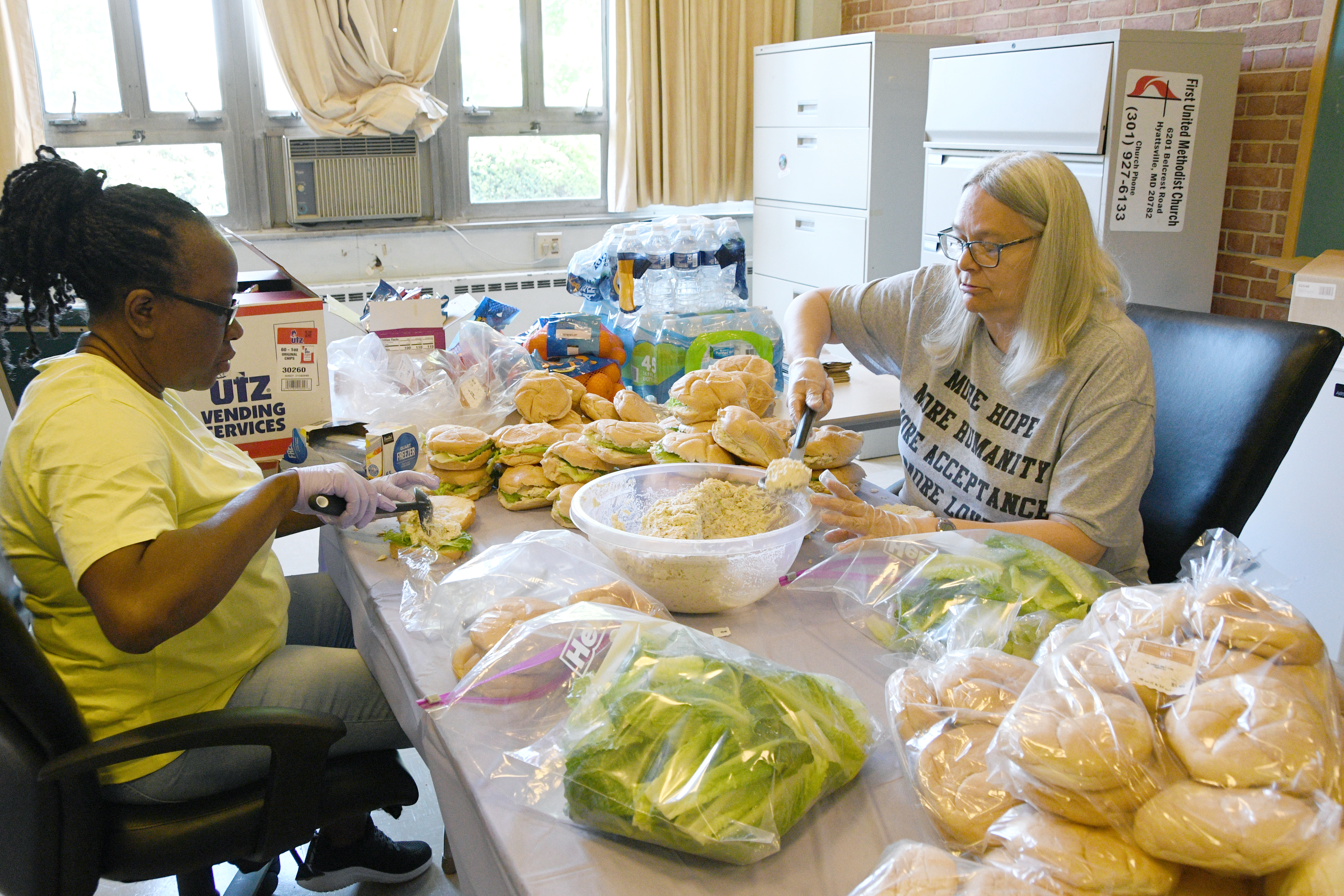 They take bag lunches into areas of Hyattsville where homeless and hungry people congregate. Hyattsville is an immigrant community with a large Hispanic population. Some of the men they feed don't speak English, Penn said. "But they thank us, and they point to God," she said.
When the group encountered some Nigerian immigrants one week, they told their fellow members, Dr. Ola Osifade and his wife, Susan. The couple began cooking hot Nigerian meals and brought them to the church so that they could be shared with the Nigerians.
"When we gave that out to them, you could see it in the people's faces. It was a remembrance of home. I can't imagine what they felt," Penn said.
The church is an active partner with the community, said Alex Lucas. "Love manifests itself through the congregation," he said. To make love real, the church needs to know, and be involved with, the people they live among.
Penn has established reciprocal working relationships with city leaders including the police and fire chiefs, and the mayor. In fact, even though he attends a different church, Hyattsville Mayor Kevin Ward brings boxes of food to the church each week for them to distribute.
This devotion to serving the community recently led to the creation of a newly renovated industrial kitchen, which was completed during the COVID pandemic.
The kitchen was the brainchild of Sue Conway, a member of the church who died in January. She brought up the idea in 2010, Langworthy remembered. But other projects always seemed to take precedence.
Conway persisted. A few years ago, the state "put a lock on the door. They condemned the kitchen," Penn said. It was a wake-up call.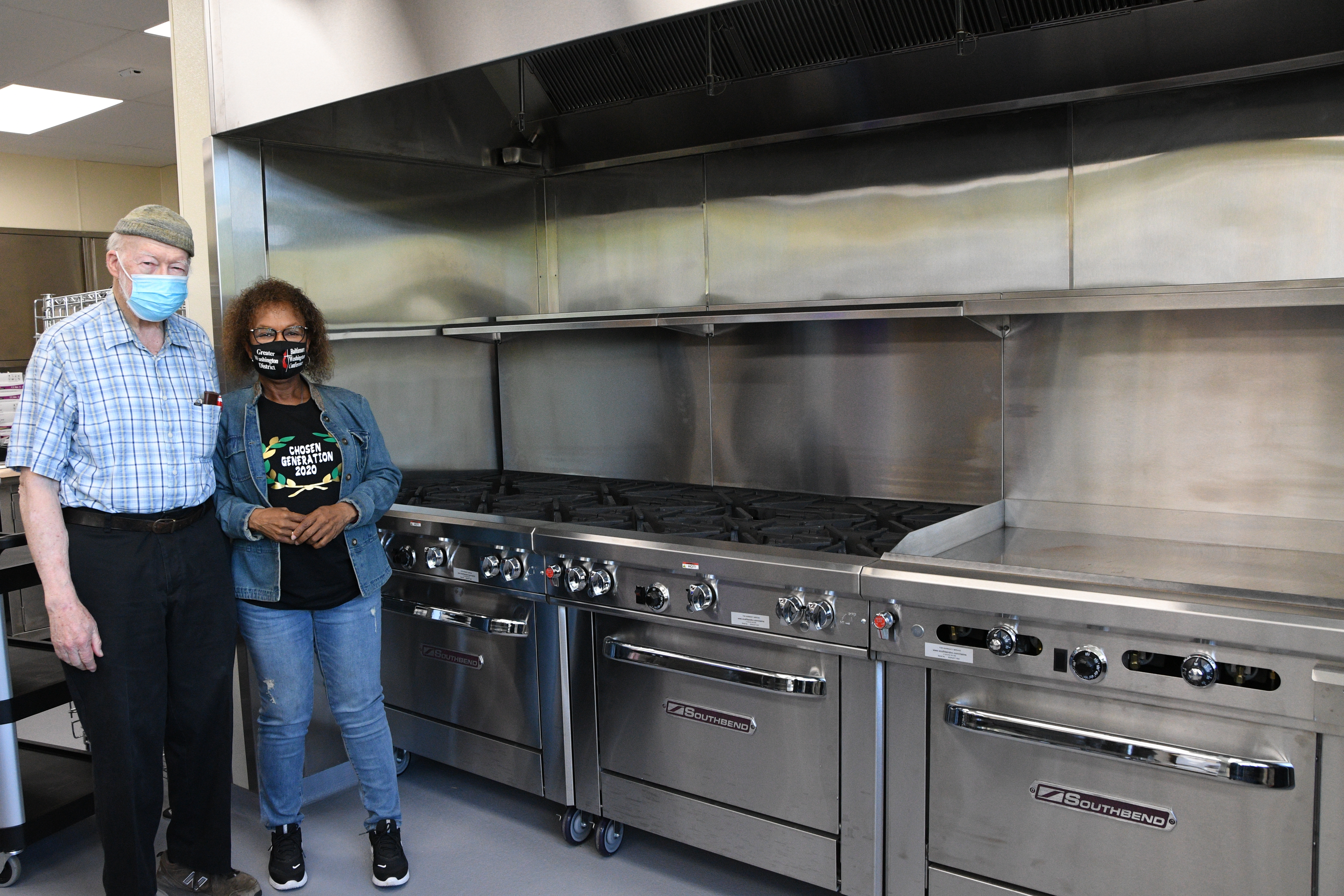 The church hired Porter Construction, received a loan for $200,000 from the Baltimore-Washington Conference, (which they have re-paid), and began an intense renovation project that resulted in the creation of a large state-of-the-art industrial kitchen.
Arrangements are being firmed up for an area college to use the kitchen in their culinary arts education. "It will be a very big blessing," said Gerald Jackson, a church trustee. Plans are underway to dedicate the kitchen in September when Conway's memorial service is held.
Penn gets teary-eyed when she talks about Conway. She also is moved thinking about the hungry people the church still hasn't fed.
"The tears come because I'm always amazed at how we see the hands of God in what we do," she said. "I know I shouldn't be surprised, but God is in it with us. For us, God is real. We're not perfect. We just try to practice what we preach and dive into it."
That's Isaiah 43.