Innovative Blessing Boxes aid Martinsburg homeless
Posted by Erik Alsgaard on
When is a newspaper vending machine not a newspaper vending machine? When it's transformed into a Blessing Box.
Nathan Payton, co-director of children's ministry at Calvary UMC in Martinsburg with his wife, Chelsea, came up with the ministry as a way of meeting the needs of the homeless population in his community.
More than one person in four — 27.4% — live at or below the poverty line in Martinsburg, about double the national average. There is a large homeless population, Payton said, that faces hardships despite people's best efforts.
There are social services trying to help, he said, such as women shelters and other facilities. But they don't normally supply personal hygiene items, such as soap and toothpaste, and the shelters are often overcrowded.
"We have quite a few tent communities," Payton said. "If you're a homeless family, they will take the father into the rescue mission, but that would leave the mother and children, if there's no room at the Bethany House, on the street. So they decide to stay together. Right now, we have about 300-plus homeless students in Berkeley County as well."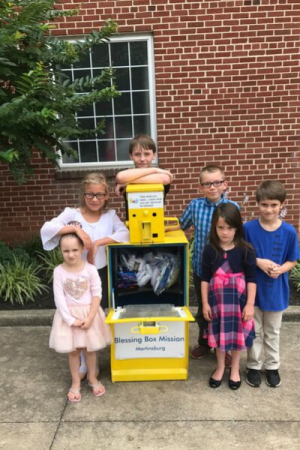 In 2018, he started the Blessing Box mission. He takes an old newspaper vending machine, fixes it up and adds lights inside, sands off the old paint and stickers, repaints it a bright yellow, adds new stickers, and for about $150, creates a Blessing Box.
The only things missing are a place to put the box and the contents. That's where local churches, like Calvary, come in.
"We will partner with any church that's willing to let us place a Blessing Box on its property," Payton said. "The only stipulation is that we ask for them to get their children's ministry involved."
Blessing Boxes are stuffed with plastic bags filled with toiletries and personal care products, sometimes including shoes, socks, and small non-perishable food items. The church becomes responsible for keeping the box filled.
What a church typically will do, Payton said, is get their Sunday schools involved to fill up the bags that go in the box. Members of the congregation are asked to donate the supplies, and there have been times when community members help out, too.
"The idea is for the kids to learn a little bit about being the body of Christ," Payton said, "and doing the work, but also learning about our community and that homelessness isn't something that they should be afraid of, or afraid of people that are homeless. Kind of just letting them know that they are people."
Payton said the idea for the Blessing Boxes was inspired by "Little Free Libraries" and watching a program on TV where sheds in Alaska are used much in the same way: people leave what they no longer need or use, and take something if they need it.
The idea, he said, started to gel in mid-2017. Both he and Chelsea were laid off from their jobs at the time, raising four children. "Whatever path I was going down wasn't the path I was supposed to be going down," Payton said of that time. He looked at the free time he had and wondered what he could do with it. "What is God trying to tell me to do?" he asked. "That's where this idea came from."
Not trained as a painter or a metal worker, Payton said that putting together these boxes was "out of his comfort zone. This was something God was calling me to do."
There are four Blessing Boxes in Martinsburg, Payton said. A Facebook page devoted to this ministry helps spread the word of where the boxes are and if they need to be re-stocked. (facebook. com/blessingboxmissionmrb/)
"Typically, once a box is filled, the contents will be gone within an hour," Payton said. "The homeless are a very tight-knit community with an opportunistic mind-set. If one person goes by and they see there's something there, even if they don't need it, they know someone back at the camp does. It goes out very quickly."
One of the most-used items are wet-wipes and baby wipes. That's because, Payton said, the homeless often lack access to places where they can clean up.
Payton is open to others copying this ministry. He has resources, including logos and instructions on how to put boxes together. His email is .
"It was a big shock to me when God called me to do this," he said. "Taking someone with zero experience … you know, it was a big test of faith. If God's put something on your heart, even if you don't think it's possible, fully let go and let God take control; crazy things can happen."
One of those "crazy places," for Payton is back to school. He started studying online this summer to become a pastor at Luther Rice College and Seminary.