In their own words: BWC youth want to be seen
Posted by Guest Author on
By Karis Arnold, CCYM Secretary and Roman Ditzenberger, CCYM President
The Conference Council on Youth Ministry (CCYM) represents the youth of the Baltimore-Washington Conference. We have monthly meetings that we use to further our topic of "Stress Less." Our other major goal is for our youth leaders, pastors, and adults in the church to see us – see us for who we are and what we do. CCYM goes to Annual Conference to represent youth and further this goal.
We chose the topic of Stress Less, because it is completely relevant in our lives. We wanted to create a resource that other teens could personally relate to. We are really focusing on trying to get adults within the church to meet us where we are, and know that we are enthusiastic about, well, a lot.
Our "Stress Less" topic hits home to all of our youth that join us. This topic is relatable on some level for us as teens. As reaching teens we face stress every day. Teens struggle with mental health, relationships and school. CCYM plans to go forward within this topic. We plan to evolve the topic into a youth and youth leader friendly format. We want to do this so our message can be seen. We want to include youth with the adults as disciples in Christ together. Pam Bowen, our youth ministry coordinator, said: "We must all work together to support our youth Disciples in Training."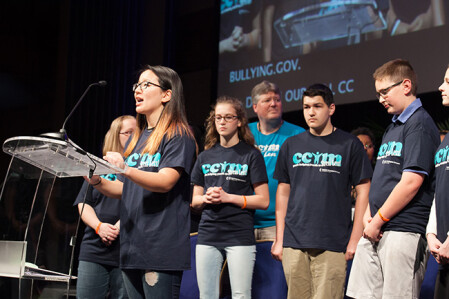 Annual Conference this year was memorable for Katie Herry, though she didn't know what to expect. "My expectations for coming to the conference were not high," she said. "They weren't high because I wasn't really sure what I was getting myself into, but I was looking forward to presenting. Something that really stood out to me was Bishop Easterling's preaching. Her preaching was so inspirational. I just couldn't get enough. The amendment about gender equality also stood out in my mind. It stood out because I think its such an important thing for us all to be equal with one another."
Karis Arnold attended Annual Conference for the first time this year. "My first year at annual conference has been great," she said. "CCYM has been a great thing for me to be apart of. At Conference, you basically can't walk down the hall without seeing someone you know! I have loved the community sense here, as well as all of the positivity towards our CCYM group. I'm really glad I joined CCYM this year and I can't wait to see where God leads all of us next. Although our group may be a little crazy at times and we may disagree sometimes we're all still like a big family that all supports one another."
We elected new leadership at this conference, and we look forward to seeing God lead us as we continue our journey as disciples in training. We hope that the adults around us are able to see us, hear us, love us and include us.