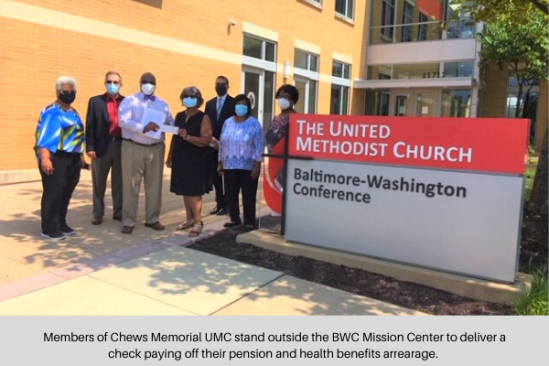 by Melissa Lauber
The Board of Pensions and Health Benefits of the Baltimore-Washington Conference might not be the first place one would look to find examples of grace and growing discipleship. But in August, the pastor and members of Chews Memorial UMC in Harwood showed up in person at the Mission Center as living examples of both.
On Aug. 13, church leaders presented the Conference with a check for $8,909.42, money they once thought they would never be able to collect and pay toward the health and pensions obligations of having a pastor.
With this payment, "the congregation is more aware of how God will bless his people when they are faithful," said the Rev. Valerie Barnes, the pastor of the church. "We have learned that God can take the 'little bit' and increase it; and that 'all things are possible with God.'"
Hearing about how the people of Chews Memorial UMC grew in their generosity and trust of God inspired and delighted the Rev. Cary James, chair of the BWC's Board of Pensions and Health Benefits.
"Payment for pastor's health care and pension premiums are obligations of the local churches. Churches that have not met these obligations for 90 days or more are considered to be in arrears," James said. "When a church is in arrears, it is very often a symptom of larger problems which the church is encountering in meeting its financial and missional obligations."
Seeking to offer hope, rather than be punitive, the Board of Pensions and Health Benefits and Conference Cabinet extended grace by initiating a forbearance program in which churches that are more than 90 days in arrears may be offered a lien against church property in forbearance of the arrearage debt, James explained.
"Churches that signed a covenant agreement were provided training and understood they were being given an opportunity to start fresh," he said.
Chews Memorial UMC was one of 12 churches to sign an Arrearage Covenant Agreement in 2014. The total arrearage was $378,000 for all these churches combined.
In 2018, Chews Memorial UMC was one of seven churches to sign a Conditional Forbearance Mortgage with the Conference Board of Pensions. Together, these seven churches had total arrearages of $252,002.
In brief, James said, Chew's arrearages of $8,909 was transferred to a Conditional Forbearance Mortgage. "This mortgage placed a recorded lien on the property that guaranteed payment to the Conference Board of Pensions if the property was every sold. Chews Memorial UMC is the first church to pay off their lien," James said.
The congregation accomplished this, Barnes said, by focusing on the principles of gleaning, like those in the story of Ruth and Naomi, who went into the fields after the harvest and collected any food that was leftover.
"We are not a wealthy congregation; most are retired with limited income. We know the cliché that 'nobody has any money at the end of the month,' but we decided to ask God to make a difference in our lives so that we might glorify him," Barnes said.
On the fourth Sunday of every month, church leaders held out an offering plate for the gleaning and the congregation responded, bringing their "leftover" money, whatever they could or chose to bring.
Many thought it would take at least five years to reach the goal.
"We crossed the finish line in less than one year," said Barnes. "We didn't do any fundraising for this, just the bringing of our gleaning offerings each month. We also didn't do this to boast about ourselves; however, we are thankful to be able to witness to the glory of God."
Gail Greenleaf is the church's prayer ministry coordinator and a member of the church council. She has witnessed the impact the debt payment has had on the church's faith.
"Paying this obligation," Greenleaf said, "especially within one year, has increased our faith that God can do what seems impossible and reaffirmed our faith in believing that Chews is an alive and vibrant church that God wants to continue to thrive."
Charlotte Green, another member of Chews Memorial UMC, believes paying the obligation affected the church in "a good way." It reminded the members that "it's all about love and obedience to what God will have us to do. The sacrificial giving must come from your heart in love," she said.
"Chews Memorial UMC is the first church to pay off their lien and is an example to the other churches that medical and pension arrearages can be paid off — even during a pandemic," said James.
Seeing Chews Memorial's success has reaffirmed the Board's sense of connectionalism, James said.
"The Arrearage Covenant Agreement, COVID-19 Financial Relief Initiative, and the Small Church Grant Initiative are examples of how the Conference Board of Pensions are caring for those who serve," he said.
As a leader in the ministry of stewardship, James reminds local church leaders that "we are not alone during these difficult times. God is with us.
"I recommend that congregations make several shifts to move from simply surviving to totally thriving," he said. "Shift from having a scarcity mindset to having an abundant mindset. Shift from talking about the need of the church to receive money to talking about the need of the giver to give for his or her spiritual benefit. Shift from asking what the church needs to balance the budget to asking what God is calling you to give. Shift from talking about what people ought to give to talking about how people can give generously as a response to God's grace."
Green agreed with this wisdom. "Do not give up and have no fear, because God did not give up on you," she said. "Have that made-up mind to know that we all have debts, but with God to guide you and lead you, all things are possible. Always remember that there is nothing too hard for God."