Foundry UMC pastor addresses vaccine hesitancy
Posted by Erik Alsgaard on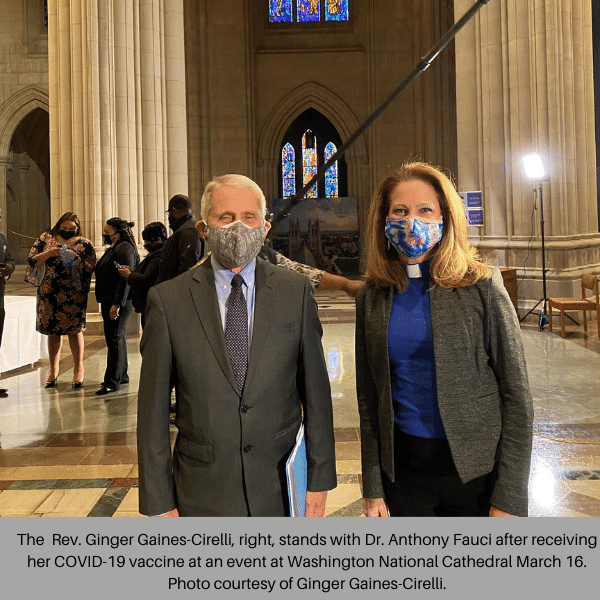 The Washington National Cathedral is a "house for all people," according to the Very Rev. Randolph Hollerith, Dean of the Cathedral. He welcomed dozens of people within the walls of the majestic edifice in Washington, D.C., on March 16 for an event designed for faith leaders to show the world that receiving a COVID-19 vaccination is not only safe but also the right thing to do.
Across the United States, reports indicate that a significant number of people are deciding not to be vaccinated. USA Today recently reported on how thousands of Latinos were sterilized against their will or without their knowledge in the 20th century. And in a stunning piece, Religion News Service reported that "Black Protestants aren't least likely to get a vaccine; white evangelicals are." The story noted that 54% of white evangelicals said that they planned to receive the shot.
To address this so-called "vaccine hesitancy," Dean Hollerith and other leaders at the Cathedral invited top scientists to speak to the issue – including Dr. Anthony Fauci – and for about two dozen faith leaders to be vaccinated.
One of those receiving a shot was the Rev. Ginger Gaines-Cirelli, lead pastor at Foundry UMC in Washington, D.C. She received the Johnson and Johnson vaccine, so it will be her only shot.
"I took part in today's event," she said afterward, "because getting vaccinated is a primary way that we love our neighbor. This is part of being a caring member of community. We have been told and assured by those who know best – the scientists and ethicists and all the others working so hard on this vaccine – that vaccination is one of the critical pieces of caring for one another and getting the virus under control."
Gaines-Cirelli said being back at the Cathedral was an emotional moment for her. She was ordained twice (Deacon and Elder) in the Cathedral and had not been in the church in over a year.
"Our interfaith witness as clergy leaders today is important to combat the falsehoods, rumors, and fears about COVID-19 and the vaccines," she said. Her church, Foundry UMC, "will continue to listen to science and support vaccines, wear masks, maintain safe distance, and make careful decisions for the future and re-entry based on our values of justice, hospitality, health and safety, and the common good."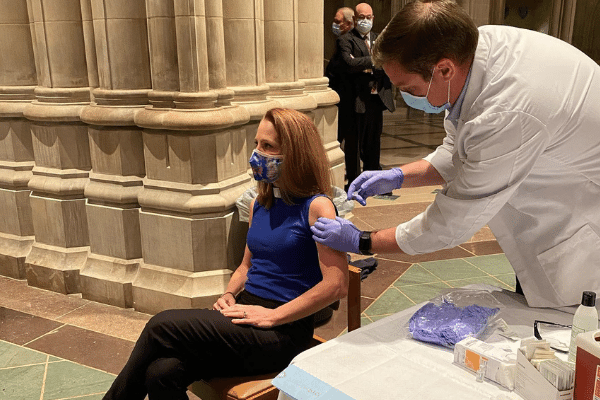 Several leading scientists were at the Cathedral along with Fauci, including Dr. Francis Collins, Director of the National Institutes of Health, and Dr. Eliseo Pérez-Stable, Director of the National Institute of Minority Health and Health Disparities.
"What you're doing is not only protecting yourselves, your families, and your communities," said Fauci, "but you're being part of the important process of ending this terrible pandemic that has essentially immobilized our country and the world for the last year. We will get through this, and we will get through it by vaccination."
Fauci, who has gained somewhat of celebrity status as the face of the pandemic, addressed several facts and fictions during his brief speech.
No, he said, you can't get the virus from the vaccine. "The vaccine is a small component of the virus, it is not the virus itself, so it is impossible to get COVID-19 from the vaccine," Fauci said.
No, the vaccine does not get into or alter your DNA. "It is biologically impossible for that to happen," he said.
No, the vaccine won't make you sterile. "There is no biological reason at all to think that that would happen."
And no, neither he nor Bill Gates has put any "chip" into the vaccine. "This one is of particular interest to me," Fauci said. "That might seem ludicrous but there really are things as ridiculous as that that are being circulated."
Bishop Mariann Budde of the Episcopal Diocese of Washington offered the closing prayer, and Melissa Rogers, Executive Director of the White House Office of Faith-Based and Neighborhood Partnerships, also spoke.
"Getting the vaccine is a way to show love to our neighbors," Rogers said. She was appointed to the position by President Biden on Feb. 14. "Faith-based organizations can play key roles in helping Americans get vaccinated. Houses of worship are pervasive and familiar to many Americans. Countless Americans are more comfortable getting their shot in a house of worship than in a pharmacy or doctor's office."
Rogers also noted that religious leaders are among the most trusted people in a community, so seeing them get vaccinated first can relieve some anxiety and fears and that houses of worship are often highly skilled at reaching under-served people in a community.
But even though houses of worship are "houses of hope," Director Collins said that "hope alone is not a strategy."
"We have to put our hope into action," he said. "The last year has been one of struggle and of lament for all of us. And yet we now have reasons for hope."
Collins, who called himself both a believer and a scientist, said he could see an opportunity of using the tools of science as a chance "to be a part of God's plan for healing. The vaccines have, for many people, been an answer to prayer."
But the vaccines, he said, do no good when sitting on a shelf. "They need to be injected into the arms of people."
Unfortunately, he said, those who are at the highest risk of infections and death are often the most reluctant to get the vaccine.
That sentiment was echoed by Director Pérez-Stable, who said that COVID-19 has revealed many disparities around our country and around the world.
"We've known about these inequities for decades," he said, "but they have really been put in contrast in a rapid way. In just a year, over 500,000 Americans have died, over 50 percent of all cases, and almost half of all deaths are in persons of African American, Latino, or Hispanic background, and American Indian and Pacific Islanders."
The reason for these statistics, Pérez -Stable said, are mainly due to the crowded living conditions these communities live in, they work in jobs that do not allow for "the privilege of telecommuting," and they find it difficult to self-isolate at home because "two families, three generations often share the same bathroom. These are just structural realities of this population."
The risk of economic inequality, educational inequality, technological divides, and occupational differences is what leads to these disparities, he said.