Faithful stewardship continues during pandemic
Posted by Erik Alsgaard on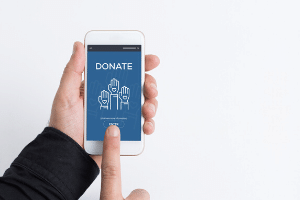 As the coronavirus pandemic hits its third month in the United States, churches throughout the Baltimore-Washington Conference continue to be affected. Even though many churches report increased attendance – or viewers – at online worship services, and there is anecdotal evidence that giving is up at some congregations, overall support of Mission Shares in the BWC remained flat for April.
That could be good news, say finance leaders at the conference. The Conference Council on Finance and Administration met via Zoom on May 20 to continue its oversight of BWC finances. The picture, though not as good as might be hoped, was not as bad as it could have been.
Through the end of April, Mission Share receipts were down about $750,000, Paul Eichelberger, BWC's treasurer, said. Adding in a shortfall in non-Mission Share giving, total income was down $986,000. The April shortfall is 31% which is higher than the 21% shortfall in March. The year-to-date shortfall is now 17%.
Expenses, however, were down considerably, mostly due to cost-saving measures CFA took in March, showing a $1.1 million reduction versus the 2020 budget. Those cost-saving measures include a reduction in mortgage payments on the Mission Center, not holding a three-day, in-person Annual Conference Session, and more. No staff or full-time personnel have been let go at the Conference level, but approximately 60 seasonal and part-time summer staff in the Retreat and Camping Ministries area have been impacted.
The BWC did apply for and receive Payment Protection Program dollars to cover 8 weeks of salary and benefits, Eichelberger said. The PPP money runs through June 15.
Eichelberger and others still see a pent-up capacity at the local church level to help support connectional giving. Many churches are still receiving their own PPP, he said, and starting to get a more solid picture of what their finances look like.
"We remain thankful to all our faithful partners throughout the Baltimore-Washington Conference," he said. "We know that ministry and mission are continuing around the conference and around the world, and that we are supporting local churches in every way possible.
Since April, the conference has helped churches in several concrete ways. The BWC Board of Pensions approved a 3-month waiver for the local church component of the Conference Sponsored Pension and Health Benefits Plans. Benefit obligations waived include Employer Pension Premiums (CRSP-DB, CRSP-DC, and CPP/UMLife Option); and Employer HealthFlex Premiums ($860/month per participant). That waiver runs out at the end of June.
Chris Schlieckert, director of Retreat and Camping Ministries (RCM) for the BWC, presented information on how the pandemic is financially affecting his ministry. All three sites closed for the summer on March 12, he said, and all programs and events are canceled through Aug. 9.
RCM has modified its cancellation policy for this summer in an effort to maintain relationships with groups that booked space before the pandemic.
"We want folks to be able to make decisions for their groups based on safety and health reasons," said Schlieckert, "rather than on finances because they don't want to lose out on a deposit."
RCM is also working with people who have already paid registration for summer camp, offering refunds but also inviting people to donate some or all of their payments to the ministry.
Because of the closures, RCM is showing a $408,000 underrun in income projected out through Aug. 9. That number, Schlieckert said, could drop to near $300,000 as more data comes in and expenses continue to be reduced. If the ministry is shuttered for the entire calendar year, the underrun could amount to somewhere between $525,000 to $714,000, he said.
"Even though our sites are closed," Schlieckert said, "our mission in Retreat and Camping Ministries still goes on. We are still working on how we will be engaging with our campers and our families online. There will still be opportunities for personal and spiritual growth. And we want to encourage people to really be outdoors as much as possible, so we're creating resources and activities to encourage (people) to be outside and engage with nature."
RCM will also support local churches, he said, by creating pre-recorded children's sermons and offering resources to supplement virtual Vacation Bible Schools. In addition, as states start to reopen, Schlieckert said the sites are looking at providing space for permitted activities, such as hiking, boating, or ropes courses.