Engaging the hearts of youth, and introducing them to the rock
Posted by Guest Author on
By Lauren Stitzlein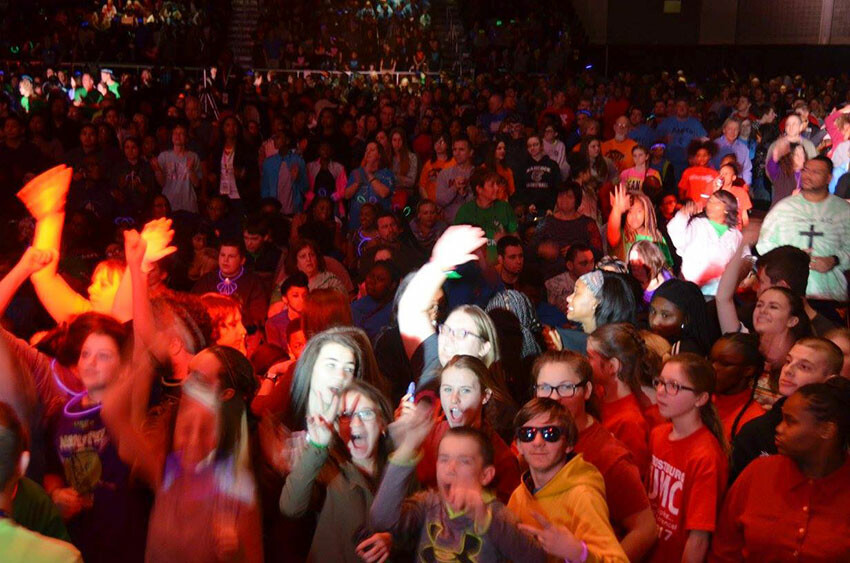 What can we rely on in an ever-changing world? Who can we turn to in the brokenness and craziness that seems to be all around us? These are questions that people, especially youth, feel pressed to know the answers to.
This past weekend, about 4,500 youth and their leaders were pointed to the answer. God, The Rock, is the steadfast source of the hope and redemption we and our world need. For a weekend, the Roland Powell Convention Center in Ocean City, MD was a sacred space for people to encounter God. This is the heart of the ROCK Retreat for the Baltimore-Washington Conference of The United Methodist Church.
The 2017 retreat theme, "Solid as the Rock," powerfully emphasized how God is certain and His love is reliable when other things in life are not. The theme verse was Psalm 62:2: "Truly God is my rock and my salvation, God is my fortress, I will never be shaken." (NIV).
Youth and adults undoubtedly come to ROCK shaken by various hardships and challenges in life. Many come with youth groups that they regularly participated in, but for some of the youth, this is their first exposure to Christian community and the God who loves them without their knowledge of it.
The trials that youth are going through and questions they have are addressed by the main speaker, the visiting Masters' Commission ministry, and optional seminars on topics like dealing with toxic culture, men's and women's issues, friendship, and stress.
In the four main sessions of ROCK, speaker Preston Centuolo spoke to the youth compassionately and boldly about God's unique design for them, the complete forgiveness that God offers in Jesus Christ, God's desire to use their lives for His glory, and the need to spread kindness in the name of Jesus Christ.
It's impossible to know all 4,500 life stories that ROCK has the opportunity to impact each year, but one can imagine a few of the common burdens that they carry into the convention center on Friday night:
The burden a young man carries because he is unsure of God's ability to forgive even the things he is most ashamed to admit that he has done.
The burden a young woman carries because she is desperate to know she is cherished by the God who created her uniquely and she doesn't need to pursue the attention and affection of boys at her school.
The burden a middle schooler carries because she has been told she is too young or too inexperienced in her faith to be used by God.
Or the burden a high schooler carries because he has heard that God is real but is not sure he can believe because of all of the evil he sees in the world.
But at ROCK, youth can give these burdens to the Lord and experience confidence that can only come from the Rock. Whether in a main session, a seminar, or the time spent in discussions with their youth groups, youth who come to ROCK will experience their hearts being engaged with the message of hope found only in Jesus Christ in the exact ways that their hearts need to hear it.
I say this with confidence about ROCK because thirteen years ago, as a 7th grader, my heart was engaged with the Gospel for the first time that I remember at ROCK. I left Ocean City on January 25, 2004 changed by the message that God loved me, had a plan for me, and sent Jesus Christ to live the life I could not live and die the death that I deserved, so that I could be free to live for Him and with Him forever.
When the message of ROCK intersected with my life as an insecure pre-teen who doubted God and doubted herself even more, he changed the course of my life to follow Him in confidence of His love, and empowered to go share that news with others—from starting with a Bible study in my middle school to currently serving in a full-time ministry role dedicated to sharing the Gospel on every college campus in the world.
For 24 years, God has used ROCK to change the stories of youth by drawing people to Himself and sending them back to their families, schools, and towns excited about the good news, and ROCK 2017 was no exception.
---

After Lauren's life was changed at ROCK 2006, she began a Bible study at her Middle School, and later a chapter of Fellowship of Christian Athletes at her High School. She served as an officer, MC and Breakout Leader for ROCK, and led praise as a member of the "Bridges" young adult team at General Conference in Tampa.
She is a graduate of University of South Carolina and is currently working in full-time ministry bringing the Gospel to college students here and in other parts of the world.