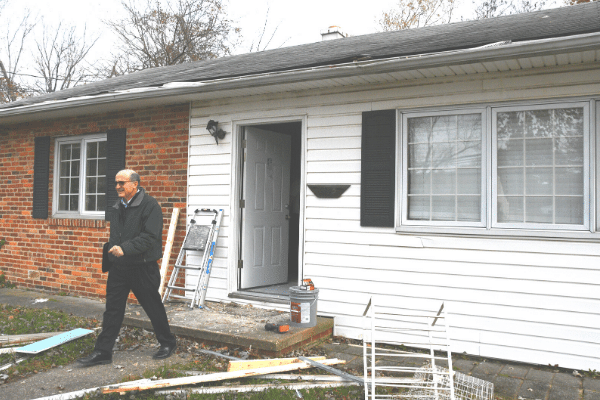 The Rev. Sam Marullo walks out of the Ager Road UMC parsonage as it undergoes renovations. The project is made possible thanks to the Adrienne Terry Fund in the Greater Washington District. Photo by Melissa Lauber.
When he was a boy, the Rev. Sam Marullo, a Deacon, worked for his godfather doing odd jobs on construction sites. It ignited a calling that followed him through his doctoral work on racial discrimination and housing, into his local church at Capitol Hill UMC where he actively ministers with the homeless, and now engages him as a leader in the Adrienne Terry Fund affordable housing initiative.
This month, the Adrienne Terry Fund will see the completion of its first house — the Ager Road UMC parsonage in Hyattsville — rebuilt to provide a home for the working poor.
The Greater Washington District's eight-member Affordable Housing Task Force celebrated the completion of the house, even as it began to look at the momentum the opening will bring, hopefully cascading into a series of unused parsonages being rebuilt as homes for the poor.
"The vision is for the Rev. Adrienne Terry fund to be self-sustaining and become one avenue for providing affordable housing, utilizing property that is owned by churches and not currently being used. The long-term vision would be to leverage larger donations and to create more affordable housing, utilizing space with some of our churches," said the Rev. Gerry Green, superintendent of the Greater Washington District.
Adrienne Terry is at the heart of these efforts. A pastor in D.C., she and Marullo helped to create the Inspire D.C.'s Affordable Housing Coalition. When she died suddenly in 2016, Green had just been appointed as a superintendent. His first official call was from a member of Christ UMC notifying him of her death.
He visited Christ UMC and noted, "on one side of the church were newly built apartments and townhouses, and on the other side was more affordable housing, and Christ was in the midst of the two. In those moments," Green said, "I thought that a way for the legacy of Rev. Terry to live on was to create the Rev. Adrienne Terry Affordable Housing Fund."
At his installation service, he set forth a challenge. To date, about $28,00 has been collected for the fund.
Eight months ago, the task force began with "low-hanging fruit," realizing the parsonage at Ager Road UMC, which had fallen into significant disrepair, would make a good first project.
They hired Emmanuel General Construction, a local firm, to do the rebuilding, stripping the house down to its bare bones and recreating it with new doors, appliances, flooring, cabinets, and more.
To save the costs that contractors add on for purchasing supplies, Marullo and the Rev. David Hall, of McKendree-Simms-Brookland UMC, who has significant real estate expertise, visited Home Depot and other stores and filled pick-up trucks with dry-wall, flooring and other supplies.
The rebuild, they estimate, will cost about $15,000. The renters, whom Prince George's County will recommend based on financial needs, will pay back these funds.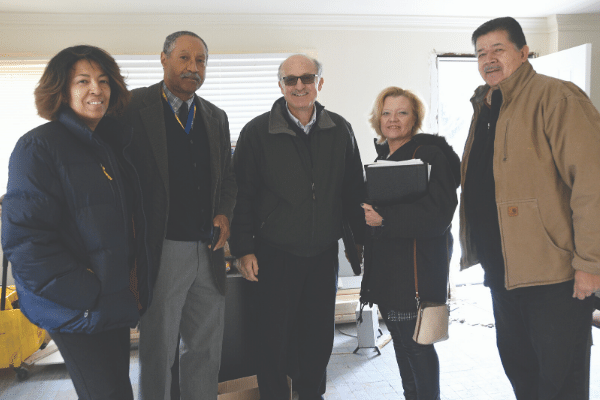 Left to right: Cindy Kent, Gerry Green, Sam Marullo, Amelia Duroska, and David Hall tour the Ager Road parsonage. The project is made possible thanks to the Adrienne Terry Fund in the Greater Washington District. Photo by Melissa Lauber.
When the construction is complete, the Rev. Lucinda Kent, of Van Buren UMC will bring in her church's decorating ministry. This is a group of people, she said, "from all walks of life who feel a calling to the ministry of turning a house into a home."
The team does its own fundraising, generates their own donations, and will furnish the house with the incoming family in mind.
Kent, who has struggled with finding affordable housing for herself and her family, says she appreciates serving on a task force that helps churches find opportunities to be relevant to the communities they are worshipping in.
"It's great to preach about Jesus. But in this day and age, the world is more interested in our Monday through Saturday Jesus. The members of, and the donors to, the Adrienne Terry Fund are reflecting a Jesus that provides, even if you are a stranger," Kent said. "No family should have to decide between rent or groceries, rent or utilities. We change lives — one house at a time, one family at a time, one empty parsonage at a time."
The task force currently has a list of about 10 area parsonages that local churches have suggested might be rebuilt to provide affordable housing.
For Marullo, completing Ager Road is a milestone, but it's also a challenge and inspiration to move to the next project
His heart breaks when he encounters people living on the streets, people who are using all their energies just to survive.
"On the streets they have little chance to live in to the God-calling of who God made them to be," he said. "Finding a home is a first step to become the children of God they were called to be."