Daughter honors her mother's pioneering ministry
Posted by on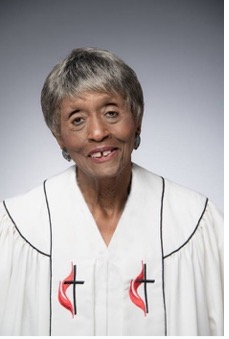 Women's History Month is always a celebration I embrace as an African American Woman. I marvel and reflect with heartfelt appreciation on how I feel for the women warriors who have fought and continue to fight for equality and well-deserved recognition. However, this year I am compelled to highlight the first example of what womanhood truly means to me -- my mother.
My mother, the Rev. Mary Brown-Oliver, has always had numerous accolades attributed to her academic, professional, and personal life. In her early years, she was a renowned and celebrated educator and became a prolific trailblazer for women in ministry. She was also the first African-American women to be appointed as the District Superintendent of the United Methodist Church's Greater Washington District. Her accomplishments are many, and her tenacity to achieve them during an era marked with disappointing roadblocks and obstacles cluttered with masculinity landmines is by far miraculous.
As her only daughter, nestled between two brothers, I want to highlight my mother's dreams and desires for me. December 2020 was an exciting period in my life, albeit we struggled with the uncertainties of a pandemic and the horrific racial inequalities that shook us to our core.
During this time, I was working towards my Doctor of Business Administration, and although the journey was difficult and arduous at best I prevailed. My journey towards this academic and lifetime achievement was made possible by my mother's vision for me. She, too, had begun her journey towards a doctoral degree, which became a dream deferred due to family dynamics and her continued desire to perfect herself in new leadership roles. Ultimately, her dream became a reality through me.
Today I stand as Dr. Allyson Oliver Jones because my mother, Rev. Mary Brown-Oliver passed the baton to me to complete the race. This Women's History Month of 2021, I want my mother and mentor to take her victory lap in heaven as Dr. Mary Brown-Oliver because my accomplishment would not have been made possible without her. Thank you, Ma, for entrusting me with such an awesome responsibility. -- Your daughter, Dr. Allyson Oliver Jones.