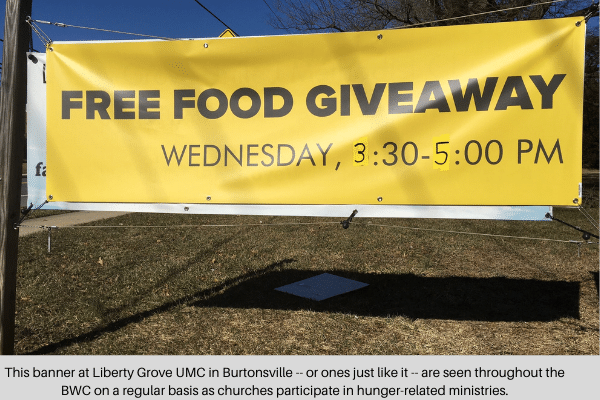 Roughly half of the churches in the Baltimore-Washington Conference are involved in a ministry to address food insecurity in their community.
That's according to Dave Schoeller, Business Data Analyst for the BWC, who was part of a team analyzing the results of a summer 2020 survey sent to local churches about the impact the pandemic was having on their ministry.
The Baltimore-Washington Conference doesn't actively survey its churches regarding hunger-related ministries, Scholler said, but 564 churches responded to the survey (91.7%). Of those responding, 38% indicated their increased community ministry response included a food ministry. Examples he noted include direct food distribution/pantries, support of local food pantries, food banks, and homeless shelters, as well as the support of school lunch programs.

"On the COVID-19 survey," Schoeller said, "the Washington East District led the Conference in the percentage of churches reporting an increase in food-related ministries. In the BWC 2019 BWC statistical reports, 87% of both Washington East and Baltimore Suburban district churches report offering 'Community Ministries for outreach, justice, and mercy'."
Based on the survey results regarding food ministries, he said, and the fact that this response was preceded by the "increased" qualifier, it would be safe to assume that 40 to 50% of BWC churches provide one or more missions that specifically address food insecurity.
We asked several churches about this increase, some of whom have received grants in recent months. Many more expanded their outreach to meet ever-growing demand as the pandemic enters its second year.
At Solomons UMC, the church received a $5,000 grant last year, and a $10,000 grant this year, according to its pastor, the Rev. Dottie Yunger. The church's food pantry was started in 2018 during a government shutdown.
Eleanor Keeley, a layperson at the church, said that they opened the food pantry when there was an increase in the number of young families with children attending their weekly "Tasty Blessing Dinners."
"Since the pandemic has started," Keeley said, "we have undergone many changes in our ministry. We discovered the need for help was far greater than we anticipated. Thanks to the support from the local community and our church members, we now have two rooms of food for our guests to shop in. Due to the stoppage of 'More Tasty Blessings' dinners, we have started supplying home-cooked meals for takeout."
In January 2020, Keeley said, the church served about 150 guests. This past January, that number was up to 250.
Keeley is certain that the church is serving people physically and spiritually.
"Recently," she said, "I had a young lady stop in and she told me she had been going through hard times and had been walking to clear her head when she noticed our sign. She asked me to pray for her and asked if she could have some food. When she left (she was) so thankful and told me how her kids were going to say, 'Yay, mommy brought home some food.'"
Another example Keeley noted was a homeless lady who came in and said she needed a church.
"I brought her into the sanctuary to sit. I found her asleep in a pew sound asleep. It touched me to know that she felt safe enough to get much-needed rest."
Solomons, Keeley said, has recently gained more trust among the homeless population in the area. Because of this, they have incorporated clothes and blankets into their mission. In addition, she said, the church supplied 26 backpacks to elementary children as part of their Heartfelt Program and offers clothing items donated by the local community.
Liberty Grove UMC in Burtonsville started serving food to its community on January 22, 2020. The first week they had zero visitors. None.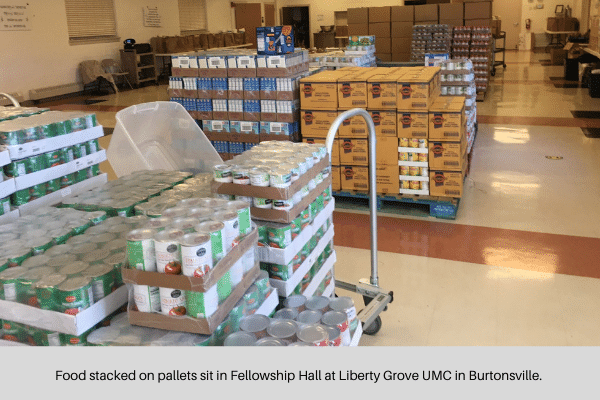 Undeterred, they kept at it. The second week, they served two families for a total of 12 people.
Today, the church gives out non-perishable and perishable food bags to more than 550 families every other Wednesday in the parking lot. Dozens of volunteers – who the church's pastor, the Rev. Miguel Balderas calls "disciples" – make the work go smoothly. In the past 12 months, the church has fed 6,844 families or more than 27,500 people. On March 3, 2021, they set a record, delivering food to 645 families who came through their drive-through operation.
Tom and Rachel Ulrich are the coordinators for this thriving ministry.
"When we first started, all of the food was provided by donations from the congregation and community," said Tom Ulrich. "As the need increased, we began to supplement the donations by purchasing food using monetary donations the church received that were specifically designated for the purpose of helping the food pantry."
As the needs of their community grew, church leaders worried that they wouldn't be able to keep up with the demand. They needed people to help, food items, and money.
"God has provided over and over again to allow us to meet every need," Ulrich said. "We were already receiving produce on a regular basis, and in September, we started receiving bulk deliveries of grocery items that we include in our bags. We also received a small grant from the Healthcare Initiative Foundation to improve our infrastructure. We used those funds to purchase a pallet truck and additional items for traffic control and safety and for food transport."
Liberty Grove now receives almost $12,000 in food every two weeks from Montgomery County and Manna House, he said. The food bags contain shelf-stable food, and perishable food consists of fresh vegetables and fruit from Ridgewell's Catering.
"It is not unusual for us to give away seven or eight tons of food every two weeks," Ulrich said. "Most of this food is made available to us through the Montgomery County Food Task Force and the Manna Food Center, but many members of our local community also purchase and drop off food every week."
Ulrich said that the congregation has rallied around this ministry. "We like to say that it takes a village to receive, stage, pack, and hand out the food, and then manage the resulting trash," he said. "We have 20-30 volunteers donating 90-100 hours every two weeks. And because of that, we continue to 'Be Love, Bring Love, and Share Love' so that God is known in Burtonsville and beyond."
Balderas echoes this sentiment.
"This ministry has not only changed the community, but it has changed our church," he said.
Rev. Mija Cho serves as pastor at Oxon Hill UMC. They were recently awarded a grant "in excess of $5,300 from the Capital Area Food Bank for our Bread Ministry to continue its work in providing for the needs of our community."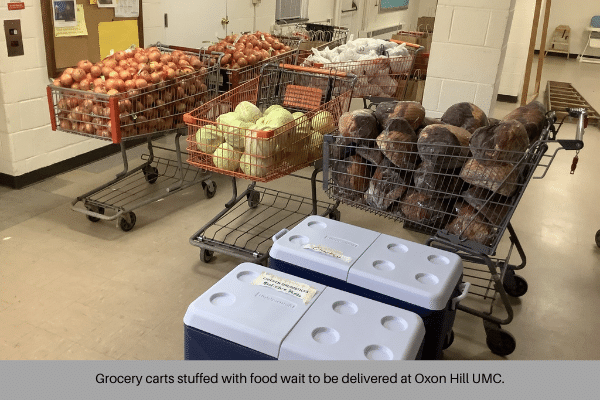 Like other such ministries, Oxon Hill serves its community in the church parking lot. Volunteers bring out food in grocery carts and by hand.
The Rev. Craig McLaughlin serves at Mt. Zion UMC in Bel Air. He said that they have had a food pantry for many years but, when COVID hit, they decided to expand to weekly food distribution.
"People bring food on Tuesdays and Wednesdays," he said, "and we distribute the food on Thursdays." They are currently feeding between 200 and 250 families per week.
"We deliver the food to about 80 of those families," McLaughlin said, "and the rest come to pick up the food. We bring it to their car when they pull up. Each family receives about $65 to $75 worth of groceries."
At Milford Mill UMC, they started their food ministry last June 27. They serve between 150 and 175 families during their monthly giveaways on the last Saturday of the month.
We started during the pandemic but have noticed the need for assistance is plenty," said Tasha Brown, who volunteers at the ministry. "Families from the area are happy that we assist, and some are looking to visit when we re-open our doors for service."
Brown said that the church distributes a box of canned and dry items and a box of fresh produce each month that we get from Maryland Food Pantry. They also give away hats, gloves, and blankets as they are available.
"We also gave away chickens and small turkeys during the giveaway before Christmas," said Brown. "We have also given away some personal care items such as soap. This weekend we will be giving away additional items that are being donated from community and church members."
Brown said that they are doing this ministry to help their community with their need and to let them know "we care."
After seeing the lines of people on Saturday mornings trying to get food to feed their families in the surrounding area and knowing her church also had members that were in need, Brown said she contacted another church to see how they were able to give away food.
"We partner with the County Emergency Operations Team, which gets our food from the Food Pantry delivered to us," Brown said. "We have been receiving financial donations from community and church members to start a full pantry on campus."