By Erik Alsgaard
UMConnection Staff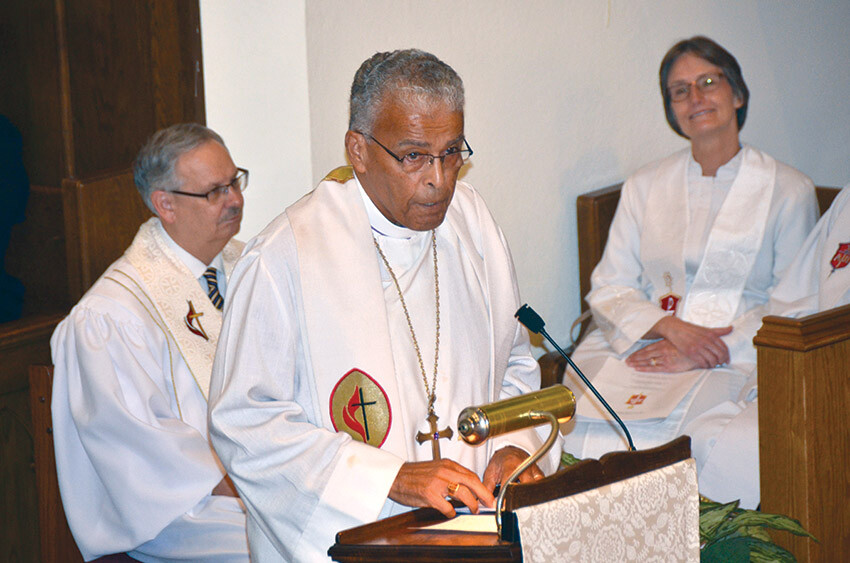 Bishop Herbert Skeete, center, preaches the eulogy at the Celebration of Life service for Bishop May. Bishops Bruce Ough (left) and Sandra Steiner-Ball look on.
The introit at the Celebration of Life service for Bishop Felton Edwin May was Copland's "Fanfare for the Common Man."
Nothing could have been further from the truth.
Bishop May was, in fact, anything but a "common man." The hundreds of mourners who gathered at Asbury UMC in Washington, D.C., April 1, bore witness to that fact.
In a worship service packed with Bishop May's favorite hymns – including "Joy to the World" as the opening hymn – and special music that brought people to their feet, bishops, district superintendents, General Secretaries, clergy and laity came together to say goodbye to a lion of the faith.
A man who was born in 1935 Chicago, educated in public schools, and who was elected to the episcopacy in 1984.
A man who started a new church in Chicago, with his wife, Phyliss, that began with 15 families and grew to 300 members.
A man who became the first bishop in United Methodist history to request and receive a special assignment from the Council of Bishops. He was sent to Washington, D.C., to work on the epidemic of drug and alcohol abuse.
A man who created "Saving Stations" in more than 60 cities around the United States.
A man who raised funds to build a non-denominational chapel at Camp David.
A man who was named by President Clinton as a member of the White House Presidential Mission on Children Orphaned by AIDS.
A man who played a key role in the development of Africa University and who, himself, made at least a dozen trips to Africa.
A man who, in retirement, continued to actively serve the church he loved.
Those very public highlights of his life are well known. The more intimate, personal side, was revealed during his Celebration of Life, as long-time friend, Bishop F. Herbert Skeete, brought the eulogy.
Preaching from Romans 8, some of Bishop May's favorite verses, Bishop Skeete painted a portrait of a man who had the "confidence of an old warrior who had walked with Christ from the ghetto in South Chicago to the highest leadership of The United Methodist Church," Bishop Skeete said.
Drawing a knowing laugh, Bishop Skeete said that "Bishop May lived intentionally. You knew where he stood. He was serious about his faith and had little patience for distractions."
He fought, Bishop Skeete said, for love and justice all his life that way.
He illustrated that with a story of Bishop May and himself going to church one day while attending a Council of Bishops' meeting. They came back to the hotel which, Bishop Skeete said, was "located right next to the tracks." They noticed that two little boys had crossed the tracks, entered the hotel, evaded security, and were now gazing longingly at the hotel buffet.
"Felton heard one of the workers say that he had called security to get those kids out of here," Bishop Skeete said. "Felton rushed over to the kids immediately and said to the kids, 'Would you like to have a tour?' Security arrived and Felton said to them, 'They're okay; they're with me.'
"That was Felton," Bishop Skeete said. "That's how he served God and neighbor: with holy boldness."
Even towared the end, Bishop Skeete said, Bishop May was worried that the people called Methodist would lose their "mission spirit."
"Our brother Felton would challenge the church to look beyond its fears," Bishop Skeete said. "But we live in a time when the church is facing serious challenges on the right and on the left. ... While we are busy in degenerative navel-gazing, we maintain our broken structures. Politically, in the U.S., we hear much about making America great again. For some of us, it means making America selfish and white again."
Bishop Skeete said that "Felton would remind us that we need to 'look up, church.'" Instead of closing churches in poor neighborhoods, Bishop Skeete said, we know that there is a way forward, and that way requires holy boldness.
Bishop John Schol, who served the Baltimore-Washington Conference from 2004 to 2012, following the retirement of Bishop May, actually began working with Bishop May during the Communities of Shalom work in the early 90s.
During their time together, more than 2,000 people were trained in the Communities of Shalom ministry, Bishop Schol said.
Bishop Marcus Matthews, who served on Bishop May's Cabinet in the BWC before being elected to the episcopacy himself in 2004, first met Bishop May in the early 1970s, he said.
"When I first met him," he said, "I saw a man of boldness, a man who was committed to the church and anchored in the faith. A lot that I've learned about ministry, I've learned from him. Once a person meets someone like Felton Edwin May, one should never be the same because he pushed you to excellence. He was a special man."
"Felton was a person who was never on vacation," said Bishop Joesph Yaekel, who served the Baltimore-Washington Conference just prior to Bishop May's arrival. "The things that were important to him occupied him at all times. You never wondered where Felton stood; he made sure it was expressed. We were blessed by him and he will be long missed."