Capitol Hill UMC pays tribute to local law enforcement
Posted by Guest Author on
By Carol Anderson*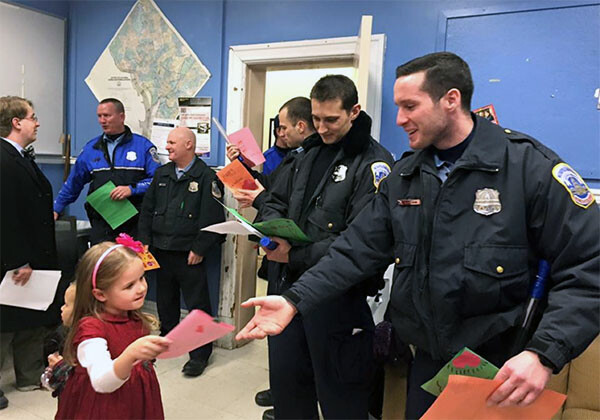 A young member of
Captiol
Hill UMC hands out Valentines during a visit to the First District Substation in Washington, D.C.
Pop sensation Adele wasn't only at the Grammys. She also was well represented at a Capitol Hill police station.
At the 17th Annual Police Valentine Tribute, a group of church and community members turned Adele's mega-hit "Rolling in the Deep" into "Patrolling City Streets," and honored many officers by name in the lyrics. Soloist Dan Felton handled the more acrobatic parts of the song, with everyone singing the chorus. A second song for the officers, titled, "Anytime We Need to Call," was sung to the tune of "Ain't No Sunshine."
Each February, members of Capitol Hill UMC, Ebenezer UMC, and other community leaders descend on the First District Substation (1D1) at 5th & E St., SE, in Washington, D.C., to thank neighborhood police for their dedicated service. They surprise police officers with valentines, good food, gag gifts and songs written in their honor. Each time an officer heard his name, a loud "That's me!" rang out.
"This annual tradition is a great way that neighbors share a heartfelt thank-you to the men and women of our city's police department for the hard work they do each and every day on our behalf," said Ward 6 DC Councilmember Charles Allen, who regularly attends the celebrations.
Knowing the officers love attention from the kids, Capitol Hill's Deacon of Discipleship, Troy Sims, kicked things off by presenting a "boatload" of valentines from the church's Sunday school kids, which were stuffed inside a big paper boat they had made especially for the police. Sims then gave a brief homily and concluded by leading children and adults in singing an energetically choreographed "Pharaoh, Pharaoh."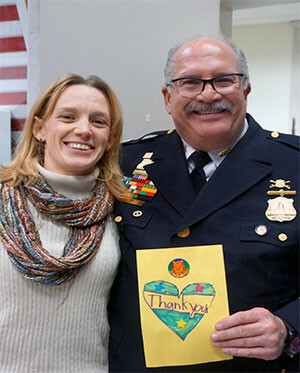 The Rev. Alisa Wailoo, left, pastor of Capitol Hill UMC, stands
wtih
Capt. Mark Beach.
The Rev. Alisa Wailoo, pastor at Capitol Hill, encouraged the officers to come to CHUMC for breakfast or lunch, where they would be warmly welcomed with hearty food and fellowship.
"We are grateful for the officers of 1D1," said Wailoo. "From the moment I arrived on the Hill in 2008, there has been a beat officer ready to partner with us to help those in need and to keep our community safe. We deeply appreciate how you sacrifice for and serve our neighborhood."
After the music, officers dove into the food or started checking out the gag gifts — or both. Suddenly bubbles appeared everywhere as they realized their "light sabers" were really bubble-making wands. But the 1D1 crew gave as good as they got. They presented the church kids with a box-load of individual bags of candy they had put together as a thank you gift.
"The kindness and generosity of the members of Capitol Hill UMC and Ebenezer UMC will long be remembered," said Captain Mark Beach, interim chief of 1D1. "We are humbled that you would bring our community together to show support and appreciation for the officers who serve this community."
Beach said that the church's efforts don't go unnoticed by the police.
"For the 17th straight year now, this outpouring of love and kindness resonates deeply as America struggles to maintain strong relations between police and the citizenry," Beach said. "It has been my honor to work with such an outstanding group who are committed to serving others. Thank you all so much."
Echoing Beach, Robert J. Contee, the new First District Commander, said he, too, was grateful for the show of generosity toward the officers.
The kids were as excited as the cops. One little boy said, "I've been inside a hospital. I've been inside a fire station. Now my wish has come true — I've been inside a real police station!"
*Carol Anderson is a member of Capitol Hill UMC and coordinator/founder of CHUM Women, which organizes the police tribute each year.