BWC's CFO to serve as Pen-Del treasurer
Posted by on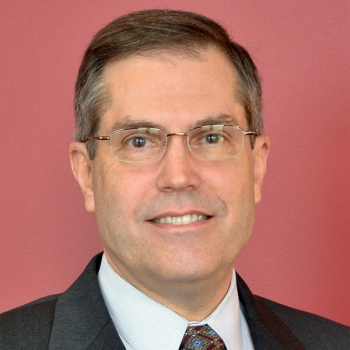 Paul J. Eichelberger has been named to be the new Treasurer/Director of Administrative Services for the Peninsula-Delaware Conference when William Westbrook retires this summer, after 29 years in that position.
Eichelberger currently serves as the Treasurer and Chief Financial Officer of the Baltimore-Washington Conference, and will continue in that role, which he has held for 13 years.
As stakeholders in the conference began to process Westbrook's retirement, it became apparent that the Holy Spirit was at work. The idea of leveraging this opportunity across the affiliation was resonating individually with conference leadership and it finally emerged through conversation. The search committee, composed of Pen-Del's stewardship leaders, agreed that this hire builds on the strengths of the affiliation between the two conferences, allowing them to share an episcopal leader, some staff, training opportunities, technology and resources.
As an experienced treasurer, who has partnered with Westbrook since the affiliation began, "Paul can 'hit the ground running,' without needing the three or four-year learning curve that an outside hire would require," said the Rev. Lawrence Pelham, chair of Pen-Del's Council on Finance and Administration. "As a larger conference, Baltimore-Washington has many resources that Pen-Del does not. The two conferences working together should bring significant benefits to both conferences. As we are living in a time of major change in the denomination, with the expectation of even greater change, we are blessed to have Paul to help us navigate the future."
Eichelberger, pending a vote of the June 8-10 Pen-Del Annual Conference Session, will begin working with their Council on Finance and Administration, Board of Pensions, Committee on Equitable Compensation, Board of Trustees, and Investment Committee on July 1. Westbrook will remain on until Aug. 1 to facilitate the transition.
Bishop LaTrelle Easterling praised the leadership and deep discipleship of both treasurers, who each possess a servant heart and bring significant experience and skill to their jobs. "Beyond his financial acumen, I sincerely appreciate Bill's commitment to the mission of God's beloved community. He is passionate about using stewardship to transform lives and communities," she said. "Paul is a treasure to the church. He has unparalleled expertise and understands how generosity and the care of our resources allow God's love to come to life through our ministry."
Westbrook expressed joy and gratitude for being able to "work alongside and learn from so many dedicated and faithful servants of our Lord and Savior," during the past 29 years. "The relationships I have developed with both clergy and laity will be cherished for a lifetime," he said.
Westbrook is excited about the possibilities of Eichelberger assuming the role of treasurer of the Peninsula-Delaware Conference and the wealth of knowledge he brings. "Paul's humility and calm demeanor are qualities that our conference will experience as he helps to shepherd both conferences through the financial challenges that each will face. I am confident he will demonstrate the true nature of our connectional church by nurturing and utilizing the strengths of each conference -- all to the glory of God."
Recognizing the comparative size and resources of the two conferences, the Baltimore-Washington Conference will pay for a majority of Eichelberger's total salary. This will allow Peninsula-Delaware to expand on the support it provides to local churches. This strategic move also coincides with Bishop Easterling's vision of leveraging natural attrition to optimize the resources within each conference, both human and financial, to strengthen mission and ministry.
Bishop Easterling, Eichelberger, and other conference leaders are committed to supporting and empowering those who currently serve in Peninsula-Delaware's stewardship ministries.
Chris Barry, who is currently the conference accountant, will be promoted to comptroller; and a new accountant will be hired and begin working for the conference July 1.
As congregations wrestle with uncertainties brought about by the pandemic, disaffiliation, and changes in leadership, Conference leaders acknowledge that this is a time of uncertainty for the church.
"Change is a constant. We're living with an elevated level of change now, that may grow even greater in the future. However, God is ever-present – always loving, and forever faithful," Pelham said. "By seeking God first, working together as a connectional denomination in unity under Christ, and having faith that 'all things work together for good for those that love the Lord,' we can have joy and peace in the Kingdom of God."
Eichelberger, who defines himself as an optimist, agrees with Pelham's perspective and even sees this season in the church as a period of growth and opportunity.
Part of this stems back to his experiences as a 19-year-old at the Naval Academy in Annapolis and through his work in the corporate world at Corning Incorporated and Verizon Communications, where leadership became "a practiced discipline." It shaped his identity and was built on the basic premise of hope and optimism. "I tend to see a path for things to progress," Eichelberger said. "I have never felt like the obstacles are keeping us from moving forward. I have always found that God is able to provide a path. … With God, all things are possible."
He reflects on a recent teaching visit to Africa. "There are churches there," he said, "where it is the role of the Trustees to take a bundle of sticks and two cabbages and sell those so that they have the funds to pay their pastor that week."
That story hits home. It reminds Eichelberger that United Methodists have local churches at all ends of the financial spectrum. His job as a CFO is to resource churches to build a stable platform, to help people find what their capacity is, and what they are called to do today with the resources God has given them.
"Church," he said, "is to be a place of hope."