By Melissa Lauber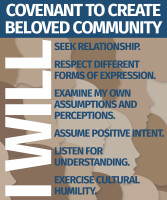 United Methodists know Jesus' Great Commandment "to love your neighbor" by heart. In the year ahead, church leaders throughout the Baltimore-Washington Conference are invited to live this commandment in ways that build a Beloved Community.
In 2021, the Baltimore-Washington Conference is revving up a strategic initiative to build an antiracist church. As part of this effort, several groundbreaking ministries are being offered to local church leaders, including Equity 2.0 and Mapping a Path to Healing Supper Initiatives.
Written into its very DNA, The United Methodist Church "shall confront and seek to eliminate racism, whether in organizations or individuals, in every facet of its life and in society at large," said Bishop LaTrelle Easterling, quoting the denomination's Constitution.
"The work of a disciple is to create a more just reality and ensure everyone has life, and has life abundantly," the bishop said. "We must live our faith out loud."
"This is a continual journey. The work is every day. It's not one and done," said the Rev. Stacey Cole Wilson, the BWC's Executive Minister of Justice and Service. "I want to get up every day and make a new commitment. … I want to show up in the world in a way that brings God glory and allows God's will to be done in me."
Cole Wilson, who helps lead the BWC's anti-racism ministries, is aware that people and churches are all along the political and theological spectrum of working for justice and equity. Over the past year, she had become convinced that people need to put aside fears and disagreements and focus on the Great Commission in Mark 6.
"How are we showing up in the world in a way that honors the image of God in ourselves and in others? What work do we need to do to love each other well and respectfully," she asked? "This is not about ideology. It's how each of us is living into the Great Commandment of Jesus Christ. How are we showing up in the world?"
She is hopeful that every United Methodist commits themself to the elements of creating the Beloved Community. These include:
I will seek relationship because this is how Jesus lived.
I will respect different forms of expression, understanding that I may not really know what is going on.
I will examine my own assumptions and perceptions so that I might avoid projecting my cultural values onto others.
I will assume positive intent as we are all moving onto perfection.
I will listen for understanding because agreement is optional.
I will exercise cultural humility, understanding that the world into which I was born is just one model of reality.
"There are not asides," said Cole Wilson. "These are not additions to our faith or ministry. These are markers of a disciple. How am I loving that spirit that God imparted in you?"
As the new year begins, conference leaders are also hopeful that United Methodists move beyond well-intentioned words and study groups.
"For many people, it's no longer the time to remain in a position of pondering. We must move from inquiry and discernment, into a place of action. Maybe I can't feed 10 people. But I can feed one. I can love each person I meet well," Cole Wilson said. "This isn't work that we can point to another person and say, 'You fix it.' This is the work of every human being. Will we live out a place of fear, or of love?"
Every church within the BWC is encouraged to sign the Commitment to be an Antiracist Church. Those who sign will be provided with resources and support for their ministries.
The season ahead will not be about "changing who we are," Cole Wilson said, "but being changed by who God is."
"From Genesis to Revelation, God has broken into human history to speak out against injustice, enslavement, and inequity. It takes courage." Bishop Easterling concluded. "Disciples live, love, lead, and learn."
Download Beloved Community PDF