BWC delegation finds strength in its diversity
Posted by Guest Author on
By Mittie Quinn*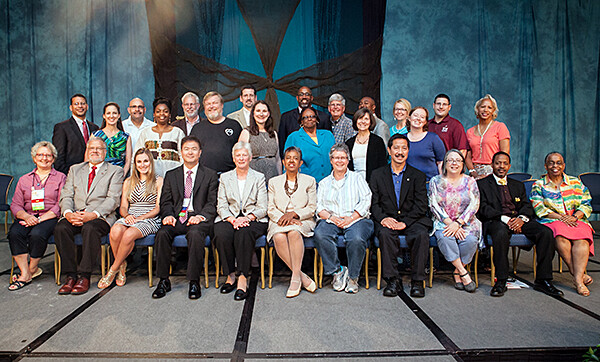 Every third Saturday, you will find a group of Baltimore-Washington Conference United Methodists huddled together at the Conference Mission Center discussing everything from Scripture to the Book of Discipline and Social Principals; from human sexuality to global relationships, economic indicators, regional variability and back again to Scripture.
These are the 32 clergy and laity (16 of each) that members of the BWC elected to be the representatives at the 2016 General and Jurisdictional Conferences. Eight clergy and eight laity form the core delegation that will vote at General Conference in Portland, Ore., in May; 16 more are added to represent us at Jurisdictional Conference in July. Some of these are alternates; all are committed to represent you.
At each meeting I am in awe of the collective wisdom, collegiality, spirit and faithfulness of this group. I am also in awe that we of the Baltimore-Washington Conference are probably the most diverse delegation that will be present at the spring and summer conferences.
My life has been repeatedly enriched by the variations of humanity represented in this Conference. I was shocked recently to learn that in the whole United States, United Methodists are 95 percent white.
The Baltimore Conference is diversity at its best. We are male and female, black, white and tan, and we are descendants of great Africans, Europeans, Latinos and Latinas, and Asians. We are BWC.
It isn't just our color, ancestry or gender presentation that differentiates us. The churches we represent are big and growing bigger, small and family sized, and everything in between. More than 90 percent of our churches pay their apportionment in full.
We come from churches working toward full inclusion of LGBTQ persons into the life of the church, and from churches working towards maintaining the current Discipline stance on homosexuality being "incompatible with Christian teaching."
Our churches have rock bands, praise bands, gospel choirs, vocal ensembles, robed choirs of all descriptions, or simple recorded music for worship. We are Republicans, Democrats, and Independents. And yet, we come together to be the church.
So why do we come?
These monthly meetings present the delegation with information about General and Jurisdictional Conference so that we all will be ready to represent you to the best of our abilities. At times it is overwhelming:
How can we be socially responsible in our spending while maintaining fiscal responsibilities we have to our clergy pensions?
How are bishops elected? Will we recommend someone to be elected? How will we choose? Who will be appointed to BWC to fill the void created by Bishop Matthew's retirement?
How can we move into the future and continue to represent the rich diversity that we are? How can we continue to make disciples of Jesus Christ?
Under the leadership of Delores Martin, our lead lay member, and the Rev. T.R. Chattin, our lead clergy member, we manage to have fruitful, productive and collaborative meetings. We are learning some answers and developing more questions. We are finding ways that we can network and collaborate, at meetings and in between.
I know that there are those who would question the ability of this UM "ship" to stay together in such rocky times. I would say that we, the Baltimore-Washington Conference of The United Methodist Church, have the opportunity to model the "way forward."
We can be a church of diverse understandings of what it means to be a United Methodist; of what Christ calls us to be and do in this world; of people with differing opinions about how to make disciples of Jesus Christ. We are called to show the world how to resolve conflicts because there is so little of that going on. We are called to act with justice, to love tenderly, to serve one another and to walk humbly with our God.
If you would like to know more about the delegation, follow this series of monthly reflections published by BWC Communications, or check out the General Conference Website, or contact one of the delegation members. Join the journey.
*Mittie Quinn is a member of Dumbarton UMC in Washington, D.C., and chair of the Conference Commission on Communication. She is an elected alternate delegate to Jurisdictional Conference.