BWC churches receive grants to create 'shalom'
Posted by Melissa Lauber on
By Melissa Lauber
Each year in June, members of the Baltimore-Washington contribute to a denomination-wide Peace with Justice Sunday. The money is awarded to programs to advocate in communities and nations for God's shalom.
Half of the money collected stays within the Baltimore-Washington Conference and is given to area ministries. To learn more, visit, www.bwcumc.org/ministries/advocacy-action/peace-with-justice.
Grants are also given out at the national level. Learn more at https://www.umcjustice.org/documents/57
The next Peace with Justice Sunday will be celebrated June 7, 2020
This year's recipients include The Community Ant-violence Project at Hughes Memorial. UMC in Washington; Loaves and Fishes at Mt. Olive UMC in Randallstown; Justice for Our Neighbors; Summer Arts Camp at the United Methodist Church of the Redeemer in Temple Hills; and the Empowerment and Discipleship Project between Emory Grove UMC in Gaithersbug, and La Gloria in El Salvador.
The Community Anti-violence Project

Hughes Memorial UMC, Washington D.C.
Makiyah Wilson was 10 when she was murdered on July 156, 2018. A member of Hughes Memorial UMC's Community Anti-violence Project (C.A.P), Wilson "was killed when four hooded gunmen drove into her apartment complex and shot 70 rounds of ammunition with automatic assault weapons while she was outside playing in a courtyard located approximately 1,000 feet from our church," said the Rev. Paul Johnson.
The community is still processing emotions of fear, anger, and disillusionment, Johnson said. But it's all the more tragic given that "the death of Makiyah is just one occurrence in a long litany of violence in our community."
To help address that violence, Hughes UMC joined with Howard University School of Law to begin an after-school program to help at-risk children and youth who live in the community surrounding the church.
Started in 2005, C.A.P works with children in need, recognizing and working with the challenges they face to achieve academically.
The District of Columbia Public School system "has historically been defined by sometimes stark racial and class divides. Poverty, food insecurity, housing insecurity and rampant violence are just some of the factors that negatively impact the academic performance of the children who live near Hughes Memorial UMC," Johnson said. "It is unfair and unrealistic to expect impoverished children who are hungry, cold and scared to excel in school."
The C.A.P. after-school program seeks to help the children who live around the church to dream big dreams and to achieve their dreams by preparing them holistically — physically, mentally, emotionally and intellectually.
Students participating in C.A.P. have shown improved reading scores and other advancements. But Johnson is also convinced that "in our community there is no peace because there is no justice, and there is no justice because there is no peace." C.A.P. is committed to peace with justice.
The church is seeking partners to join them in this ministry.
Loaves and Fishes Food Ministry

Mt. Olive UMC, Randallstown
Loaves and Fishes at Mt. Olive UMC in Randallstown was actually started by women in the community who asked to use the church. In 2013, when the women had to drop out, 17 church members stepped up to ensure the ministry continued.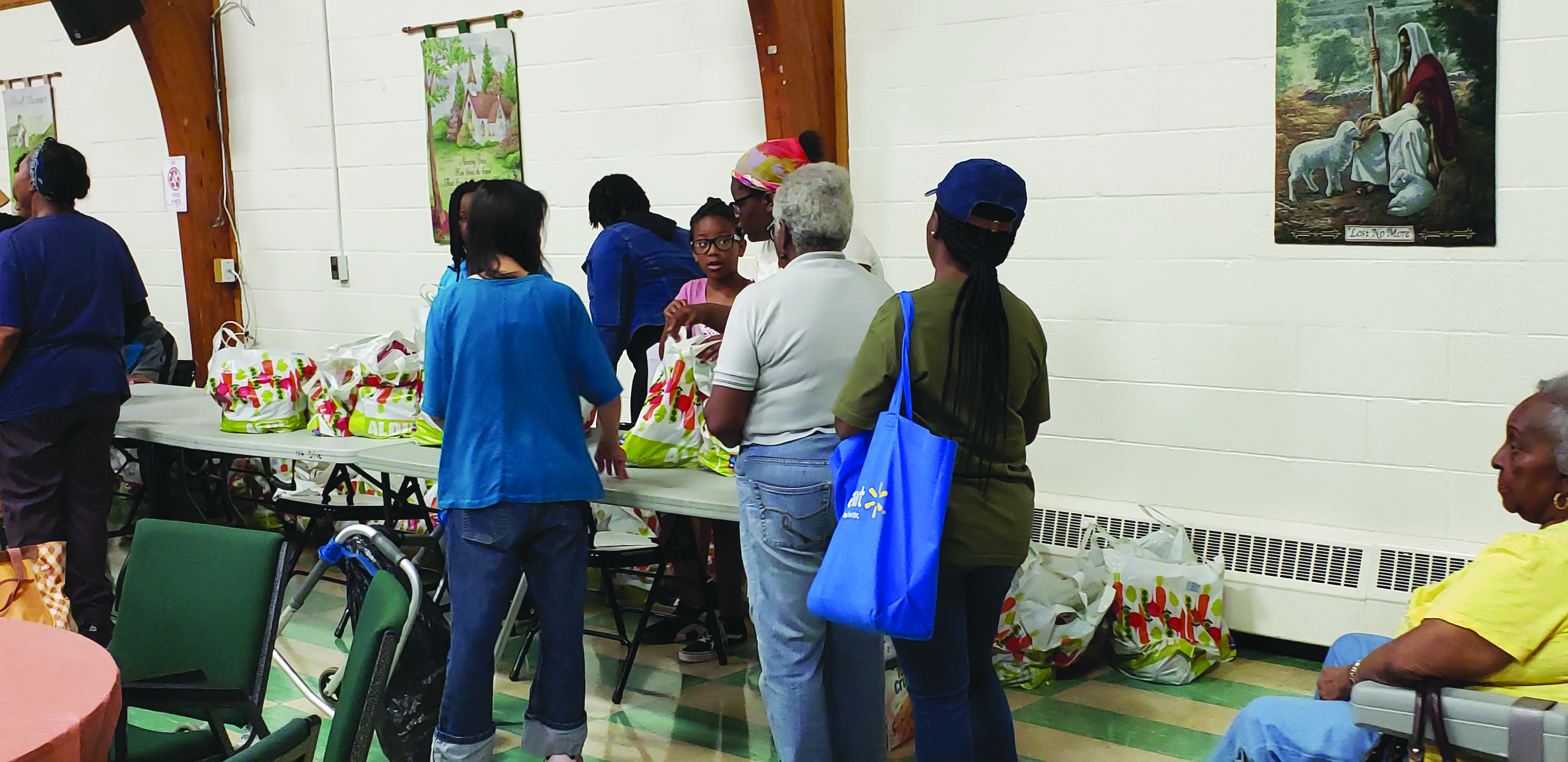 Today, approximately 20 volunteers serve a meal on the third Saturday of the month and provide a four-day a week food pantry. In a typical month, 90 meals are served and 110 bags of food are distributed with food that comes from the Maryland Food Bank.
The ministry is a uniquely intergenerational one. The youth play a vital role in helping pack the grocery bags and serving guests at the tables. Adults prepare the meals and sometimes even 80-year-old church members join in the ministry in a variety of ways.
"I love that our lay people, especially our youth, see what it means to be a true servant of God," said Cynthia Taylor.
The area around the church is about 9% food secure, said Barbara Kirchhausen.
"Hunger is a basic need. We see children of all ages come to the Saturday meal. No one wants to see children hungry. … We are called to feed God's sheep.
"At the end of every third Saturday, we are tired, but also blessed to be living God's word in this ministry," Kirchhausen said. "We mean to see Jesus in every face and to reflect his love in our own."
Summer Arts Camp

United Methodist Church of the Redeemer, Temple Hills
The Rev. Michael Parker is a trained vocalist. He often uses music, especially opera, to open up. "In art," he said, "one is free to simply be." He and his church members wanted to give that gift to the children of the community.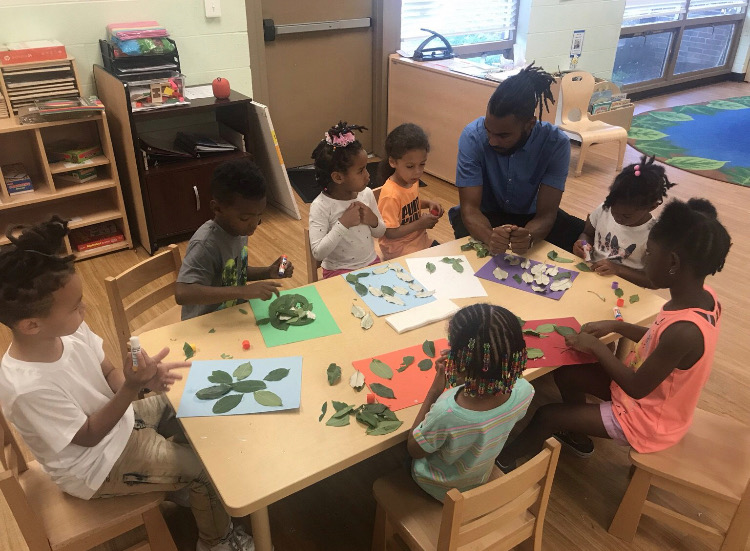 Redeemer's Summer Art Camp, which runs from July 1 through Aug. 16, is done in partnership with the Leaders of Tomorrow Youth Center. The experience is designed to help children unleash their creative abilities through a variety of artistic expressions including drama, music, dance, visual arts and photography.
"We often see a connection between art and Peace with Justice," Parker said. "Our children are able to not just build bridges, but be bridges of hope and change in our community. At the same time, we are carving out safe space for children who live in extremely at-risk communities to have positive, safe, community building activities and receive nutritious meals throughout the summer, which is the peak time for juvenile-related offenses."
Parker and the leaders and the camp say they find joy in how the camp gives children the chance to see life from different lenses.
"One of children," he said, "was extremely excited to embrace mosaic art, sharing with her mother that she was excited about creating something big with such small pieces." An apt metaphor for Peace with Justice.
DC-MD Justice for Our Neighbors

Hughes United Methodist Church, Wheaton
Justice for Our Neighbors is a ministry supported by the Baltimore-Washington Conference that provides legal assistance to immigrants. Assisting these migrants is a matter of faith, said the Rev. Ken Hawes, director of the ministry's board.
"Asylum seekers, torture survivors, and our immigrant brothers and sisters fleeing violence in other countries are arriving at the U.S. border, where they legally request protection, only to be told, 'America is full,'" Hawes said. "They are then forced to wait in overcrowded, chaotic camps in Mexico, where U.S. attorneys cannot reach them to provide legal assistance and prepare them for their Credible Fear Interviews, an initial test that allows them to pursue asylum before a U.S. immigration judge.
The Peace with Justice grant provided funds to Angela Edman, the lead attorney for Justice for our Neighbors in this region, to travel to the border to teach and to learn.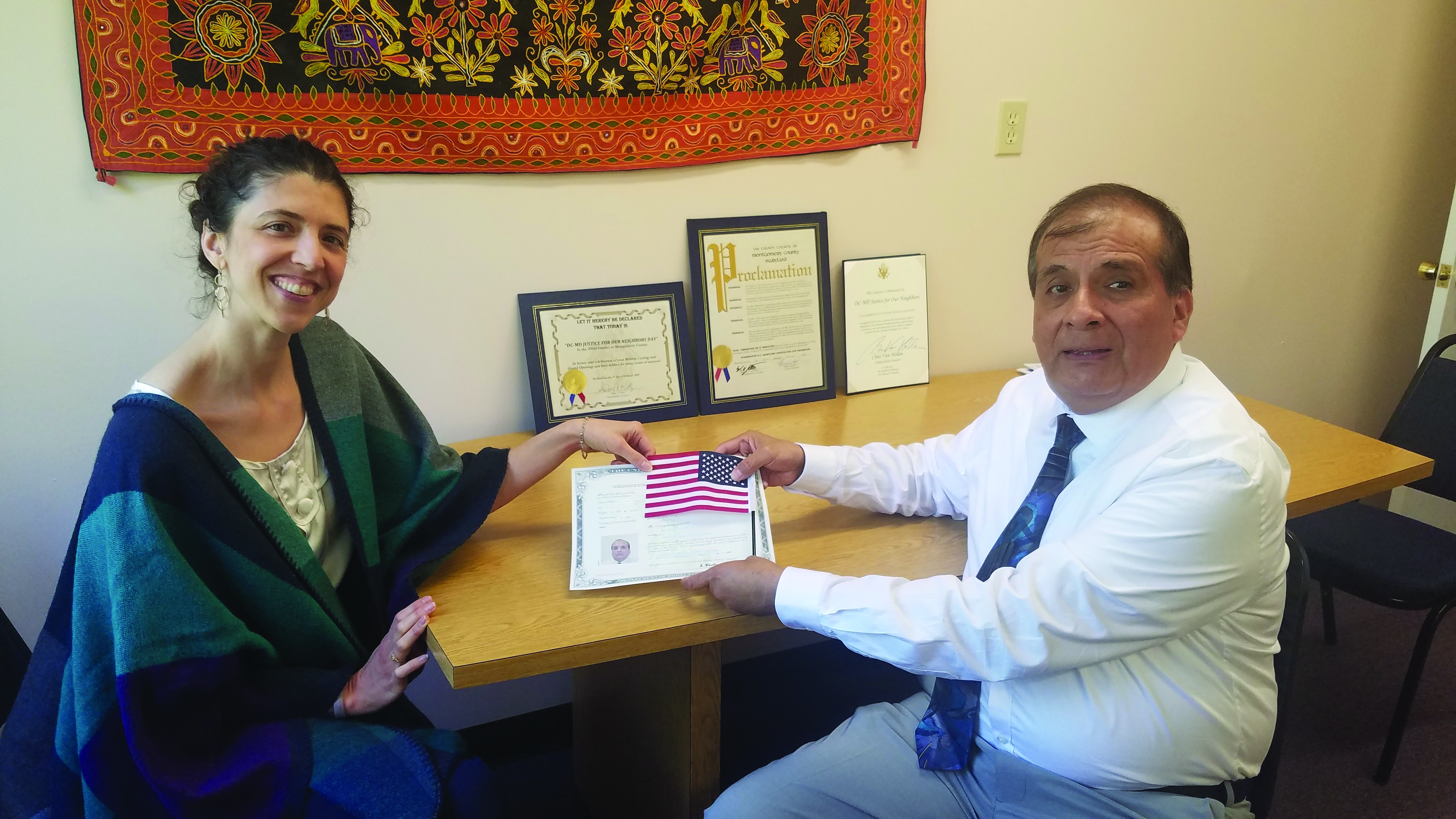 Edman is "a deeply committed person of faith, who is passionate about doing justice, especially on behalf of those who are oppressed, abused and mistreated. She has made it her life's work," said Hawes. Her expertise is in legal cases involving asylum and torture. At the border, one of the things she'll do is provide critical legal advice to those facing the Credible Fear interview.
"Peace with Justice," said Hawes, begins by recognizing the dignity of each human begins as one made in the image of God. "Our work at DC-MD Justice for Neighbors demonstrates to the men, women and children we serve, that they have worth and value and strives to bring shalom to their lives."
Empowerment and Discipleship Project

Emory Grove UMC, Gaithersbug, and La Gloria, El Salvador
The third largest population of El Salvadorans in the world is within the bounds of the Baltimore-Washington Conference. Much of this community lives in Montgomery County, so, the Rev. Tim Warner reasoned, "If we want to grow as God's church in Gaithersburg, we need to know what Jesus means in El Salvador."
To explore what ministries Emory Grove might support, he traveled with a group from the Baltimore-Washington Conference to El Salvador, visiting La Gloria, near the town of Ahuahapan.
"It is a rural town," he said, "where women are single because gang violence and addiction take their men. Few women have the opportunity for educational and economic advancement to begin with, and those who have children live under the constant threat of gang influence on their children. It is a desolate place in every sense of the word."
The pastor at the church in La Gloria is a single mother. She shared with Warner her own sacrificial story and how she developed the church from the ground up among single mothers.
"When God moves most powerfully through us, our narrative becomes Gods narrative in us," Warner said. "As she told her story of how they had scraped to get a new building up, complete with space for a commercial kitchen in which these women could learn to prepare food, to walk up the hundreds of stairs to generate income for themselves and their children, tears started coming to my eyes.
"I am the second son of a single mother, and by the grace of God alone, I have escaped a place and predicament not unlike La Gloria. Sometimes, in a moment like this, God steps out of eternity into our time. It was a moment of convicting connection, a clarion call from God about how to respond in a moment to the grace He has lavishly poured out on me," he said.
Warner vowed to help provide the equipment for the commercial kitchen that would empower the women with training and employment opportunities. The Peace with Justice grant will assist with this.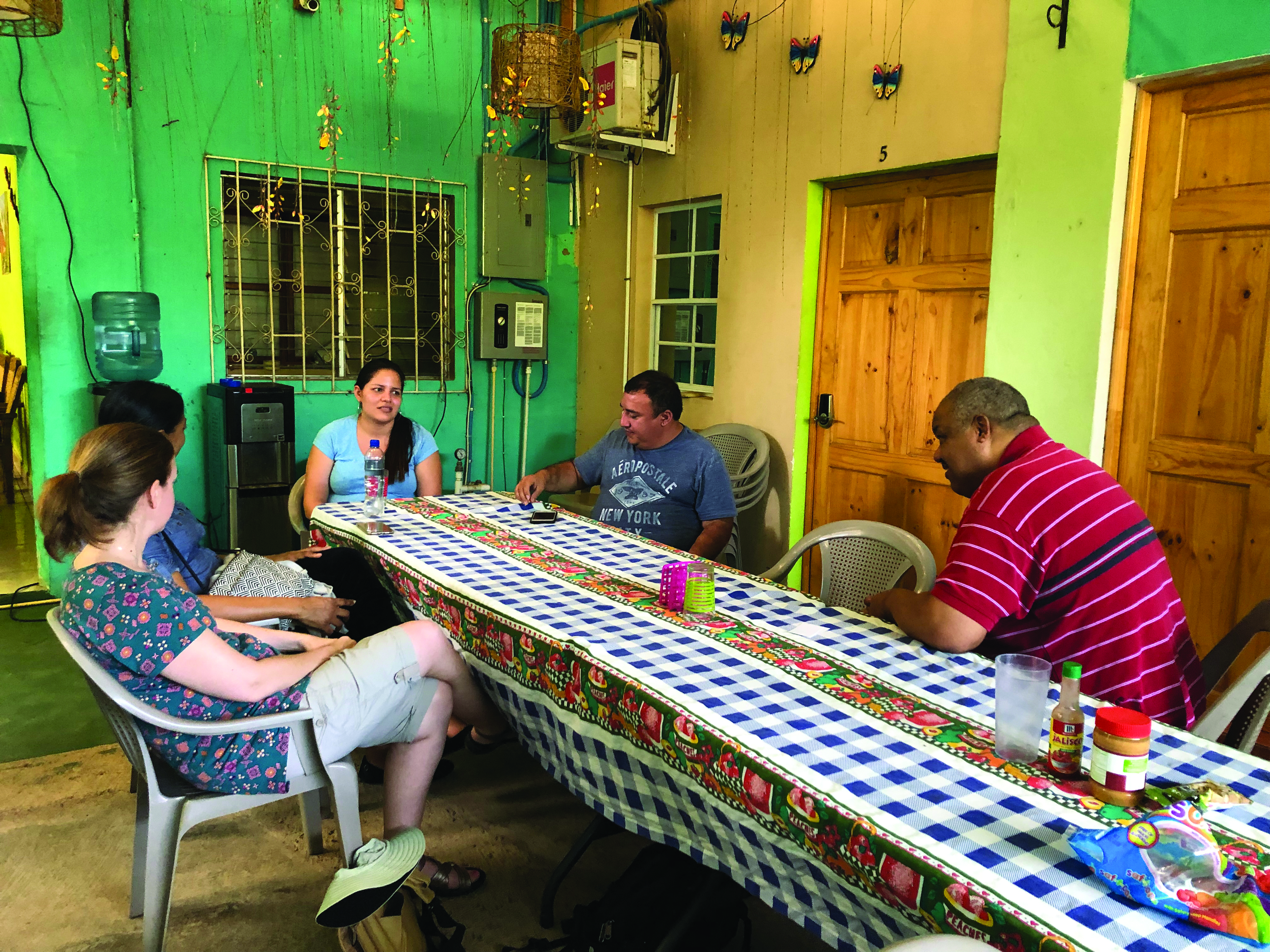 "It is as true in El Salvador as it is in the U.S. that the best way to raise the stake of the unemployed is with a job," Warner said. "The women and children in La Gloria are so vulnerable because they are so powerless. Being powerless in a culture pervaded by machismo, gang violence, and poverty is tantamount to a multi-generational death sentence."
But bringing the Kingdom of God face-to-face with this systemic evil "is precisely what our baptismal vows commit us to," Warner said. "Incarnational ministry that yields God's shalom and wholeness, physical and spiritual, is what God requires of us."