Bible study calls church to abandon pneumaphobia
Posted by Melissa Lauber on
By Melissa Lauber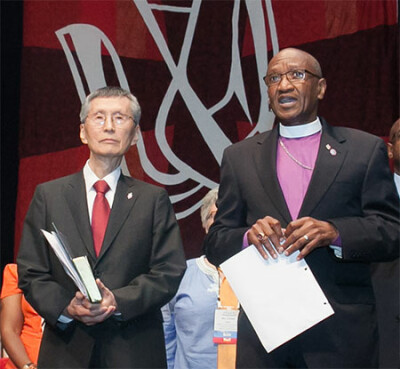 Bishop Marcus Matthews, right, introduces Bishop Young Jin Cho as Bible study leader.
When Bishop Young Jin Cho, of the Virginia Area, first heard the theme of this annual conference, "You Have the Power," his first thought was simply, "Really?"
"We may have many kinds of power, but do we really have the power," he asked in a Bible study on the rich young ruler in Luke 18:18-25. "This is a great promise. But what about our reality?"
The church is in a time of major challenge, and some even say, crisis. Leaders like the one in Luke 18, are wondering what can be done. But easy answers won't change the narrative of uncertainty and decline.
New plans and new programs may help the church to some degree, but putting new bandages on old wounds, or just working harder won't solve the problem, the bishop said.
Authentic and vital churches are led by God, the spirit of Christ is in charge of mission and ministry and the congregation's life together is based on prayerful discernment of the mission of the Holy Spirit.
"Is our church led by the Holy Spirit," Cho asked. "Do we truly honor the lordship of Jesus Christ?"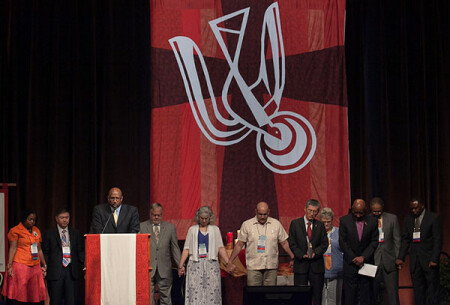 The Rev. Joe Daniels leads the Cabinet and Conference in prayer about the issue of gun violence.
Too often, in our churches, rather than recognizing that salvation is God's business, we take over and allow for only brief consultations with God, the bishop said. Many churches today are also pneumaphobic, allergic to responding to the urging of the Holy Spirit.
"We are too confident in ourselves to rely on the help of the risen Christ. This is the fundamental problem – a lack of total trust and dependence on God. That's the one thing keeping us from having 'the power.'"
This reliance on God can create new life, and spiritual and relational vitality, Cho said. "The risen Christ is still alive and leading our church through the Holy Spirit." It was that spirit members of the Baltimore-Washington Conference sought to claim.