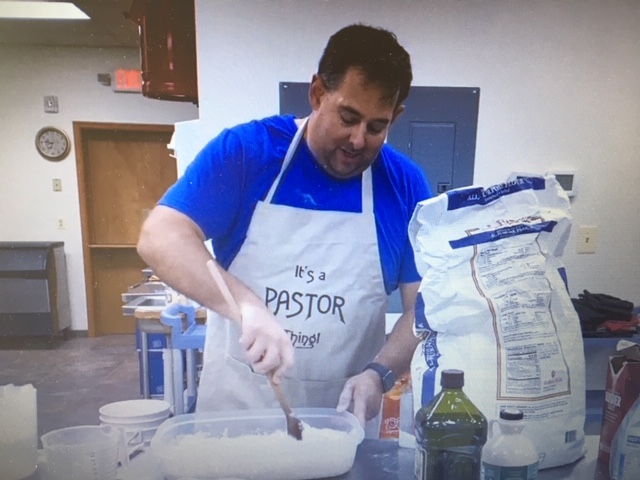 The Rev. Heath Wilson in the kitchen at Toms Creek UMC, baking bread.
by Erik Alsgaard
During a time of physical distancing, when we're being told – almost ordered – to stay at home, there appears to be a rise in the number of people baking bread.
That is, if you can find yeast on the store shelves. Or flour.
But I digress.
If you're like me, you don't have a clue how to do it. Sure, I've made bread using my bread machine, but that's not really "baking," is it?
So, after a good friend from Michigan (thanks, Betsy!) sent me three precious packets of yeast in the mail, I knew what I had to do. Time to get baking.
Now, there are some, like me, who aspire to be great bread bakers. And then there's Heath Wilson.
The Rev. Heath Wilson, to be precise. He's the pastor at Toms Creek UMC northeast of Thurmont. One of the first things he did for his congregation and community to help out in the time of quarantine is make bread.
Seventy loaves, to be exact. It took him eight batches and three weeks, but that's what he did.
Wilson delivered all 70 loaves, he said, using social distancing. "I even used a disinfecting wipe to put it on the doorstep," he said.
He gave the bread to church members and people he thought could simply use them.
"I dropped a loaf off at the home of two nurses of our local hospital who I have never met," he said. "I was asked to deliver it to them."
Wilson calls his bread, "No Knead Bread" because, well … (and I have wanted to write these words for years) … it doesn't need kneading.
(Dramatic pause to appreciate the pun. You're welcome.)
What is that something extra in the recipe? Wilson's magic touch is two super-secret ingredients: maple syrup and olive oil. How much? You'll have to watch the video.
Yup.
Wilson has a video, much like your favorite cooking show, with the whole semi-precise recipe, posted on his Facebook page. There you'll see Wilson standing in the church kitchen, wearing a clergy collar at one point, with a monster bag of yeast at the ready (send some my way!) and another even bigger bag of AP flour. Be warned: this is not a quick-bread recipe; it takes days. But, as you'll see, the end result is worth it.
Why bread? Why now? Why give it away?
"I just think that people need to experience something filled with love at this time," Wilson said. "I think we all need ways to connect and keep our congregation connected, and to keep them connected with the world."
No crusty ole' guy like me could argue with that.
Watch the video: https://www.facebook.com/hwilsonvt/videos/10158321280184962/