By Erk Alsgaard
UMConnection Staff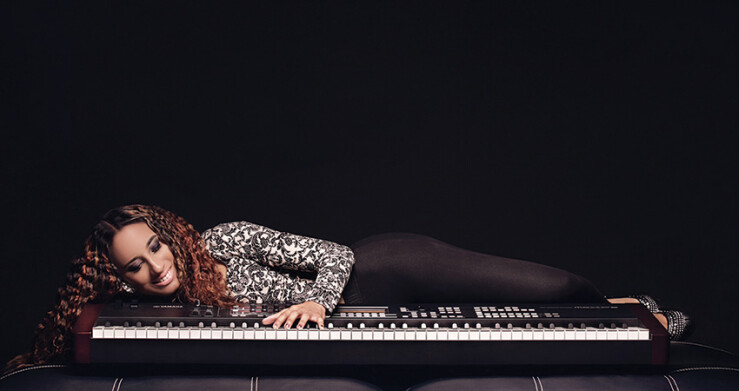 Kayla Waters grew up in two worlds, and we're all better for it.
The daughter of acclaimed jazz saxophonist Kim Waters, Kayla often attended her father's concerts with her twin sister, Kimberly. Kayla knew, when she was 15 years-old, that she wanted to perform, too.
She grew up in the church, too, in African Methodist Epsicopal Church in Havre de Grace, Md. At age 9, she was saved. Church, she said, has always been a part of her life.
Today, at age 26, Kayla Waters moves seamlessly between the worlds of jazz and church. She's the director of music and worship at Mt. Vernon Place UMC in Washington, D.C.
She also just happens to have the #4 single on Billboard's Smooth Jazz chart.
"Kayla is an extraordinary person who lives with a faithful desire to serve God with all she has," said the Rev. Donna Claycomb-Sokol, the church's pastor. "When she first interviewed for this position, our organist quickly said, 'I'm not sure our piano has ever been played that well.' And yet, Kayla is amazingly humble and always gives glory to God."
Claycomb-Sokol said that Waters has brought not only her talents to MVP, but life and joy to their worship. "It's a delight to watch her gifts being recognized by a wider audience," she said, "and I cannot wait to see where she continues to fly."
Waters has been director of music at MVP for two years. She said it has been a blessing to her to be there.
"I think I'm one of the youngest directors of music they've ever had there," she said. "When I came in, I had very little experience with choral directing, so I've kind of had to learn as I go along."
Her recent single – her first ever – "I Am," is steadily climbing the Billboard charts after making its debut in January at #17. Her new album, "Apogee," was released Feb. 24 on Trippin 'N' Rhythm Records.
"I'm ecstatic and overwhelmed that my single is doing so well," Waters said in a phone interview. "It's only been out for five weeks. I'm really excited."
And she quickly added, "It's rolling, and I'm like, 'Okay God, you got this.'"
Her dad, Kim Waters, has been in the jazz music world for more than 30 years, Kayla Waters said. "I kind of picked up on his traits," she said. Kim Waters wrote and produced the single for his daughter, but all the other songs on the album were written by Kayla.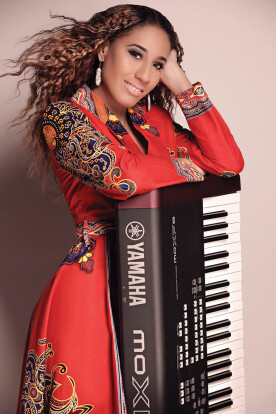 Waters began taking piano lessons at age 6. In her junior and senior years of high school, she attended the Nathan Carter School of Music in Baltimore to study classical piano, where she still studies classical piano today.
She then was accepted at Howard University as a piano major, studying with Karen Walwyn, and she received her bachelor's degree in 2013. Waters lists Walwyn as one of her primary mentors, helping her develop her style in composing and writing. Her other mentor is Kim Jordan, who served as music director for the late Gil Scott Heron for 30 years.
The combination of classical and jazz piano is unique, Waters said, and she's proud of her ability to seamlessly float between the two worlds.
"I kind of taken from them and worked from their experience," Waters said. "They've told me stories and I've learned a lot from them."
The first song on her iPhone, she said, was her own music, perhaps not surprisingly as she anticipated the release of her debut album.
What's next for Waters is getting tour dates lined up, she said, including a couple of dates playing with her dad. "We're getting some calls for solo shows," she said, "and for doing the daddy-daughter thing." Upcoming shows are listed at www.iamkaylawaters.com.
"I thank God for every step of the way," Waters said. "This is not just me, but it's God who gives me my gift. I give him all the praise for the music that he's given me."