Ames UMC receives 'jaw-dropping' $2.2 million gift
Posted by on
By Melissa Lauber
With praise music blasting across an empty lot and down blocks of boarded-up row houses in Baltimore, United Methodists gathered on May 25 with civic and government leaders to compare dreams.
The leaders of Ames UMC and the Resurrection Sandtown Project were still a little shocked, even slack-jawed, at the $2.2 million gift they had received days earlier, said Van Beall.
The Cook family, owners of Northeastern Supply, donated Northeastern Supply's Sandtown location to Ames Memorial UMC - Ames Shalom Community, Inc. in support of the Resurrection Sandtown Project. The donated store, across the street from the church, along with a nearby warehouse, more than doubles Resurrection Sandtown's property assets.
The newly acquired 36,000 square feet of real estate brings new life to the Resurrection Sandtown Project, an initiative launched in 2016 to address systemic ills that have led to poverty, inadequate housing, and increased crime in the Sandtown-Winchester community in West Baltimore.
As he led Bishop LaTrelle Easterling and other leaders on a tour of the property, Beall explained the new space will be designed in partnership with the community, with residents providing input into their priorities and hopes for the space.
So far, people have expressed interest in early child development and other educational services, health and mental health care, space for retail and locally-based entrepreneurs, an arts and entertainment venue, a skills and employment center, and community gathering spaces.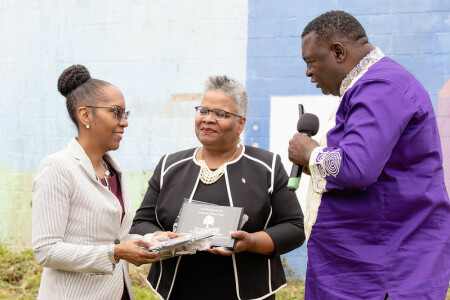 Their vision coincides in many ways with that of Bishop Easterling whose new Missional Action Plan calls on churches to open their doors, and for congregations to step out and listen to the deepest needs of the community and begin partnering with them to meet these needs.
At the property transfer ceremony, the bishop thanked the Cook family for their "anointed generosity" calling it "this profound counter-cultural step in the right direction."
This project "creates a deepening nexus between church and community," she said. "This is the best of who we are called to be as disciples of Jesus Christ."
The bishop credited the Rev. Rodney Hudson for his leadership and his intense and daily work to transform the community. "The meaning of discipleship is to live a servant's life," she said. "Rev. Hudson is a servant leader."
Hudson celebrated all the partners who have helped in "transforming lives through asset-based community development and multicultural and multi-faith collaborations." He lifted the pro-bono work done by lawyers, bankers and architects, and community partners, business owners, and Glen Mar UMC in Ellicott City, Emmanuel UMC in Scaggsville, and Mt. Zion UMC in Highland for their on-going missional partnerships that have spanned more than a decade.
The Baltimore-Washington Conference has also partnered with the Resurrection Sandtown Project, said BWC treasurer Paul Eichelberger. The Conference gave them a $400,000 grant, investing in the project, when it was more a dream than a reality.
The money, he pointed out, came from the sale of United Methodist churches that closed. The Resurrection Sandtown Project is a legacy of former churches taking hold in the community, Eichelberger said.
He stressed that this is a local church project, which keeps all the effort and priorities focused in the community.
The Rev. Wanda Bynum Duckett, superintendent of the Baltimore Metropolitan District, agreed. She praised Hudson for the many relationships he has created as pastor of Ames.
"People connect with a message of love. Love can connect people and communities in relationship," she said. "That's what Rodney Hudson did," she said. "People see the church as a light, as a safe place. We have to build on that."
The spirit and possibility of partnership that Duckett spoke of was echoed by Steve Cook who spoke about his motivation for giving the Resurrection Sandtown Project the buildings.
Northeastern Supply Company, his family's business, has been active in Baltimore for 77 years.
Hudson approached the company, meeting with Cook's daughter, Stephanie about acquiring a small parcel of land on the corner across the street that served as a parking lot.
She was so impression with Hudson's passion, she brought her father into the meeting. He was equally impressed. He had so much compassion, Cook said. "I said, 'Let's just give him the whole thing.' It was that easy. This was a once in a lifetime chance to help Baltimore."
For the Cook family, he said, "it's about becoming involved and doing the right thing. This was the right thing."
Architect Kevin Day, who has been working with the project, was thrilled with the possibilities of the "blank canvas" that the new property presents. "In Baltimore, history evolves and other things are created out of the old for new purposes," he said. "Creativity comes out of challenge."
At the ceremony, the Rev. Ed Delong, is looking forward to continuing to meet the challenges. DeLong has been involved with ministry in Sandtown for more than a decade.
"The dream that's being lived out today is bigger than I ever thought," he said. "God has continually revealed God's self in this neighborhood. "I don't know what God holds for our future here, but I am excited to see what comes next.