By Melissa Lauber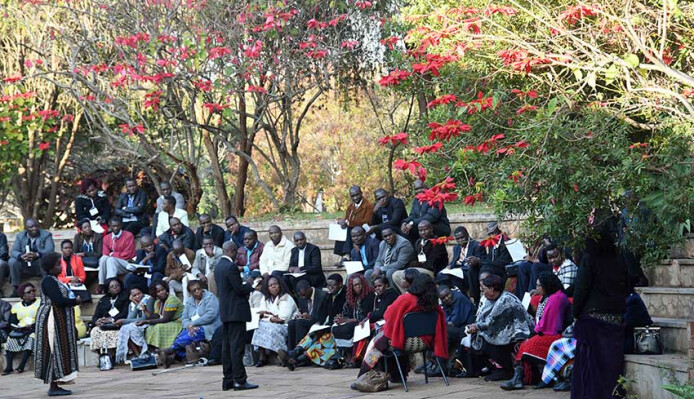 Thirty members of the Baltimore-Washington Conference – 15 laity and 15 clergy – have traveled to Zimbabwe to help teach at a Pastors School and to help build the partnership between the BWC and United Methodists in Zimbabwe. Melissa shares the story of their journey in her 'Postcards home from Zimbabwe.'
I have a bad cold. There's an illness is sweeping through the BWC delegation, so I've taken to bed in the Ubuntu Retreat Center. Ubuntu, I'm told, means "the belief in a universal bond of sharing that connects all humanity." It's a good place to rest one's head.
Because of this, I've feel like I've only seen bits and pieces of the Pastors' School experience. It's like a kaleidoscope — fragments of color and impressions.
On any given day, some of the people in the group are not leading at the school and the Rev. Tim Warner has offered a mission component, traveling down bumpy, dusty roads in the Mutare area to see the church in action in Zimbabwe and to form relationships.
They've been to the Dora North, Gwese, Zimunya West, Muradzikwa, Hilltop and Nyahuni circuits. In our evening debrief, those who went became tearful as they shared their impressions of great hope amid great poverty. It was a journey of faith and joy and new understandings.
"You see God like you've never seen God before," said Sharon Milton.
At one point, every afternoon, the session stops for tea time. Over tea, in the sunshine, people talk. One of the things I've learned, in just some very casual conversations, is that "call" takes on different shades in Zimbabwe.
Young men and women, most with no theological training, hear God's call to proclaim the Word. Many then have to travel four or five-point charges, staying with families other than their own. Images of the early circuit riders in the U.S. came to mind.
Some of the pastors also shared how their people can't afford to pay them and so they are compensated with vegetables and other resources. This arrangement makes sure the pastors' families are fed.
While these difficulties are certainly not sought out, they are what God calls them to, said the Rev. Maria Masamba, who serves a church in Harare. "The mission of our church is not administration," she said. "The mission of our church is to reach out to souls. Jesus said, 'Go.'"
In the midst of all the singing, and fellowship and learning — and even the sickness — you can feel the soulwork going on. People who speak about the partnership and the Pastors' School often use the word "transformation." I suppose such transformations will be based in ubuntu. It's as good of a place as any for each of us to begin.