QLR Outreach & Resources
For more than 25 years Quality of Life Retreats has inspired a community of hope and a legacy of love among hundreds of our brothers and sisters who wage an anxious, often lonely struggle against HIV/AIDS. These weekend retreats offer them help with disease management, a safe space to share, creative activities and uplifting fellowship.
We try to sponsor community outreach gatherings yearly to show and tell others about this life-saving, life-changing ministry. We invite you to come learn about us, and hear our poignant but triumphant testimonies. Enjoy music, fellowship and light refreshments. Then enrich the quality of your own life by becoming a partner in this life-changing, life-saving ministry.
We also occasionally participate in church and community events (such as mission fairs) where Quality of Life Retreats provides a display and representatives to inform others about this ministry.
Newsletter: Celebrate Life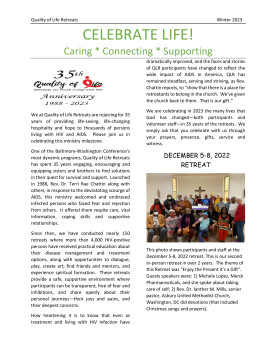 Resources