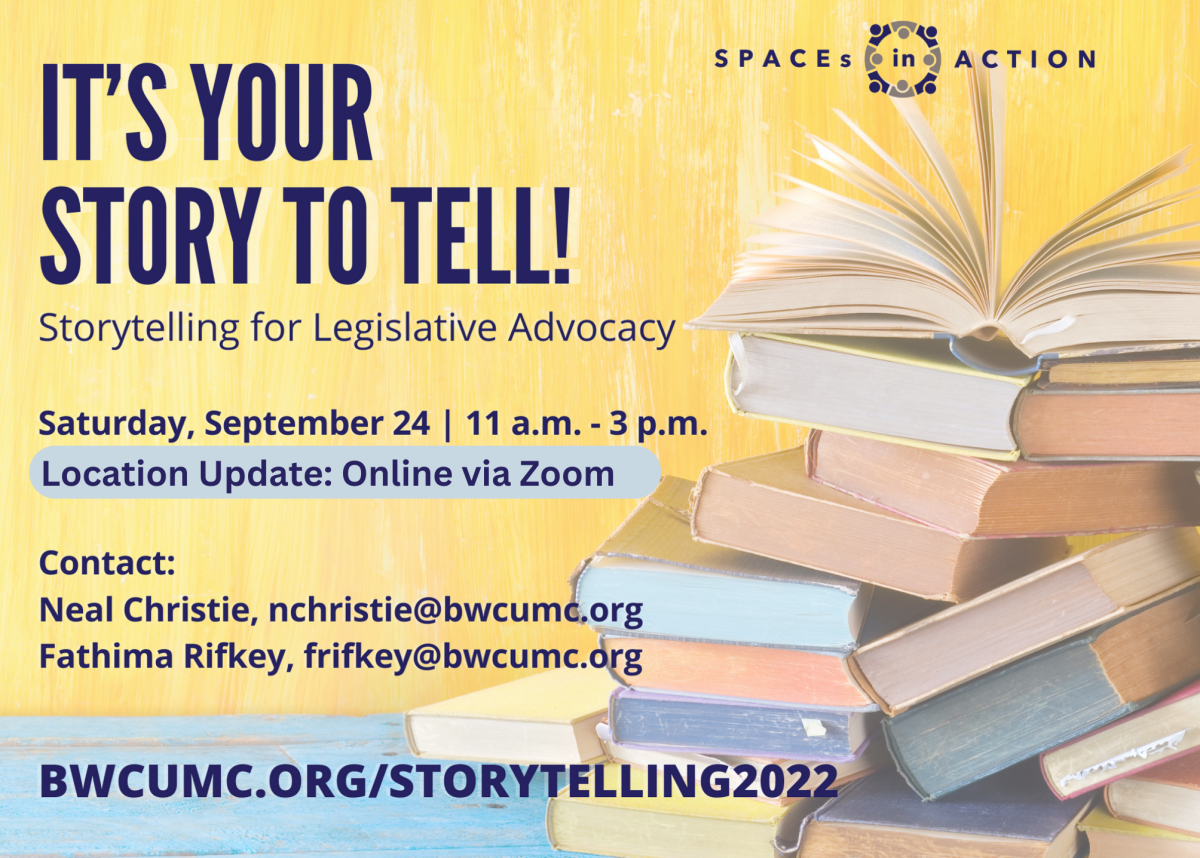 Saturday, September 24, 2022
,
11:00 AM - 3:00 PM
Do you have a story? Do you want to be heard? Do you need someone to support, help yourself or your church, get behind your church idea, or get excited about issues your congregation passionately wants to solve? Refining your storytelling skills can help, and SPACES in Action is here to help.
Join the BWC and SPACEs in Action for Storytelling Training, where you'll journey on how to say who you are and what you value and then connect your problems or issues into bold solutions and actions through storytelling.
During the training, you'll create a story brief, practice, gather feedback, and sharpen your skills, tone, pace, and style. Get storytelling tips from SPACEs In Action team, gain new tools and techniques, and create a community that will help you bring your vision to life, allowing you to create stories that influence and inspire CHANGE.

Who will be doing the training?
Baltimore Washington SPACEs In Action is a grassroots, non-profit organization. S.I.A. campaigns include increasing early childhood learning opportunities, access to health equity, and racial/economic justice for Black and Brown communities in the metro Washington, DC region.
Through base-building, leadership development, and taking collective action, we build power, expand coalitions, and bridge alliances to win local, regional and national people-centered solutions.
SPACEs In Action Storytelling Journey "It's Your Story, You Should Tell It"
SPACEs In Action leads individuals and organizations through an engaging storytelling journey of lived experiences. In this training, you explore how active listening can connect to issues personally and how SPACEs In Action use these tools to understand and amplify community needs and voices. The storytelling training leads with the values that cause you to identify a problem, which moves you to a bold solution and ultimately moves one to action—the training is offered in ENGLISH AND SPANISH. Look for training full of inspiration, connection, and conversation.
U.M.C. – Our Social Principles
Taking an active stance in society is nothing new for followers of John Wesley. He set the example for us to combine personal and social piety. Ever since predecessor churches to United Methodism flourished in the United States, we have been known as a denomination involved with people's lives, political and social struggles, and having local to international mission implications. Such involvement expresses the personal change we experience in our baptism and conversion. (Excerpt from the Book of Resolution of the U.M.C. 2016)
Event Agenda
11 AM | Welcome
11:30 AM | Active Listening practice
12:15 PM | Lunch
1:00 PM | Civic Education on three Conference Legislative Priorities:

Expanding voting rights and increasing civic engagement

Access affordable housing

Eliminating gun violence

Environmental Human Rights

1:30 PM | Storytelling Journey
3 PM | Closing and Evaluation
Contact Information
Neal Christie, Executive Minister of Connected Engagement |

Fathima Rifkey, Justice Project Coordinator |