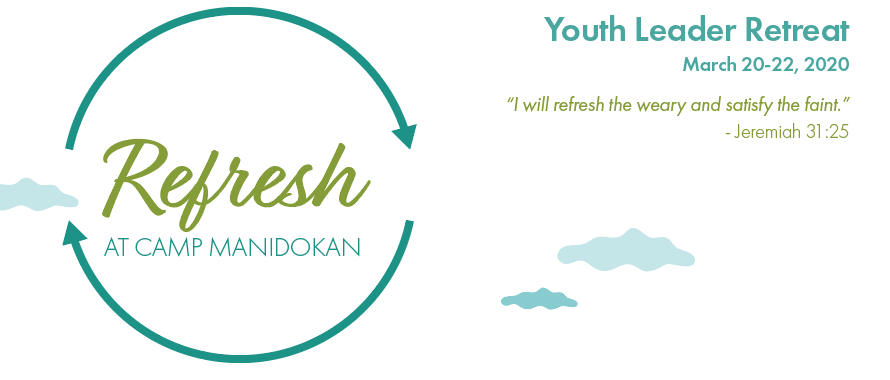 Friday, March 20, 2020
,
6:00 PM - Sunday, March 22, 2020, 12:00 PM
Canceled
"I will refresh the weary and satisfy the faint."
- Jeremiah 31:25
Working in youth ministry can be incredibly rewarding but just as equally challenging. Whether your youth group has 10 people or 100 people, or whether you are brand new to youth ministry or a veteran youth leader, it is vital to take time to rest and reset so that you and your ministry can grow.
Join youth workers from across the BWC for a weekend to REFRESH. Attendees will spend a weekend at Camp Manidokan for worship, training, intentional reflection, and restoration. Youth and Family Ministry experts from Ministry Architects will lead the weekend alongside fellow BWC youth leaders.
Cost: $225 per person
Registration cost includes lodging on-site (shared rooms), breakfast, lunch, and dinner on Saturday, breakfast and lunch on Sunday, and a weekend of worship and breakout sessions.
Agenda
FRIDAY
7:00pm
Check-in
8:00pm
Refresh: Starting Right
Welcome & Get to Know You
Ministering to the Whole Family - What is it?
The Youth Leader's Life and Challenges
Discussion Groups: Your
Hope for the Weekend - Prayer (45 min)
SATURDAY
8:15 am
Breakfast
8:45 am
Morning Devotions
9:30 am
Exploring Identity, Belonging, and Purpose
11 am
Discussion Groups
12:15pm
Lunch
1:30 pm
Personal Retreat
3:30 pm
Afternoon Activity
5:30 pm
Dinner
6:30 pm
Workshops
8:00pm
Navigating Mental Health
9:15 pm
Discussion Groups
10 pm
Evening Activities
SUNDAY
8:15 am
Breakfast
8:45 am
Morning Devotions
9:30 am
Workshops
10:30 am
Break
10:45 am
Going Home Refreshed
Building Action Steps
Keeping Our Focus on Jesus
12:00pm
Sending Forth
12:15pm
Lunch