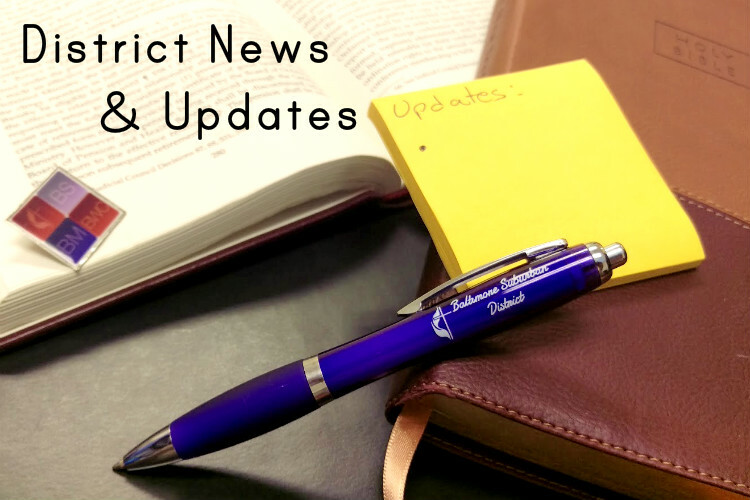 CHURCH CONFERENCE 2019
All the WORKSHEETS and some instructions are available at the link below:
https://www.bwcumc.org/administration/church-conference-forms/
A few important notes:
ALL FORMS ARE DUE 10 DAYS AHEAD OF YOUR CHURCH CONFERENCE DATE. This is important as I will review what is submitted for errors or important changes and compile that for Rev. Laprade prior to Church Conference so that she is well informed going into the evening and a vast majority of the kinks are ironed out prior to your date.
There are only 5 forms which you are required to bring with you to Church Conference for submission to the district office
- 2020 Clergy Compensation Worksheet (ALL CHURCHES- and this year we need all 5 pages)
- 2020 Nominations Report (ALL CHURCHES)
- Reports of the Certified Lay Servants/Certified Lay Ministers (ONLY IF APPLICABLE)
- Candidate for Ordained Ministry Recommendation (ONLY IF APPLICABLE)
- Inactive Membership Report (ONLY IF APPLICABLE)
All forms should be submitted
- WITH signatures (DO NOT WAIT until church conference to gather signatures)
- WITHOUT staples, binding, hole-punching, coversheets,or unnecessary paperwork. Only the requested forms paper-clipped.
Other Important Notes:
The Congregational Profile which used to be part of the Evaluations process has been included as part of the church conference forms. It is imperative that this is completed as well!!
Evaluations have launched with Church Conference forms to provide more time for you and your church to complete these. We cannot stress enough the importance of completing the evaluations on time and with full disclosure. If you don't tell us honestly how the appointment is working from both perspectives, the cabinet will not have accurate information to discern and decide.
We need all 5 pages for the clergy compensation report- this is to ensure the benefits department has the whole picture as they are entering information for the next year.
---
FALL CLERGY GATHERING

Attention BSD Clergy: Join the BSD team and members of our excellent connectional ministries team at our Fall Clergy Gathering. At this meeting we will be delving into information from the CM that will help aid and guide your ministries including:
- Overview of Connectional Ministries
- Website navigation to help individuals access available resources
- Interactive exercise to assess ministerial needs
- Upcoming training and events

Don't miss it!!
Our fall clergy gathering will take place on
Monday, September 23, 2019
10am - 12pm
Camp Chapel United Methodist Church
5000 E Joppa Rd, Perry Hall, MD 21128

Please RSVP Here:
https://arenaweb.bwcumc.org/default.aspx?page=3439&eventID=5428

---
2019 CHURCH ADMINISTRATOR WORKSHOP

Join us as we meet with Rev. Brian K. Brown to discuss the "Outward Mindset" in the morning and in the afternoon we will learn how play can improve communication in any workplace environment. ALL are invited, but please encourage your administrators to join us!!

Date/Time: Tuesday, September 24, 2019, 10:00 AM - 3:00 PM
Location: BALTIMORE-WASHINGTON CONFERENCE MISSION CENTER, 11711 EAST MARKET PLACE, FULTON, MD US 20759
COST: $35.00
Registraion: HTTPS://ARENAWEB.BWCUMC.ORG/DEFAULT.ASPX?PAGE=3439&EVENTID=5388
---
BISHOP EASTERLING DAY ON THE BALTIMORE SUBURBAN DISTRICT

Bishop Easterling will have a day with the Baltimore Suburban District on Tuesday, November 19 at Reisterstown United Methodist Church- 246 MAIN ST., REISTERSTOWN, MD US 21136.

There will be two sessions:
Clergy Session: 2pm -4:30pm
Laity Session: 6:30pm - 8pm

This occurs the day after the Bishop's Day Apart, and it is understood that you should be at both. However, if you absolutely cannot make both events, please prioritize this as the Bishop wishes to ensure the best opportunities for dialogue with the district.

Also, please encourage your laity to attend- this is open to any member in the church and Bishop Easterling again wishes to ensure there is every opportunity for interaction with our members.
---
OTHER GATHERINGS WITH BISHOP EASTERLING

Join Bishop Easterling at these gatherings in October and November:
October 3—Bishop meets with the Order of Elders from 1:30-3 pm (Reisterstown UMC, 246 Main St., Reisterstown, MD)
October 3—Bishop meets with the Order of Deacons from 6:30-8 pm (BWC Mission Center, 11711 E. Market Place, Fulton, MD)
October 5—Bishop meets with Fellowship of Local Pastors at 9:30-11:30 am (Linden-Linthicum UMC, 12101 Linden Linthicum Ln., Clarksville, MD)
November 18 - Pre-Advent Day Apart with Clergy from 9 am - 3 pm
---
IMPORTANT DATES
September 23: Baltimore Suburban District Fall Clergy Gathering
November 18: Pre-Advent Day Apart
November 19: Bishop's Day on the BSD
December 1: Evaluations are Due