Change Makers Immersed in Innovation
Change Makers is a unique ministry of the Baltimore-Washington Conference and Wesley Seminary for young adults interested in creating ministry that expands beyond the sanctuary and draws on the best of business, government, non-profits and church to create social change.
Based on experiences at Taste and See events around the conference, several people applied to participate in in a 10 month project made possible by a Young Clergy Initiative grant from GBHEM. It started with an immersion experience focusing on innovation in London and San Antonio, Texas. From there, they've begun ideating and experimenting. In May, they'll take next steps to accelerate their social innovation and create a new expression of church. Along the way, mentors accompany the Change Makers in having vocational and theological conversations.
Beth Ludlum shared a reflection from the Change Makers experience in London. I had the opportunity to accompany the group to San Antonio's Learning Lab. Below are postcards home from the week seeped in imagination, creativity, community, innovation and transformation.
Enjoy the postcards, then:
Learn more about Mission Innovation.
Become an Impact Investor. In May 2019, the cohorts will pitch their projects. There will be opportunity for major impact investors and those who would like to pledge live at the pitch event. If you are interested in more information, contact us. If you are interested in being present at the pitch and pledge event, let us know.
Ask us to design a Mission Innovation session for your group of 3 or more organizations (clusters of churches, districts, community groups, etc.)
Postcards Home
Immersed in Innovation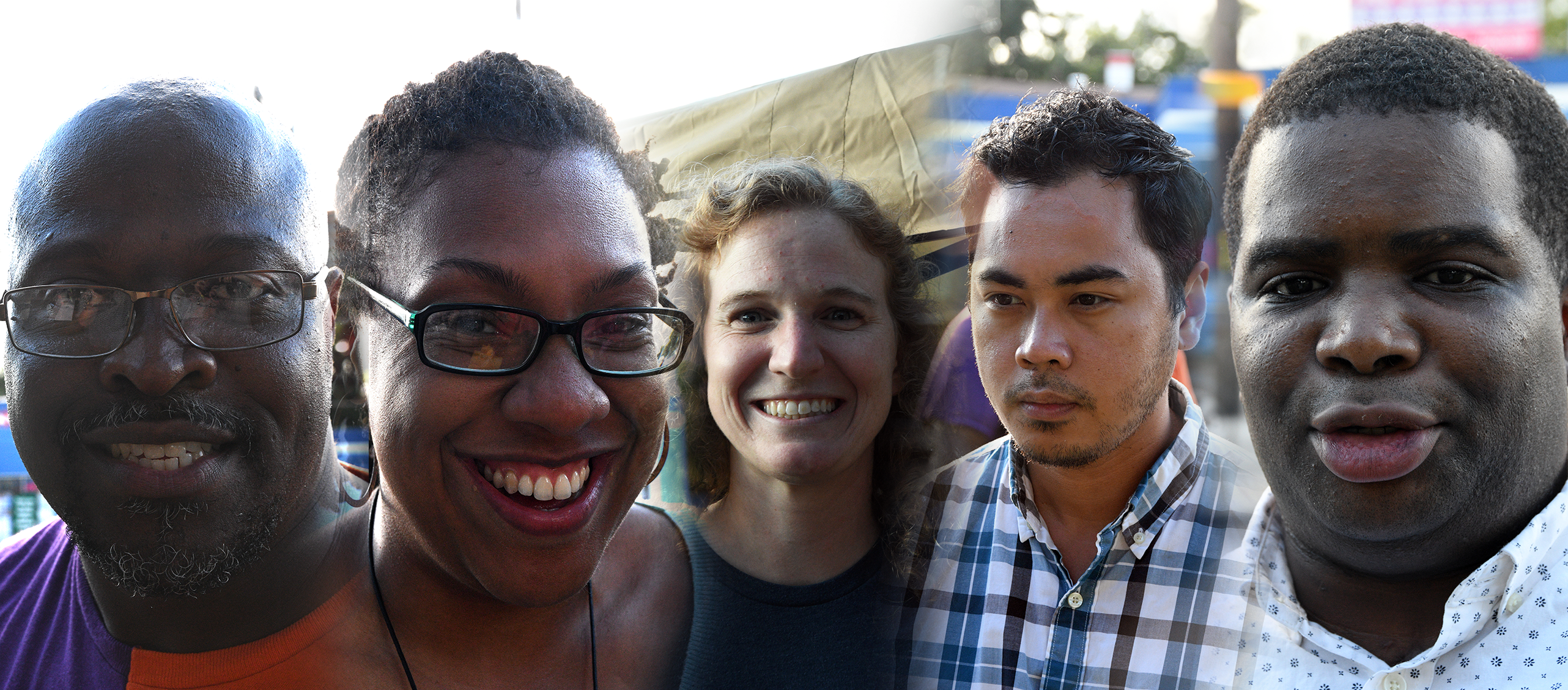 Drop six people who don't know each other into BWI airport and send them to San Antonio for a week. Promise them an opportunity to imagine new ideas about the church and bring to life that thing, that wild idea, God has placed on their hearts. Give them the tools to become "change makers."
The adventure begins.
This adventure is part of the Baltimore-Washington Conference and Wesley Seminary's new Change Maker's ministry, being conducted with insights and input from Matryoshka Haus in London. It could change the world. It will definitely change these six people. I'm one of them — along for the ride.
The ministry is based on the idea that "the previously well-defined boundaries between businesses, charities, and churches are disintegrating. At these blurry intersections, new types of organizations are emerging — blending profit, gift, purpose, community, faith and social action," a book about Matryoshka Haus says.
At these intersections, close connections between the vitality of Christian witness and the goals, practices and theories of social innovation and entrepreneurship are being merged in creative ways.
No one really fully understands it all yet. That's kind-of by design. It's like trying to define the movement of the Holy Spirit. You want to pin it down, but it's really better if you don't. It's a truth best lived. They call it the Learning Lab, and people, like BWC's Connectional Ministries Director Christie Latona, are creating processes that allow cohorts of people from Baltimore, D.C. and the West, to create new expressions of church.
The time in San Antonio, which is like the adventure that several people from the BWC, including Latona, took in London this summer, is an opportunity for people to unleash their imaginations.
That's rare in the church. People are invited to a time of inspired and undiluted invention and reflection. Without this focus on imagination, says Shannon Hopkins of Matryoshka Haus, the church would just be recreating the things of its past.
The church must rediscover its relevance, the Change Makers believe. It has the resources, it has the good ideas. It has the will and the way. What it is missing is imagination. And so, they offer opportunities for people to get out of their contexts and into their imaginations.
In an artsy Spanish villa Air B&B, people are beginning to dream: the youth pastor from Towson UMC; the pastor of Sharp Street Memorial UMC in Baltimore; the director of Project Transformation, a D.C. literacy program; a student at Liberty University who God is calling to community transformation; and a vice principal who oversees a summer ministry for youth from California, along with two staff people from the iconic Riverside Church in New York City. They are awakening to the possibilities of imagination. Three of these people, it should be noted, are named Rachel.
No one is quite certain what the Rachels and the others have begun to dream. But I suspect it's something rather unexpected. I think of the quote form Martin Buber: "All journeys have secret destinations of which the traveler is unaware."
It's an immersion into innovation as "deep calls to deep."
Make the Journey Yours
The innovation process at Matryoshka House is grounded in three steps:
Imagining – focus is placed on identifying the gap between God's preferred future and our current reality.
Creating – the journey is one of experimenting, failing, succeeding and iterating. Excellence guides everything.
Inspiring – the goal is to inspire people to use their imaginations to discover their call, the need in the world and the possibilities of transformation.
How might you begin to use this process to shape new ministries in your context?
Wandering and Wondering
How do the places around us shape who we are and how do our stories shape the places we find ourselves in?
At the Alamo, one of America's iconic landmarks, Matt Valler shared his City Hack story-telling ministry. It was a remarkably simple idea: wander and wonder around a specific place, ask questions and delve into history, character and setting. What resonates, what causes dissonance and how is that dissonance resolved? In that story-based exploration, insights emerge.
We visited the Alamo, whose story is taught in elementary-school history books. In 1836, the people in what is now Texas were rebelling over being part of the newly-independent Mexico, led by President General Santa Anna. A small garrison of around 100 Texans found themselves under siege in the Alamo mission, surrounded by more than a thousand Mexican troops. The Texans were defeated, but their fight became known as an American symbol of heroic sacrifice. That's why we heed the cry to "Remember the Alamo."
But there are also deeper stories. (There always are.) Next to the Alamo is a stately Gothic-Revivalist building called the Emily Morgan Hotel. The story goes, said Valler, "that Emily Morgan was originally Emily West, a mixed-race indentured servant to James Morgan of New York, who sent her to work for a year in his new San Antonio hotel. She was captured by the Mexican army and forced to travel with them across Texas. When the Mexican army's arrived at Jacinto, for what was to be the decisive battle of the Revolution, Santa Anna was caught unprepared because he was otherwise engaged ... in bed with Emily West."
Emily West became a local legend and her memory is preserved in the song, "The Yellow Rose of Texas." After the Alamo, West's papers, noting her as a free person of color, were lost and she was taken into slavery. The harsh realities of her story evoke some of the complexities of The Alamo and the struggles that surround it, Valler said.
So too, does the story of the indigenous people who lived on the land there before the Spanish and English arrived to colonize it. On the other side of the Alamo is the Menger Hotel, one of the wealthiest hotels west of the Mississippi, which claims to be the most haunted hotel in Texas. Some say the hotel is haunted by President Theodore Roosevelt, who drank in the hotel bar. Others claim the souls of those buried in the sacred Native American burial site, on which the hotel stands, haunt the premises. Davey Crocket, the frontiersman who represent the spirit of the American West, also died at the battle of the Alamo. How does their legacy haunt our culture today?
Delving with deep questions into the nuances of all of these stories, the Alamo began to be transformed from a kitschy tourist attraction into a place of profound and conflicting meaning.
Then, Valler took the group on another walk around the Alamo, this time telling stories from the Gospel of Matthew and calling on the stories and spirit of the Franciscan monks, who started a mission there in the 1700s. Themes of baptism, empire, kingdom, and atonement were layered on as the holy and the historic mingled in a complicated dance of story and interpretation.
Valler uses this unique method of exegeting place online at https://labyrinth.city. Wandering and wondering — it brings story to life in new ways.
Later that afternoon, we visited the Impact Guild, a community workspace created as a ministry by Sarah Woolsey, who joined with her church to transform an old warehouse space into offices space for rent. The space is redefining community and has become, in some ways, a new (revenue producing) site of the church.
But God is never mentioned there and there's no obvious religious symbolism. It's all in the intention. In this exquisitely designed, modern communal workspace, people work. But they also encounter the fruits of the Spirit, Sarah said. They sense the presence of God being lived out among friends and neighbors.
She and her friend, Elizabeth Biedrzycki, have launched other ministries, inspired, in part from a Learning Lab trip to London a few years ago. They are hosting this San Antonio experience and after only one day, I understand some of the possibilities of new expressions of church and how they can shape souls.
Make the Journey Yours
Story has the power to shape the world. Consider your church's story. How would you tell it? Where does the power of God shine through in it? Fast Forward five years. What story would you like people to be telling about your church?
Feasting on Ideas and Art
Imagine a feast laid out for you to pick and choose from, a farmer's market of breakfast possibilities. In missional entrepreneurship, food is often an important component. The health of people and communities is often wrapped up in issues and attitudes related to food, hunger sustainability, and shared tables.
Josh Schwencke, a teacher and gastronomist, took us on a tour of the Farmer's Market at the Pearl, a gentrified area of San Antonio on the site of the former Pearl Brewery, started in 1888. We met farmers and chefs, people who made fermented goods, practitioners of permaculture and experimental chefs who created delicious and unexpected concoctions.
We learned about Matryoshka Haus' food-related ministries, which included urban farms and the Farminary at Princeton Seminary, where theological instruction is done on a farm.
Then in the afternoon and evening, we toured the River Walk, learning about 300 years of San Antonio history.
In 1750, the first permanent building rose in San Antonio, when the Spanish settlers erected San Fernando Church, one of the oldest cathedrals in the U.S. The dome of the church marks the center of the city.
After dark, we sat outside the church in a park and watched an artistic installation that used music and light, casting images onto the exterior of San Fernando church to tell the story of the city. The church was bathed in images and designs — a canvas to three centuries of culture. The multimedia work is the creation of French artist Xavier de Richemont.
It seemed an ideal metaphor — people's lives unfolding in the sweep of history, shaped by and changing the church with the passing of time. One era folded into the next, and I found myself wondering which images would be projected onto tomorrow's church. The Change Makers gathered in the park that night are beginning to craft ideas. How they will shine, and what impressions they'll create, remains to be seen. It's my prayer the church will somehow remain as the center of the city.
Make the Journey Yours
Social innovation is deeply collaborative. Who are the people and partners in your community who you would like to work with on new or expanded ministries? What are the first steps you can take to develop relationships with them?
'Puro San Antonio'
We skipped traditional worship this morning to learn mindfulness techniques with mellowBe Meditations. Our teacher, Julia Bates, designed and is producing a comfortable and stable pillow for meditating. The prototype was created to respond to severe health issues her daughter was experiencing. Through an incubator group and the support of social innovators, she's opening all sorts of new doors.
Because San Antonio professes to have the best tacos in the world, our next experience was a Taco Hop, visiting three very different taco experiences representing the past, present and future of this food. Tacos, explained Chef Josh Schwencke who led the hop, were created by the ancient Aztecs, who were the first to be discovered placing meat into a flatbread made of crushed corn.
At the first stop, Folklore's South Side Eatery, the owner, and a chef named Tattoo and his wife, served us beef barbacoa tacos — which he explained were from his grandmother's recipe and used meat that came, in part, from pieces of the brains and eyes of cows. I don't know how, but it was delicious.
At Pete's Tako House, the second stop, the owner shared carne guisada tacos, with stewed beef sirloin with spices, onions and tomatoes in gravy in a flour tortilla. The third stop was a vegetarian taco at 5 Points. In the van in between stops, we had mangonadas. They were all tastes to treasure and they each held the essence of the city – Puro San Antonio.
The afternoon was spent in imagining, so I roamed around the Latin American art at the San Antonio Art Museum. I found an amazing statue of St. Ann, Jesus' grandmother, and a painting that particularly spoke to me of St. Teresa of Avila.
St. Teresa, it's said, startled a young nun who found her enthusiastically eating partridge when she might have been fasting instead. "Hija," Teresa told the young nun, "if you're going to pray, pray. If you're going to eat partridge, eat partridge."
Noting that there's a time for penance and a time for partridge, and that both should be undertaken with enthusiasm and faith, Teresa is a bit of an example to the innovators who shared their stories at dinner that evening.
Patton Dodd, who worked as a reporter around the country, including the Washington Post, shared his efforts for starting a new media outlet to address the income disparity in San Antonio. Working with the H.E. Butt Foundation, he started a newsroom for a year tell the story of how the gap in income between the zip codes 78207 and 78258 is the highest in the nation and how that disparity of wealth affects housing, health care, education, streets, business, food, what's happening inside homes, where fathers are, criminal justice issues, and much more. "Inequity touches everything," he said.
In this panel discussion, Catherine Pearson shared the story of how churches in England came together to create Good Work, a company that employs individuals who clean the office buildings in the center of London, starting a crusade that brings fair wages and working conditions the people in these jobs, who are often exploited.
And, Ram Gonzalez shared how he uses his financial expertise as the CEO of a new investment company, to assist people who face foreclosure, by building them casitas (little houses) in their backyards, buying and then leasing their homes for five to seven years, and then giving the paid-in-full home back to them, essentially leveraging the property to save them.
The financing is creative, and so, too, is Ram's approach to philanthropy. He grew up in the church, and believes if you can help, you should help, otherwise, you become part of the problem. "This is very experimental," he admits. "But I'd rather live with failure than regret."
Make the Journey Yours
Ideas matter, so does intention. Missional entrepreneurship is not just about creating social change. It's about aligning with the Kingdom of God. How do your ideas intersect with Jesus' call?
Bearing Witness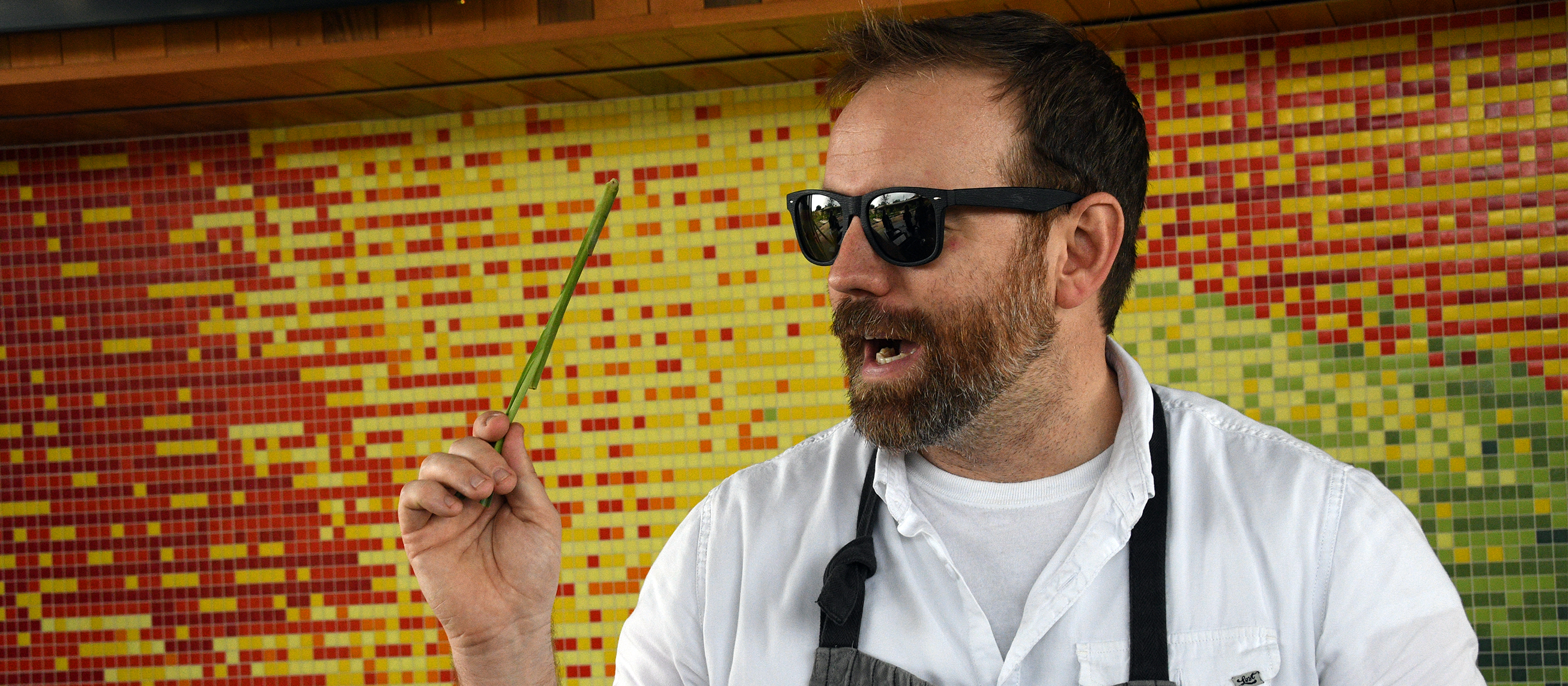 Gastronomy is the lore and love of food. Chef Josh Schwencke has a passion for food: how it heals, delights and comforts, enables people to transcend differences and ego and the stories told about and over food that define people and whole cultures. With the Gastronomy Company, he's using that passion to change the world, one plate at a time.
At the Botanical Gardens in San Antonio, Josh demonstrated how food and flowers, which we picked in the one-acre culinary garden, could be layered into a mixture of flavors and cooked in a way to feed the soul. Later, for dinner, he taught us how to make sushi. It was a delicious day.
As he spent time with the Learning Lab group, Josh shared a little of his story growing up as the son of a pastor, who opened her home to youth as a place of fellowship, faith and food. That became engrained in him and he went on to study nutritional anthropology and how food and culture relate.
Today, he works in schools, homes, and a wide variety of public spaces as a teacher and chef, teaching healthy eating and offering experiences with food that enable people to learn, grow and delight in the day.
His heart is entrepreneurial and he takes every opportunity he finds to "fill the space with joy."
Amid the good eating, the group explored the whys and hows of innovation and how they might create and develop projects that meet the gap between God's intended future and the world's present circumstances.
Shannon Hopkins, the founder of Matryoshka House, explained how the boundaries between business, charity, and church are being increasingly blurred, and how traditional economics models are dramatically changing within the landscape of social innovation.
Since 2004, Matryoshka House has created 13 projects and consulted with hundreds of organizations. "Everything we do contains the seeds of an alternative economic imagination," she said, "where money is a means, not an end; where we expect more of people, not less; and where markets and enterprise are humanizing, not demoralizing."
She encouraged everyone to begin experimenting. "Innovation is an iterative process," she stressed. "Our story is one of embracing a risk-taking culture that is engaged in constant experimentation."
Around the table, ideas began to emerge and be fleshed out as Shannon and her partner, Catherine Pearson, encouraged the group "to bring the rich resources of the Christian faith to bear on the mindsets, practices, and traits of social innovation."
As individuals and in community around the table, the BWC Change Makers began to further understand the problems they wanted to address, discover the resources they might access, ideate, explore the impact they might have, think about partners they might collaborate with and the roadblocks they might encounter.
The group considered first steps, then second and third steps, and the impossible began to seem more like "a mission possible" as they sought to work in and more deeply encounter God's Kingdom.
Make the Journey Yours
People of faith act from abundance, rather than scarcity. What assets do you have in your community now that might be used to create new or expanded ministries? What unexpected resources might you be overlooking?
Hearts on Fire
Some people pursue art for art's sake, but Rex Hausmann creates at the urging of the Holy Spirit. "That Holy Spirit – it's everything," he said.
But his creative spirit doesn't stop at the end of his paintbrush. Rex and his parents run Hausmann Millworks, a large factory space that's home to 47 studios rented by local artists.
About 40 percent of those who rent studio space at the Mill support themselves with their art. The other 60 percent just want to have art as a part of their lives.
When the family started the venture 10 years ago, they had a huge, raw space. Rex needed a place to pursue his art and so did others he encountered in San Antonio, so his father began building studio space to order and a community was born.
When he sells a painting, Rex gives 10 percent of the money to his church and 10 percent to new artists. He also provides encouragement. "Artists are always on the margins," he said. "I want to help them be vital and, in a quiet way, let them feel they have worth."
That evening, the group gathered around the table at Sarah Woolsey's home. She and her family moved from their affluent home in San Antonio's suburbs, into the city so they could live in the same community as the Impact Guild, the shared workspace she recently opened.
In moment of sweet and witty sharing, glasses were raised as the group offered toasts of gratitude, hope and blessing. The Rachel from New York raised her glass and expressed the heart of the group with a benediction from her church's former pastor, the Rev. William Sloane Coffin:
"May the Lord bless you and keep you.
May God's face shine upon you and be gracious unto you.
May God give you the grace never to sell yourself short;
grace to risk something big for something good;
grace to remember that the world is too dangerous
for anything but truth and too small for anything but love.
So, may God take your minds and think through them;
may God take your lips and speak through them;
may God take your hearts and set them on fire."
Let it be so.
Make the Journey Yours
As you take next steps in expanding your imagination and how to work on new ways creating social change and of doing and being church, write a prayer to guide your steps and consider the roadblocks that may lie ahead and begin considering how they might be addressed.
Homeward Bound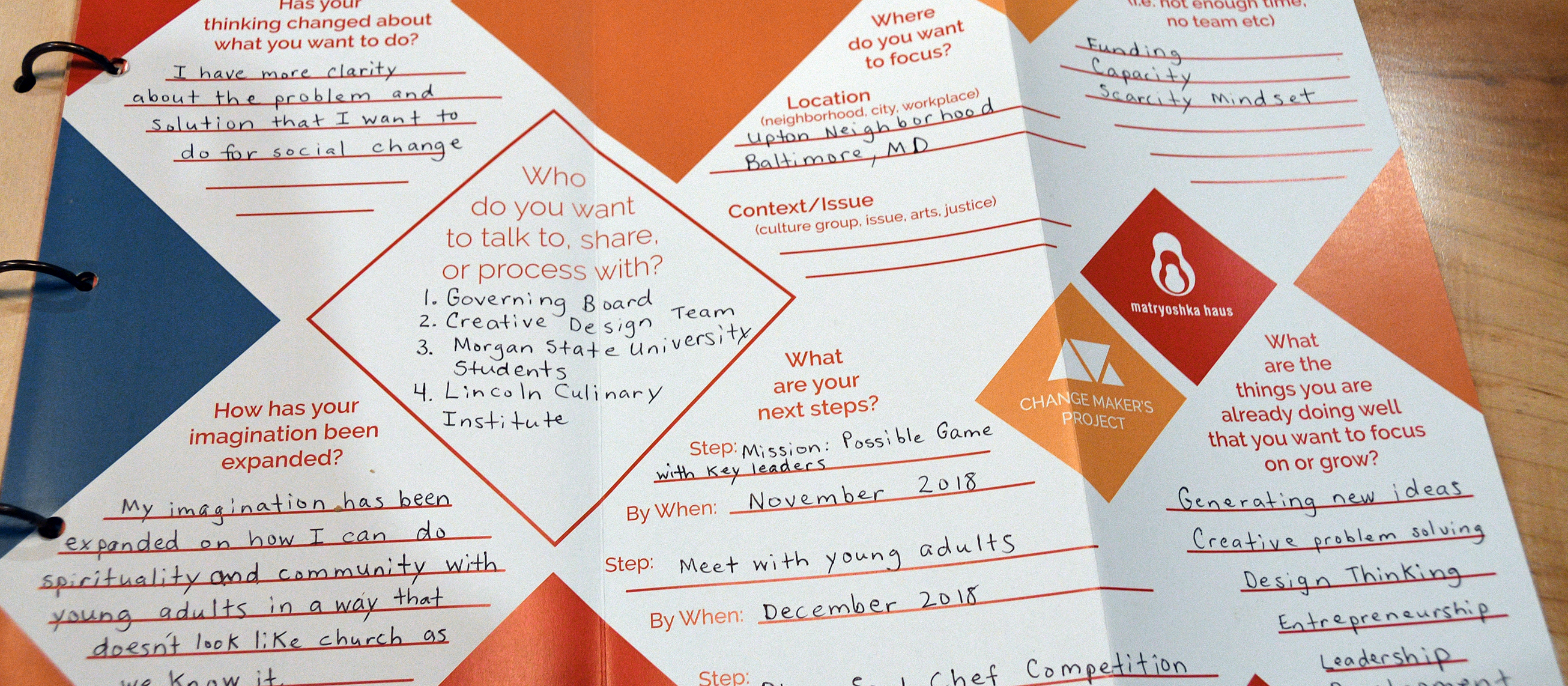 The bus to the airport arrived at 5:05 a.m. and members of the Learning Lab turned their faces toward home and began to think about how all they saw and learned might be put into practice.
The Rev. Carey James, one the BWC's most entrepreneurial and creative pastors, has God-sized dreams for Sharp Street Memorial UMC in Baltimore that include a cooking ministry to train chefs and a Soul Chef competition. Rachel Luna, the director of Project Transformation in Washington, D.C., will take this ministry of literacy for poor children in need and leadership for college-age students, and continue to expand its vision and scope. Rachel Livingston, the youth pastor of Towson UMC, is inspired to start a Freedom School. Mark Bacolod, who moved to Baltimore to live in intentional community, is drawing upon his expanding network to start a leadership incubator group for young adults. Joseph Kitchen, an assistant principal, is continuing to refine his already transformative summer experience for youth at risk from the neighborhood in Fresno, California, where he grew up.
It is an eclectic mixture of ministry. As for me, I find my thoughts lingering in San Antonio with Elizabeth Biedrzycki, who works with the Baptist Church. She is a generous spirit who will soon be leading a group of investors and a group of young adults with ministry ideas to the Mexican border. Together, they'll all learn about the lives of the people there, who are living a hard reality, and about the necessity of hope.
Elizabeth doesn't see herself as an entrepreneur – which seems to require a big and splashy personality. Instead, she calls herself an "intrapreneur," serving with humility, building relationships, noticing where God's people are living in broken places and putting her heart to work in those places.
She sees the border as two pieces of cloth, sewn together and now being pulled apart in ways that weaken the stitches, fray the edges and rip the material. She hopes to mend the world.
And maybe that is what the Learning Lab was, in part: a faith-based, imagination-rich, social-innovation-driven examination of God's tapestry that encourages us each to weave together a new kind of world where all people live in hope, dignity and promise.
On earth, as it is heaven.
Wish you were here. -- Melissa
Make the Journey Yours
Change-makers don't re-package past successes. They use their creative imaginations to see the new possibilities and work to make them realities. Let your imagination run wild. Where do you see the greatest needs that you and your church might address? What are possibilities that come to life in those needs?