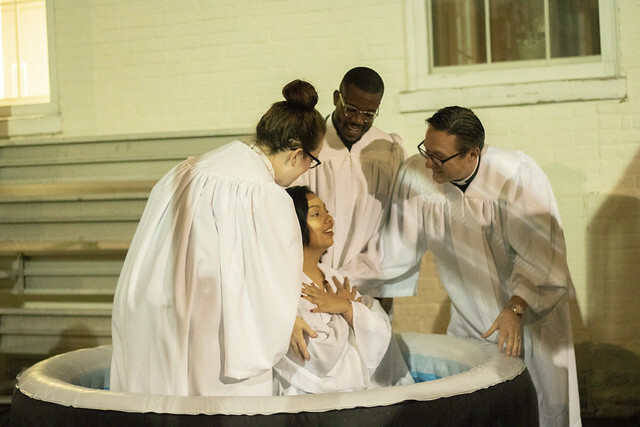 06.19.19

|

Young Peoples Ministry, Campus Ministry

| by

Brandon Harris
Rev. Brandon Harris, the Protestant Campus Minister at Georgetown University, served as a staff member at Ebenezer Baptist Church in Atlanta with the assignment of growing collegiate ministry. They had 20 students from five campuses at the time when Brandon joined the staff. He grew it down to two people before conducting a month-long listening campaign on all neighboring campuses that changed everything. At the time of his departure five years later, it had become a vibrant ministry of more than 120 college students from five campuses.
What follows is information he shared during a Learning Lab, during the Young People's Ministry Day at Annual Conference on June 1, 2019. This learning lab was designed to support the YPM Campus Ministry goal: "By December 2021, over 500 college students are engaged through BWC-connected ministries on at least 12 different campuses." Learn more about the YPM strategic plan.
How you minister is often affected by who you're in ministry with. One of our culture's broad defining traits is generations. How do you reach and serve Millennials and young people in Generation Z?
Millennials are those born between 1981 and 1996. Their key memories revolve around the 9/11 terrorist attacks, economic recession and the election of Barak Obama. They tend to be religious, but not necessarily involved in church.
Those in Generation Z were born between 1997 and 2015. They're considered to be the first "post-Christian" generation, raised without a religious tradition. They are spiritual "blank slates," biblically illiterate, but also more open to learning about religious matters.
In engaging those in the Next Generation, churches and campus ministries must ask themselves how warm and welcoming they really are. As with all discipleship, relationship is key.
Keys to building strong relationships with the Next Generation:
Being present on campus, truly and significantly present.

Offering weekly dinners that extend radical hospitality.
Meeting the students where they are by offering Bible studies relevant to their lives.
Encouraging students to serve as leaders within the church and incorporating their gifts into the larger work of the church. At Ebenezer, they participate in inter-generational small groups and serve as co-chairs of justice initiatives and the capital campaign.
It's important to note that it's not traditional worship that keeps students away from church. Rather, one of the major stumbling blocks is discipleship that does not feel authentic or meaningful. Caring matters.
Know that these relationships with Millennials and those in Generation Z won't be formed overnight. The essential thing is to be willing to try – even if you fail – and then try again.
Consider the following questions as you craft a strategy to engage the Next Generation:
Is your church hospitable? What does your website, social media presence, greeters at the door, and community presence communicate about your church?
Is your worship service welcoming for those with no religious tradition? Does it use insider language, like "saved," "sanctified," or "passing of the peace"? Do you explain what is occurring in the service?
Is your worship a place where you expect to encounter God's presence or do you go through worship expecting the same-old same-old? Is your worship creative, renewing, and honoring to both the traditions of the church and addressing the needs of our current moment?
Does your community speak to the current issues that affect our culture, like mass incarceration, human sexuality, domestic violence, etc?
What vision do you have for moving forward?
Additional resources to explore:
While relationship trumps worship style and music, churches often want to explore different musical genres. There is a wide and deep variety of "contemporary" music. Brandon put together this Contemporary Music Spotify list to help.
He also recommends the following books: