Call to Action on Racial Justice
Since Annual Conference 2016 we have been inviting people to covenant with us to demonstrate their commitment to taking their next faithful steps toward making racial justice a reality in our lifetime. The first five items remain constant and the last five items change over time as we develop actions and experiences that help us address our own personal and systemic issues that allow the sin of racism to maintain its grip.
What is the NEJ Call to Action? How is the BWC committed to the Call to Action?
What can you do? Share your story
---
---
What is the NEJ Call to Action?
The NEJ Call to Action is a resolution passed in July 2016 by the Northeastern Jurisdiction (NEJ) authored by Tracy Bass, Joseph Daniels, William Meekins, Derrick Porter, Denise Smartt Sears, Lillian Smith, and Varlyna Wright. The resolution calls for "an effort to address, confront, and otherwise demand systemic fundamental and institutional change both within the church and the world..."
How is the BWC committed to the Call to Action?
A Call to Action Steering Committee comprised of two Call to Action authors, five General/Jurisdictional Conference delegates and persons serving in roles that are associated with items mentioned above has been formed. Moving forward, The Discipleship Council will be responsible for its oversight.
The Call to Action Steering Committee has determined that the BWC approach will:

Be rooted in building relationships and creating a culture that allows all persons and cultures to feel safe in having needed conversations and confronting racism;
Intentionally embed cultural competency and anti-bias work throughout BWC's existing networks and gatherings;
Uplift what is happening at the grassroots level;
Invite congregations to engage in conversations and experiences that help them take the next step toward becoming racial justice change agents;
Identify natural places to include training and conversations (right leaders, appropriate process) for all conference leaders (including camp counselors); and
Incorporate better accountability into our systems.

Our Conference Board of Ordained Ministry is implementing ongoing training in cultural competency and is creating new cultural competency questions for candidates.
Our Conference Commission on Religion and Race (CCORR) has provided copies of the Vital Conversations Series 1: Realities of Race and Racism, produced by the UMC General Commission on Religion and Race (GCORR), for all BWC congregations/clergy which can be used as a basis for congregational conversations. It includes a study guide and DVD that features contemporary theologians, sociologists, laity, clergy, and other thought-leaders dealing with challenges of race, culture, and oppression in the Church and world today.
in collaboration with the NEJ Multi-Ethnic Center we host a NEJ Call to Action Summit annually. This year it will be held on October 26-27 where we will dream, discover, discuss and dismantle.
[ back to top ]
What can you do?
Get to know someone who doesn't look or think like you. Download this resource sheet for help with that.
Be aware of your own implicit biases. You can start by taking the Implicit Association Test on race. Learn more.
Name and address racism when you witness it and work toward being at least a level-4 change agent! (see diagram below)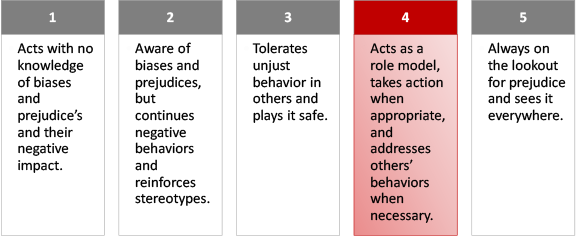 Have a conversation during your leadership meeting about our United Methodist Preamble and Social Principles as they relate to race and the Gospel.
Invite your leadership team to take the online Implicit Association Test on race and use the Implicit Bias Workbook to discuss the results as a team, and then follow-up with relevant actions.
Host or participate in Vital Conversations with your congregation and/or explore additional UM resources on key issues.
Become a Beloved Community Hub which includes a training component, a six-month journey of vital conversations in cross-racial and/or cross-cultural groups followed by a discerned collective action in the wider community.
Be a part of a resourcing, writing and/or training team to help implement various aspects of BWC's response to the NEJ Call to Action.
Bring a friend with you to the reCALL Summit on October 26-27, 2018.
Share your experience and/or project for engaging your congregation and community in this holy work.
[ back to top ]