Conference celebrates rich, united ministries
June 1, 2017
This article was updated June 8, 2017.
By Melissa Lauber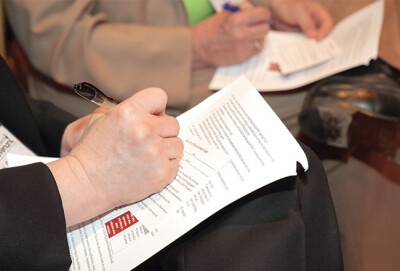 Members commit themselves to a variety of ministries that address racial justice as part of the Call to Action.
The Baltimore-Washington Conference is a leader in living out the denomination's four areas of focus, said the Rev. Stacey Cole Wilson in the Connectional Ministries report at annual conference June 2.
These four areas include developing principled Christian leaders; creating new and renewed congregations; improving global health; and engaging in ministry with the poor.
One of the BWC's newest initiatives, a Call to Action, stems from a document adopted at the 2016 Northeastern Jurisdictional Conference, which addresses racial justice and reconciliation.
Members at the annual conference filled out Call to Action Covenant Cards, pledging to take suggested concrete actions to address racism in their churches and communities. Pastors were also given Vital Conversation resources by the Commission on Religion and Race to use in their churches.
» View more information about this new initiative.
The conference's youth also presented information about an online resource they have created, called "Stress Less," to help their peers manage issues that affect the physical, mental and spiritual lives of teens.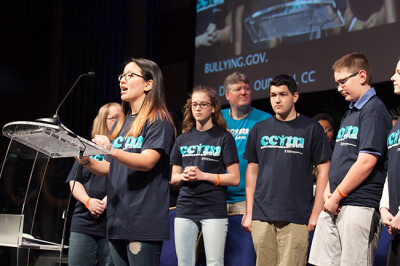 Members of the Conference Council on Youth Ministry share their 'Stress Less' initiative and resources June 1.
United Methodist youth are "disciples in training, not disciples in waiting," members of the Conference Council on Youth Ministries proclaimed in their presentation to the conference.
"Do you see us?" asked the youth. "Please see us, hear us, include us, and love us."
"Our youth are really stepping up," said Bishop LaTrelle Easterling. "They're not asking someone to give them the answers. They are the answer."
Doing similarly strong ministry is the Young Adult Council, whose members explored how they create unity within diversity. Council members encouraged everyone to attend their One Love creative worship experience this fall.
In other ministry-related items, members heard from Delores Martin, the conference lay leader.
Martin praised the covenant partnership that is growing between the laity and clergy within the Baltimore-Washington Conference. She also lifted up the work of the eight district lay leaders; Julie Flinchum, chair of the committee on certified lay ministry; the more than 1,000 certified lay servants who serve in local churches throughout the conference; and BWC's 143 Certified Lay Ministers.
She encouraged the members to consider the old saying, "It's as easy as ABC," and suggested, for United Methodists, "it's ABCD – Always Be in Covenant Discipleship."
One area of discipleship that is growing significantly in the Baltimore-Washington Conference is Hispanic Ministries, under the direction of the new Hispanic and Latino Ministries Coordinator Emma Escobar.
Hispanic ministries are not a caucus, it is a ministry of the entire conference, explained the Rev. Eliezer Valentin- Castañon. Everyone is invited to participate in connecting with the growing Latino populations in their communities, to develop resources and programs for Spanish-speakers and to participate in education and advocacy efforts to assist immigrants, he said.
Annual conference members also heard from the General Board of Church and Society about a new program that addresses places of brokenness around the world and provides the safety and shelter of sanctuary. This new ministry is explained at umcjustice.org.
In an emotional tribute, the conference also honored Andy Thornton, director of Camping and Retreat Ministries, who retires this year after 30 years of ministry.
Over the years, said Chris Schlieckert, director of Camp Manidokan, Thornton welcomed, in love, more than 300,000 guests to West River.
In a "This is Your Life" style program, members of the conference reminisced about the role Thornton played in their lives, often citing Thornton's catch phrase, "It just doesn't get any better than this."
Camping and Retreat Ministries welcomed more than 15,000 guests last year. "While other conferences are closing their camps, the BWC's camping program is thriving," Bishop Easterling said.
The BWC has more than 37 committees involved in mission and ministry. But that ministry is not limited by conference borders. There are also active ministries in Puerto Rico, where local churches are creating unique mission partnerships; in Eurasia, especially in the south of Russia where the BWC is supporting congregations that are doing culture-changing work; in the South Conference in South Korea; and in Zimbabwe.
Comments