United Methodists gather for holy conferencing
May 31, 2017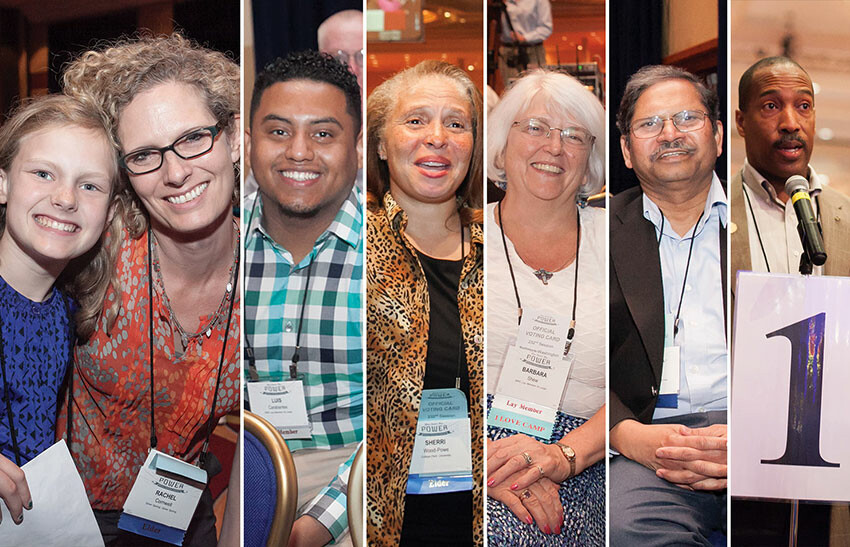 By Melissa Lauber
We are one. We are 159,048 lay members and 1,049 clergy who gather in 628 churches to worship Christ and share God's love.
From the Chesapeake Bay through the mountains of Appalachia; in the corridors of power and upon historic city streets, we live out the story of a life-giving Savior.
At an open Communion Table, we gather in our diversity – searching and certain, remembered and forgotten, whole and broken, cast down and resurrected – we are one.
We are blessed by diversity: Latino, Mizo, Indian, African, Chinese, Black, White, Native American, Korean, Bermudian, and mixed in a rich and messy blend of lifeblood and culture.
More than 69,680 of us put our hands to work for God on mission trips; spending close to $5.2 million to serve 1,329,942 people. We are one in our hope, we are one in prayer, we are one in a God who is present among us.
We believe in grace, we believe in connection, we believe that faith is found in the sometimes difficult, and always fascinating, mixture of social action and personal holiness. The Bible is our book. We sing its truths in our prayers, presence, gifts, service and witness.
We have been, are, and will be one – united in covenant – so that, in everything, God may be glorified through Jesus Christ.
In these next three days, we gather as one, claiming the faith of the first Methodists who came together 233 years ago at Lovely Lane Church in Baltimore. We are strengthened by the saints who have gone before us; we are inspired by possibilities of a new episcopal leader, Bishop Latrelle Easterling, who now guides us into a season of spiritual growth and Gospel promise.
We are United Methodists, connected in covenant, inspired – together – to be alive in Christ and make a difference in an ever-changing world. Christ makes us one.
The theme of this annual conference session is "We are One." During the next three days, members will vote on four resolutions, five Constitutional Amendments, the proposed 2018 budget and other items that enable the ministries of our connectional church.
Ordination will be held Thursday evening, and the Memorial Service will be Friday morning. We'll hear Bishop Easterling preach tonight at opening worship. The Rev. Steven Manskar will lead a Bible study the first thing on Thursday and Friday mornings.
Throughout it all, there will be reports and information shared from local church, district, conference and denominational leaders on the many issues – some controversial, some inspiring – facing the church today.
The annual conference, the Book of Discipline says, is the basic, fundamental body in the church. Over the next three days, this body will gather for sacred and holy work – living as people worthy of the call we received from God, conducting ourselves with humility, gentleness, and patience, accepting each other with love, and making an effort to preserve the unity of the Spirit with the peace that ties us together – one body, one spirit, one hope.
Comments