Gaines-Cirelli to explore 'Blest Communion'
June 1, 2017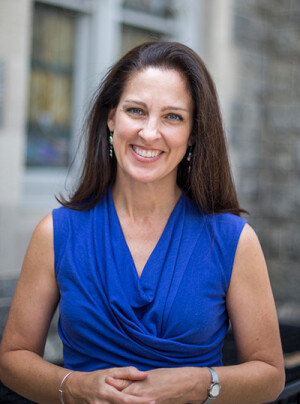 The Rev. Ginger Gaines-Cirelli is the preacher for the Memorial Service on Friday. Gaines-Cirelli is the senior pastor of Foundry UMC in Washington, D.C., and the first woman senior pastor in the church's 200-year history. Prior to that, she served as pastor of St. Matthews UMC in Bowie and Capitol Hill UMC.
A native of Kiefer, Okla., a small town near Tulsa, she earned her master's degree from Yale Divinity School. She was also a pastor-theologian fellow for Princeton University Seminary. She is one of the editors of the Common English Woman's Bible, which was released last year.
She and her husband, Anthony, a Roman Catholic theologian who works for the U.S. Conference of Bishops, live on Capitol Hill.
The title of her sermon is "Blest Communion," inspired by the fourth stanza of the hymn, "For All the Saints." Her Scripture text is taken from John 14:1-4.
Her current passion in ministry, among many, is strengthening Foundry in its call to love God, love others, and change the world.
"I am passionate about positioning Foundry for innovate ministry and leadership that shares the good news of God's love in Jesus Christ with new people and more diverse people," she said. "I am passionate about preaching the Gospel in challenging times. I am passionate about advocating for a United Methodist church that is big and open enough to make space for faithful ministry in diverse contexts. I am passionate about lifting up the Wesleyan way of discipleship for new generations who are hungry for the promise of amazing grace."
Comments