Before you arrive at Annual Conference
May 24, 2017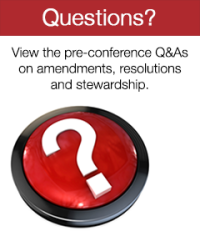 Clergy and lay annual conference members have gathered in past years for an informational session prior to Annual Conference. This year, in lieu of the gathering, we are providing all conference-related materials online for attendees to peruse and download at their convenience. Before you arrive at Conference, you will need to familiarize yourself with these items.
Use the links below to jump down to the section of the page for that topic, or use your mouse to scroll.
Budget & Stewardship | Proposed Constitutional Amendments | Proposed Resolutions | Additional Resources
Budget & Stewardship
These documents provide detailed information about the proposed 2018 Conference budget, which will be voted on at the session, and additional information on stewardship ministries.
Proposed Constitutional Amendments
Read more about the proposed Constitutional Amendments
Download a print-friendly version of the amendments material:
Proposed Resolutions
In the videos below, sponsors present their proposed resolutions to be considered and voted on at Annual Conference. We've also provided links to each resolution document as well. The linked document will open in a new browser tab.
Resolution to Avoid Purchase of Hewlett Packard Products
Resolution to Expand Baltimore-Washington's Socially Responsible Investment Screens
Resolution to Amend the Conference Moving Policy
Resolution to Support the Religious Coalition for Reproductive Choice
Additional Resources
» Q&A for the 2017 Annual Conference
» First time attending Annual Conference? Check out the Primer.
» Hotel and Parking Information
» Credential forms - don't forget to fill these out in advance
» Download the Rules of the Session, Parliamentary Procedures, and a handy Parliamentary Procedures Chart
» Have you considered volunteering?
Comments