24 Retirees Honored
May 31, 2017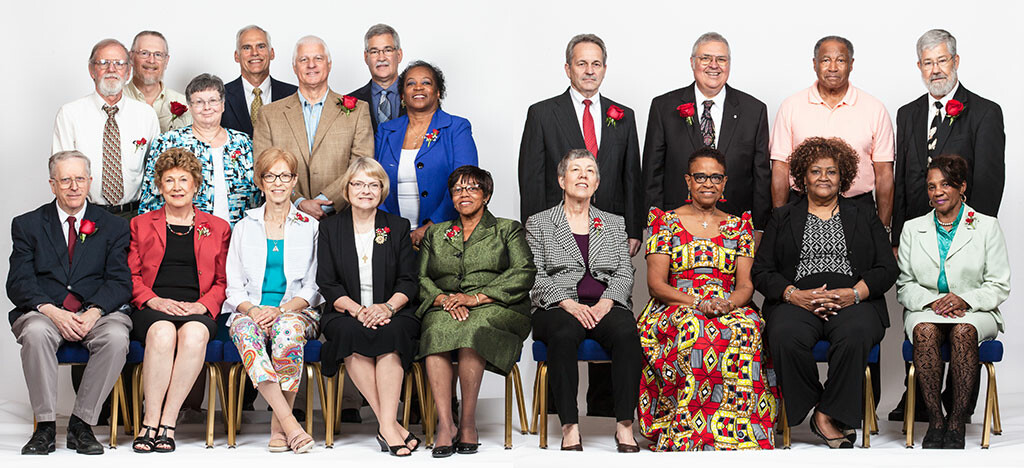 Twenty-four retirees were honored today at a luncheon for the 617 years they have given in ministry. Over the course of their ministry, they, among a myriad of things, served as trustees of colleges and nonprofits; helped lead the national celebration of the United Methodist hymnal, served as director of Camp Manidokan, taught college students and seminarians, led deaf ministries, been honored for preaching, oversaw the restoration of the historic Evans House, changed hearts with stories of Jesus, baptized a 16-year old boy in the Voronezh River in Russia, and played a Celtic harp to patients in the hospital.
Approaching retirement, they plan to write books, paint, sit by the sea, spend precious time with family, discern new ministries, and continue playing bluegrass music, "a joyous way of celebrating life."
This group of 24 pastors is a varied one. But, said the Rev. Bill Herche, "our differences are what make us one body who can accomplish great things."
The Baltimore-Washington Conference has been blessed by their service.
Retiree

Years
Served

Retiree

Years
Served

Patricia Berry

8

Brenda Joyce Mack

11

John M. Brooks

11

Jacqueline R.L. McLellan

24.5

Richard Lee Buckingham

20

Roderick Joseph Miller

35

Cynthia Horn Burkert

16

L. Katherine Moore (5.1.17)

39

Diane Dixon-Proctor

26

Marilyn Newhouse

17

Iris W. Farabee-Lewis

28

Lawrence Patrick Ricker

46

Charles Wayne Frum

26

Mabel E. Smith

15

Edward Hall

7.5

LaReesa Smith-Horn

31

William Allen Herche, Jr.

36

Arthur Dicken Thomas, Jr.

23

Barry Ellsworth Hidey

38

Rebecca Jane Vardiman

34

Kathleen Harriet Kohl

29

Clifford C. Webner

28

Ernest D. Lyles, Sr.

33

John Richard Yost

35

TOTAL YEARS OF SERVICE: 617
Comments